PX60 – Previous Generation
MSI first launched a new notebook series called, Prestige Series, for business elite and professionals such as corporate in-house or freelance designers in early 2015. Three models were introduced: PX60, PE70 and PE60 and the CPU used was based on Haswell architecture and manufactured in 22nm (Intel Core i7-4720HQ).
 In September, Intel launched new CPU architecture naming Skylake. CPUs in this generation are manufactured in 14nm, need lower power consumption yet have greater computing performance than the previous generation.
 MSI, always wanting to offer the latest and the fastest solution to its users, seamlessly upgraded their products and launched new Prestige Series with the most up-to-date CPU (Intel Core i7-6700HQ).
 This series of article shall focus on PX60 and its difference between the new Skylake and the old Haswell platform.
 

Skylake Platform

Haswell Platform

Models

PX60

PE70

PE60

PX60

PE70

PE60

CPU

i7-6700HQ

i7-6700HQ

i7-6700HQ

i7-4720HQ

i7-4720HQ

i7-4720HQ

GPU

NV GTX950M

NV GTX950M

NV GTX960M

NV GTX950M

NV GTX960M

NV GTX950M

NV GTX950M

NV GTX960M

NV GTX950M

NV GTX960M
PX60 (Intel Core i7-4720HQ, Haswell)
Before digging further into the new PX60 powered by new skylake cpu, let's first have a brief glance of how well the PX60 Haswell platform was doing in the market.
Here is a product review article written by a well-known French media, Les Numerique (http://www.lesnumeriques.com/ordinateur-portable/msi-prestige-px60-p27891/test.html). PX60 scored a 5-star with overall performance better than competitors' high-end models or even similar to some extreme gaming models.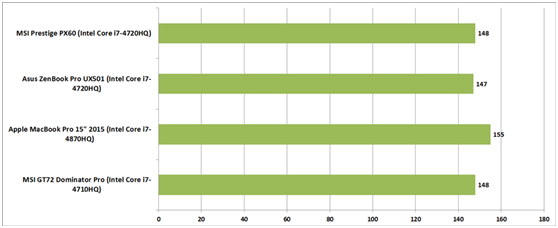 The editor was especially impressed by the display performance, giving a 5-star to MSI PX60. Not only surprised by its outstanding performance in terms of brightness, Gamma, and color temperature test, the editor showed his special interests in MSI TRUE COLOR TECHNOLOGY.
PX60 – TRUE COLOR TECHNOLOGY 
Portrait Displays, "the premier Application Software Provider (ASP) of customized display software to computer and display manufacturers throughout the world" (*Portrait Displays, 2015) and MSI cooperate with each other and equip MSI's notebooks with TRUE COLOR TECHONLOGY.
Portait Displays has been partnering with global display manufactures for nearly 20 years, such as AOC, HP, SAMSUNG and etc, assisting them in testing and adjusting monitor display quality.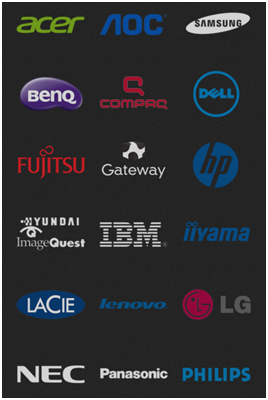 *Partners of Portrait Displays, 2015
MSI TRUE COLOR TECHNOLOGY refers a series of procedures/methods applied by MSI on its notebook display to provide users a better visual experience with greater image details.
First of all, a special software is used to check every panel's performance. Only panels with better quality are used.
Each panel will then go through three color correction steps, including color temperature, color visible range and grayscale adjustment.
In the end, MSI notebook with TRUE COLOR TECHNOLGY shall come with a built-in monitor pre-calibrated with its unique correction profile which enables its image output to be close to 100% sRGB.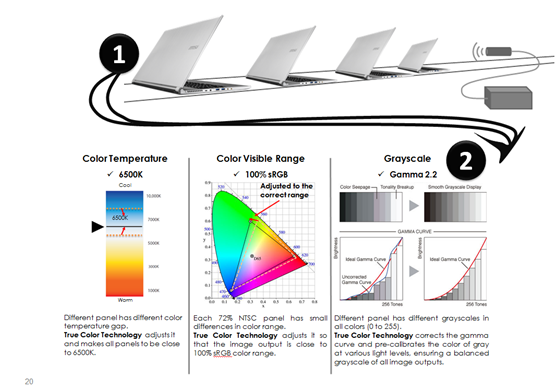 Each panel, even if manufactured with the same materials and method under the same environment, each has different output quality and a unique profile of color temperature, color visible range and grayscale. To calibrate it, therefore, is more complicated than just apply one set of figures. It must be done by go through each individual panel, one by one, to first check its original profile and to adjust it accordingly.
All this would result in a tremendous amount of time and cost to an automatic manufacturing site nowadays. This explains why monitors marked "pre-calibrated" in the market cost a lot more than those regular monitors.
MSI is the first gaming brand in the market to apply "pre-calibrated display" on gaming notebooks, aiming to honor its "Gaming No.1" oath.
The outcome of this effort is valued by those who know the secret. All three criteria of PX60's monitor were rated 5 out of 5 by Les Numerique.

*Monitor Test, Les Numerique, August 2015
More product detailed introductions, please visit http://goo.gl/cIqXNf