RGB is becoming more and more popular nowadays and a lot more products are on the market which allow for great customization of your gaming rig, such as color neutral motherboards and graphics cards to tempered glass pc cases. If you want to know a little bit more about RGB lighting for PC and how to set up color schemes and LED effects, be sure to read on.
With RGB LEDs, personalizing your gaming PC has never been easier. The latest generation MSI GAMING motherboards feature Mystic Light RGB, which allows you to select any of the 16.8 million colors and choose between 17 LED effects for the ultimate customization. Designed especially for case modders, the Z370 GAMING PRO CARBON AC takes RGB to a completely new level. Not only does the full black PCB design and CARBON heatsinks add to a monochromatic color scheme, it matches perfectly with any color you set the RGB LEDs to, the GAMING PRO CARBON further extends the RGB experience outside of motherboard control as well.
In today's article, we are showing a few tips how to build the most beautiful RGB fueled gaming PC and show you all the customization options, to fully personalize your system.
Tip #1: Select your components carefully
When building a PC, you have to select memory, a power supply and system FANs for example. All of these components are available nowadays with RGB LEDs as well. Up to your personal preference about the LED solution used, brightness or functionality, you can select the components to your liking. In order to prevent having to use multiple software applications to control the colors & LED effects, MSI has a feature (or program to be more precise) called Mystic Light Sync. With Mystic Light Sync, MSI is closely working with the industries' most popular brands to support their products, which come with RGB. This means you can use the Mystic Light APP to also control other brand products and sync colors and LED effects through the use of a single application. Be sure to check if the pc lighting kit you prefer is part of the Mystic Light Sync program by checking here: https://www.msi.com/Landing/mystic-light-motherboard#sync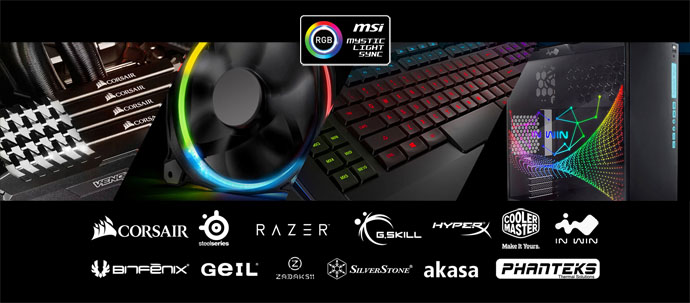 New products are added on a weekly basis and the Mystic Light SDK (or source) has been made available publically, so enthusiasts can even update the code to support other brands and products. This means, with Mystic Light Sync you can also sync your gaming keyboard, mouse and even headphones colors & effects.
As an example I've selected a few components to show you how to build a nice looking RGB PC:
Tip #2: Component installation
Study each component RGB functionality closely and identify which parts of them have LEDs. Make sure the RGB features of each component are clearly visible and logos are facing the right position. This might sound like the basics, but trust me, you don't want to build your rig and find out afterwards you placed the CPU cooler LED in the wrong direction for example and having to re-assemble parts.
Step #1 – Install CPU, memory and CPU cooler backplate/bracket and right standoffs to the motherboard, outside of the case

Optional: Install M.2 SSD in the top M.2 slot with M.2 Shield v2, while outside the case

Step #2 – Insert motherboard I/O Shield in the case

Step #3 – Install motherboard in case

Step #4 – Install CPU cooler

Step #5 – Install RGB strips

Step #6 – Install Storage (SATA SSD or HDD). This can be skipped when only using M.2

Step #6 – Install graphics card

Step #7 – Install power supply (when using a modular one, be sure to only select and plug-in the cables you need. Leave out what you don't need for a more clean build)
Tip #3: Cable management
The goal is to show as less cables as possible. Start by identifying which cables are needed and where they need to be installed on the motherboard and power supply side, as well as Storage side or additional RGB strips. Optimize the paths for each cable so you have plenty of length and choose the best routing for them so you have an easier time when you want to tie them together and move them out of sight for a cleaner looking build. Some cases come with a special cover where you can squeeze cables in so the build almost looks cable-less.
Step #1 – Arrange all cables needed from the PSU and move to the back of the case

Step #2 – Find the optimal way to guide the cable in the best possible way to its connector, while making sure the cable fits nicely inside the cable holder

Step #3 – Connect all cables to the connectors

Step #4 – Use cable strips to bundle cables together for a cleaner look

Step #5 – Put as much cables as you can in the cable holder and screw it back to the case
Tip #4: Think outside the box (literally)
Changing colors of your PC isn't limited anymore to hardware only. Nowadays you can buy RGB mice, keyboards and even headsets. So if you're really an RGB freak, be sure to find these products from popular brands, as MSI Mystic Light also supports other brands RGB products. Prefer a complete MSI system? We've got you covered. Check out all MSI Gaming Gear with RGB here: https://www.msi.com/Gaming-gear/


MSI Z370 motherboards also come with dedicated RGB LED strip pin headers for easy installation of RGB LED strips and control through Mystic Light. The RAINBOW pin header even allows for separate color control of each LED inside a strip. MSI is also closely working with Corsair to support their RGB solutions. That's why on Z370 GAMING PRO CARBON and Z370I GAMING PRO CARBON we've added a JCORSAIR1 pin header to allow you to simply connect Corsair FANs or other RGB components like AIO coolers with RGB and control/sync colors using the Mystic Light application.
Tip #5: Sync RGB colors and effects
Once you've fired up the system and installed the latest drivers for the best performance, it's time to install the Mystic Light RGB app to personalize your rig.
Step #1 – Download and Install Mystic Light latest version

Step #2 – Open Mystic Light and get familiar about it's design and where to control what

Step #3 – Look for all devices detected by Mystic Light app

Step #4 – Check out each device control tab to sync colors & effects

Step #5 – Set up different color schemes in Mystic Light and save profiles

Step #6 – Play with RGB LED effects to find the one you like

Step #7 – Check the saved profiles and color schemes with your system and reboot
Want to learn more about MSI Mystic Light, more products supporting RGB LED and other popular brands who are supported by Mystic Light? Check out the Mystic Light landing page: https://www.msi.com/Landing/mystic-light-motherboard 

If you want to watch the complete video on how to build an awesome RGB gaming rig, check out the video below. ↓