VR performance test on Kaby lake platform
WRITTEN BY Shrek
Posted on September 04 2017
---
MSI pioneers only the extraordinary gaming machines for your gaming pleasure. MSI is the first to intro the gaming laptops with the latest Intel 7th Gen CPU and GeForce GTX10 series GPU in the market. Gamers can get the best performance out of these two new platforms only on MSI gaming laptops.
As a true gaming legend, MSI seeks to uphold its tradition to always offer the latest and the exclusive gaming features to fulfill gamers' every desire.
Technology of virtual reality is the new exciting chapter of the gaming world, and it's almost everywhere of each gaming event. The sample of VR head mount gears had been delivered couple years ago and finally arrived in the market for a while. Gamers love to try it and kids are overwhelmed by its dazzling 3D effect. Yes, it's truly the most attractive trend no matter of the developer side or in the entertainment market.
For anyone who's interested in VR games, the minimum requirements are important to keep in mind, as the PC you have today probably won't run either the Oculus Rift or HTC VIVE, unless they are the most lately gaming products. Required system specs include the latest Intel core i7 processors and Nvidia high-end GTX graphics, at least it's GTX 980M, GTX 1060 or above.
Since last year in August, MSI had launched a bunch of gaming laptops with VR certification, especially for HTC VIVE. Early of this year also co-launched with Intel for Kaby lake platform, packed the 7th gen processors with 25% enhancement regarding to VR performance. MSI gaming laptops now is proudly announcing the success by its full lineup and also the better performance among the competitors. Here below we'll use two common software to test the VR capability and let's see how it goes on MSI's gaming laptops.
VRMark
It's getting more and more understandable that performance requirements for VR games are much higher than for PC games. If you are planning to buy a VR head mount gears recently, that would be more confident if realizing the PC is ready for VR before buying it. VRMark includes two VR benchmark tests that run on user's monitor, no headset required, or on a connected head mount device. After testing each set of test, the result will tell you whether your PC is VR ready or not, and how's the gap between them.
To run the VRMark test on MSI gaming laptop, model name GT73VR series, can understand how high the VR performance can reach especially while it packed with latest Intel 7th gen core i7-7820HK and GTX 1070. It surely comes with top of the notch features and also the Dragon Center could boost the potential to the limit by its overclocking capability. In gaming laptop market we couldn't find any better platform than this one to have such crazy result.
The GT73VR series also come with Intel Core i7-7700HQ and GTX 1070. It packed with different Kaby lake CPU but limits its overclock function, that's why the performance is little bit lower than previous model but still good to amaze users.
Now it's the test on 6th gen Sky lake platform, Intel core i7-6700HQ with GTX 1070. We can see that even featuring same GPU but the VR performance is not as high as what Kaby lake platform can reach. The VRmark performance result inspires us on how much difference between two generations, even they are all packed the same graphics but the gap is like 25% difference. Now there would be no one saying "Performance difference between Sky lake and Kaby lake is small" or "the 7th gen processors are the same as 6th gen". Maybe by different testing software would criticize it but "25% difference on VRmark" is still the solid truth without any doubt.
SteamVR
The SteamVR Performance Test measures your system's rendering power using a 2-minute sequence from Valves Aperture Robot Repair VR demo. After collecting the data it determines whether your system is capable of running VR content at 90fps and whether VR content can tune the visual fidelity up to the recommended level. For machines that are not VR Ready the tool can help determine whether capabilities are bound by Graphics Card, CPU, or both.
Let's see the SteamVR performance test on MSI GE62VR series, which packed the core i7-7700HQ and GTX 1060. Apparently there is something wrong with SteamVR that only can show integrated GPU but discrete one. Although it can't release the GPU information from interface but the results can still fit the real situation. It's common that VR testing with integrated GPU won't have satisfied outcome.
Now turns to the platform of core i7 6600HQ and GTX 1060, it indicates the green ready bar and seems running ok. The average quality shows 6.1 but the figure is 19.6% lower than the result on 7th gen Kaby lake platform which is 7.3.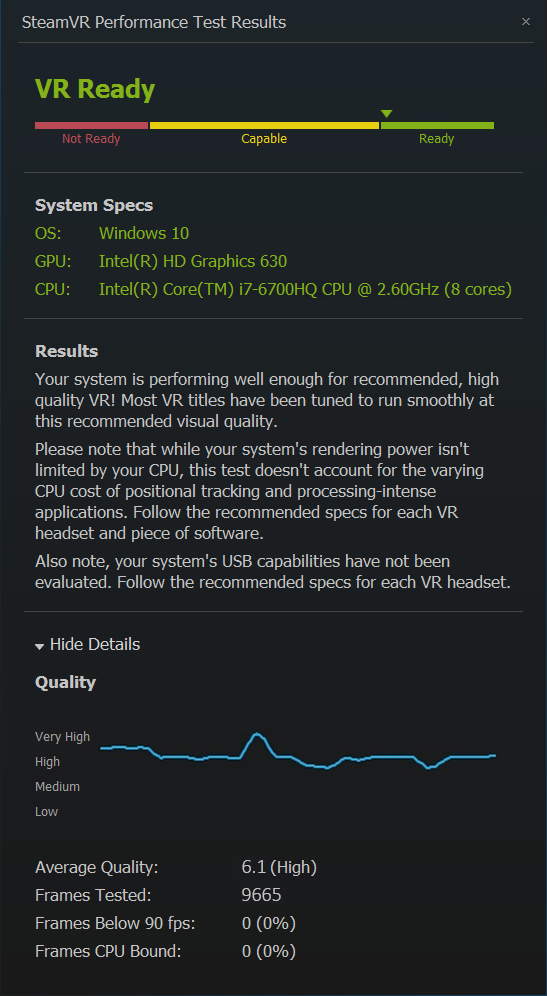 Every time when looking into a VR HMD, we see a new world for entertainment, travel, work or game play. No matter which scenario it comes, all will radically enrich people's multimedia experiences and bring more immersive excitement. Besides those, VR also has the potential in medical research and nature resource reservation. Innovative hardware is always the first driver to be the mainstream within any new technology transition. The verdict is clear, this new generation Kaby lake platform could bring more benefits than before and show us the breakthrough of VR. MSI gaming laptops are served will all kinds of combination in terms of the 7th gen CPU and Nvidia GTX 1060 or above. Next time just give it a try while visiting a PC/Laptop store and experience how terrific it is on MSI products. Some are PC, but MSI is made for gaming.