{{blogList.blogTitle}}
In 2017, NVIDIA powered GTX10 series graphics platform on the mobile gaming platform, cause still have more than 50% of the mid-low price range notebook market still use GTX9 series graphics. The GTX 1050 was tend to replace GTX960M, and GTX 1050 Ti to replace GTX 965M, GTX 1060 to replace GTX 970M, GTX 1070 to replace GTX 980M, GTX 1080 to replace GTX 980 of mobile platform GPU transition.
Don't Buy GTX960M and GTX950M anymore even it's a bit cheaper!
It's old architecture in the market; it's just an overclocked version of GTX860M and GTX850M, since the GTX 1050 Ti and GTX 1050 already in the market for months, real gamers and advance users need to know that spend few more money to buy a future ready gaming notebooks with GTX 10 graphics is really a smart and better choice.
GTX 10 of Pascal Architecture with 5 New Generation Technology!
When you take a look on the advantage of Pascal architecture, it comes with 16nm FINFET process for all GPU chips, that makes the GPU comes with lower temperature and smaller die size to optimize the smaller PCBA design easier. With 16nm process, the GTX 10 graphics of Core Clock Level boosted from GTX 9 series of 1000MHz to 50% higher of 1500MHz and even higher, so the real gaming performance is better than old GTX 9 series over 30% at least.
The 3rd advantage on Pascal GTX 10 is new NVLINK architecture inside the Core Architecture, a revolutionary core design that makes the multiple Core Pipes and GPUs got 5x faster acceleration in interconnect bandwidth and multi thread calculation. The built in RAM of HBM2 architecture makes the GPU calculation up to a new level with 3x boost in memory bandwidth performance than old version Maxwell of GTX 9 series. This is really important for gamers and content creators when they play larger scale games or larger scale themes.
Last but not least, NVIDIA enforce the new Pascal architecture GPU with new Artificial Intelligence algorithms, which means not only gaming experience will be faster and better, but also more AI usage will have a big step ahead on performance and arithmetic's calculation usage.
That helps a lot for new generation of DirectX 12 gaming experience, because if you only compared with 3D Mark 11 P scores, the gap is around 30%~50%, but the 3D Mark 11 Benchmark just based on DirectX 11 architecture, that can't reflect real gaming experience and VR experience based on DirectX 12 architecture.
DX12 Gaming and VR support is Much Better with GTX 10 GPUs
When you look into old GTX 9 series of Maxwell Architecture, it's 28nm with higher temperature and much lower Core Clock, you will realized that GTX 9 series did good job but really out of time in 2017. You could see that GTX 1080 already replaced GTX 980 GPU, GTX 1070 replaced GTX 980M, GTX 1060 replaced GTX 970M, GTX 1050 Ti replaced GTX 965M and GTX 1050 replaced GTX 960M as below table.
We strongly recommend users to buy GTX 10 series platform notebooks because it's not only performance difference, but also big difference in VR and architecture. That's more important because the graphics industry is not only for hard core gaming now, the new Pascal architecture of GTX 10 series graphics Core got more advantage on latest DirectX 12 gaming and VR experience enhancement, it's up to 30%~50% more than old Maxwell Core of GTX 9 series in all means.
GTX 10 Graphics Wins A Lot at Real Gaming Experience
Let's take a look into the GTX 10 GPUs and GTX 9 GPUs comparison with the latest gaming experience. On the online game of "For Honor" you need GTX 1050 to play it over 40FPS with Ultra Detail, but for advanced gamers you need 60FPS to make sure every game play smoother to prevent lag with online actions. That means you need to choose a gaming notebook with GTX 1050 Ti.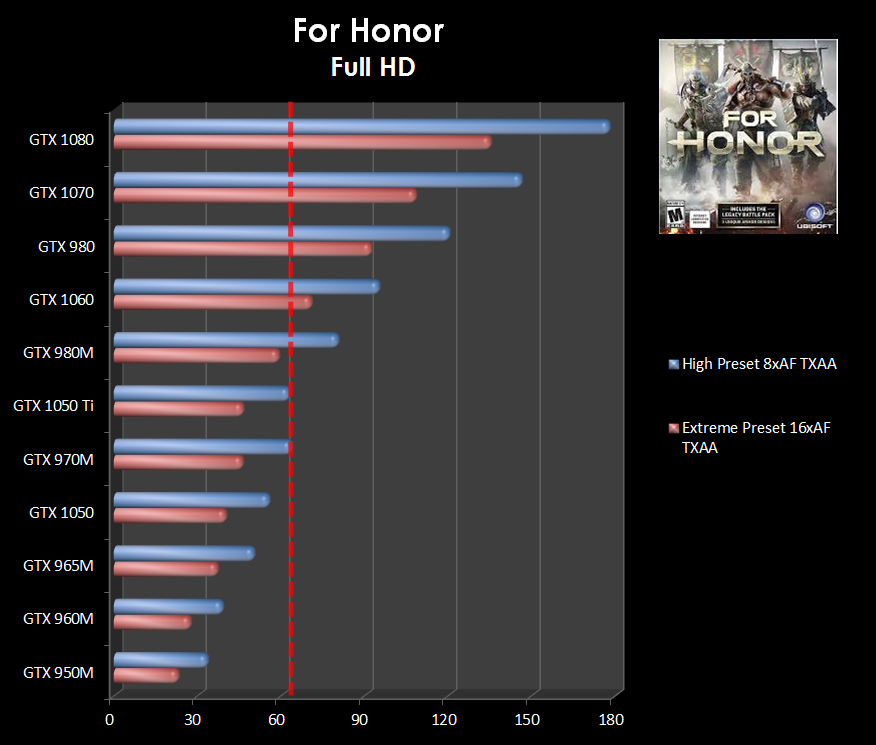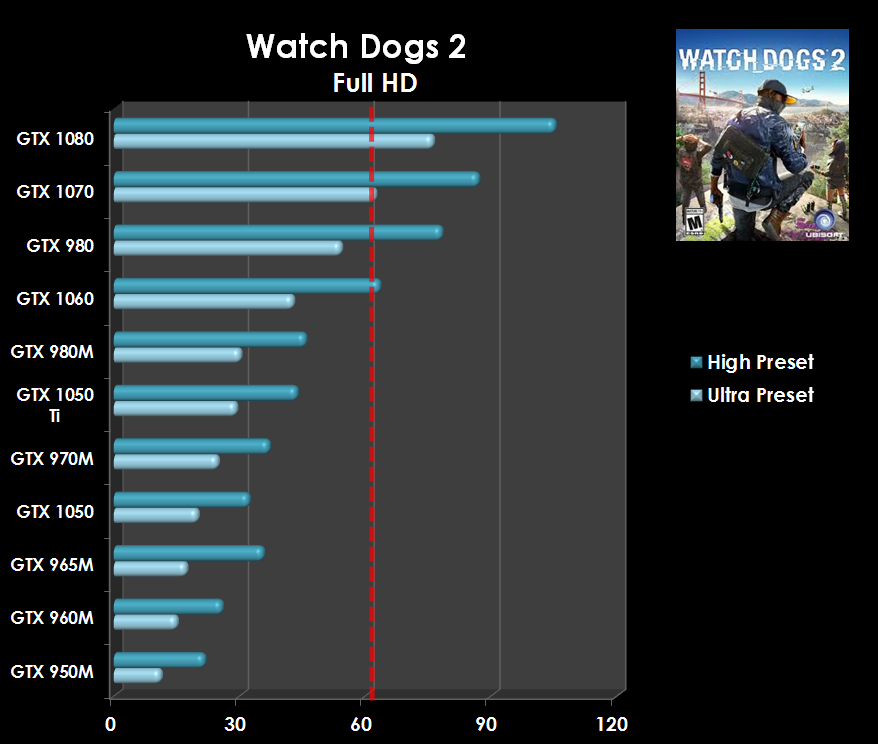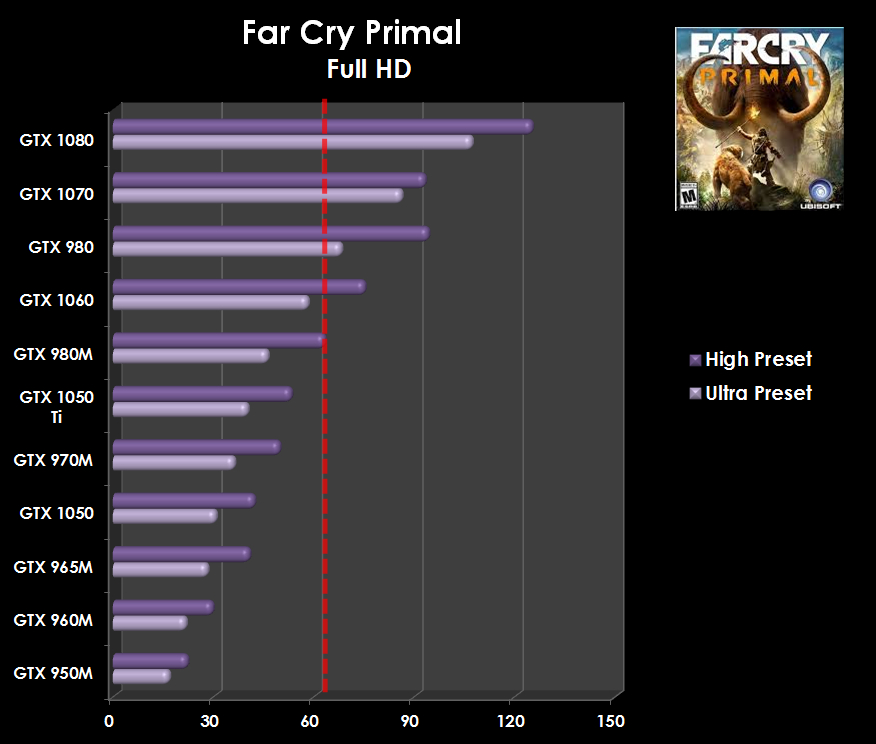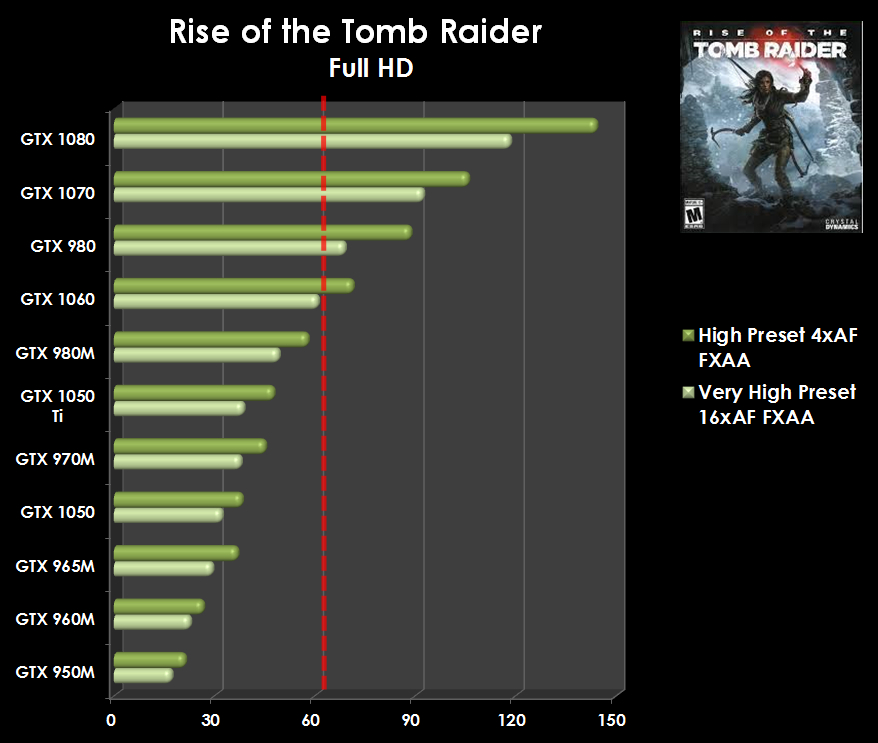 With "Far Cry Primal" games, you need GTX 1060 graphics to make sure most gaming experience keep over 60FPS or at least GTX 1050 to play over 30FPS, with "Rise of the Tomb Raider" and "The Witcher 3" also the same heavy loading requirement. And these games are just in Full HD resolution; so even don't need to mention if you want to play with higher resolution. That shows the latest GTX 1050 Ti seems to be a basic standard of 2017 gaming notebook for normal gamers. The last and most heavy loading game example is "Watch Dogs 2", if you want to play this game at FHD Ultra Preset with 60FPS to play it smoother, you really need to have GTX 1070 Graphics with your powerful gaming notebook. That's a high standard in 2017 but soon will be basic requirement in upcoming 2018.
MSI Gaming Notebooks with GTX 10 Graphics could Give You More!
Since you decide to buy a new gaming notebook, you should by a good one which is ready to play most of games form year of 2017 to 2018 even 2019, because it's a big investment for most of users and gamers. So there are more important points you need to aware about.
The GT73VR Titan and GT83VR Titan designed for Extreme Gamers and Users that comes with "Cooler Boost Titan" cooling design, GT73VR designed with 2 extreme performance 9cm fans and 10~12 which is capable to have great performance with GTX 1070 SLI or single GTXX 1080. And GT83VR is the best 4K gaming model comes with GTX 1080 SLI with 3 extreme fans and 15 heatipipes of the "Cooler Boost Titan" thermal design.
GT72/62VR Dominator are also the powerful models with OC capability with GTX 1070 and GTX 1060 graphics, their cooling module comes with 2 extreme fans and 7 heatpipes of the best "Cooler Boost 4" design.
If you search for ultra slim but still powerful gaming notebooks, you must look into MSI GS series, the "Cooler Boost Trinity" of cooling design comes with 3 fans and 5 heatpipes in a 5mm height of range, that's how MSI kept their GS63 and GS73 with stable performance with GTX 1060 and still could overclock the GPU to get 5%~10% higher performance, and still you will have stable system. The GS63 and GS43 did not sacrifice the HDD, MSI still installed 1TB or 2TB HDD inside these ultra slim gaming notebooks like no others.
With MSI gaming notebooks, 1st priority is the cooling system, the cooler design on GE, GP and GL models all comes with 2x powerful fans and 6 heatpipes as "Cooler Boost 4", that's why even the GL series could keep very good performance for entry level users and gamers.
Please remember, MSI gaming notebooks could always keep highest performance on any segment because of the best cooling design, so if choose other so-called slim gaming notebook but comes, you might get lower performance in your games compared with my gaming benchmarks.