{{blogList.blogTitle}}
Nowadays, building a PC is not only about rapid gaming speed, but also about stunning and eye-catching designs. With the rapid progress of science and technology, when professional computer gamers buy gaming PCs these days, in addition to the basic requirement that the computers' performance be powerful enough to run single-player games smoothly, it is best that they allow for playing online matches with people, too. Team up for a "Chicken Dinner" (PLAYERUNKNOWN'S BATTLEGROUNDS; PUBG"), stream a live broadcast to share your gaming with friends and fellow netizens, and become an internet sensation while you're at it. As for appearance, the traditional PC's rectangular form factor and monotone color have long been unable to meet expectations—a PC that lights up is only considered basic nowadays. It is best to have RGB multi-colored lights and an ability to adjust the lighting effects as desired in order to stand out from the crowd of PC builds—and become the coolest gamer around. Allow me to introduce you to the build guide list for the newest generation of gaming PCs. You're also welcome to take a look at our YesWeBuild landing page, and build your own computer yourself.
https://www.msi.com/Landing/how-to-build-a-pc

How to get the best value when building a new generation RGB gaming PC, how to build a budget gaming PC that is both fast and cool-looking.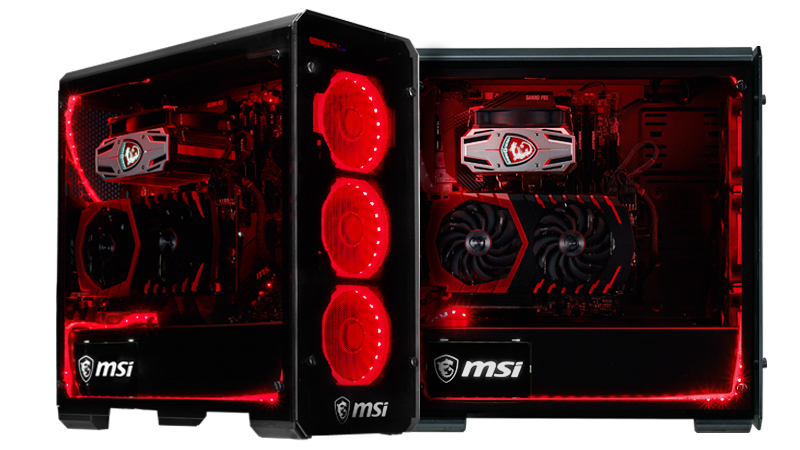 For hardcore PC gamers, they care most about how to spend the least amount of money to achieve the highest performance. In the following, I will list a few critical requirements for the new generation of RGB gaming PCs, and shed some light on how to strike a balance between performance, stability, and budget to build the RGB gaming PC with the best bang for your buck.
2-1. Gaming performance: Running AAA game titles smoothly at 1080p with max settings
Nowadays, gaming PC requirements are to run an AAA blockbuster game title on 1080p with max settings, and still enjoy a smooth audiovisual performance. The CPU and VGA are two essential components to support such demanding system performance requirements. The RAM and storage are indispensable as well.
As for the processor, we recommend the eighth generation Intel Core i5-8400 processor. This is the entry-level product of the eighth generation Core i5 processors, which has adopted a 6-core 6-thread architecture with a maximum operating clock rate reaching 4.00GHz. Its number of cores has increased 50% compared to the previous generation of Core i5 processors, providing a more powerful computing power, where gaming in 1080p is guaranteed to be a smooth experience.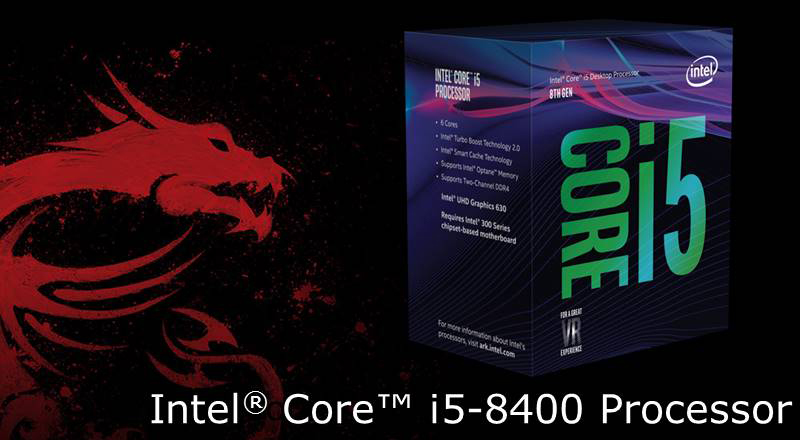 As for the graphics card, we recommend a graphics card with NVIDIA GeForce GTX 1060 graphics core and 6GB GDDR5X or more graphics memory. This ensures that games run smoothly in 60fps without lagging on 1080p max settings when running AAA blockbuster titles such as Assassin's Creed, Call of Duty, Far Cry, Grand Theft Auto, Tomb Raider, Overwatch, and the ever-popular PUBG (i.e. PlayerUnknown's Battlegrounds).
Other than the two components mentioned above, we will also consider RAM memory and storage. For RAM, we suggest using DDR4 16GB capacity with the latest Microsoft operating system, Windows 10, to ensure the most efficient application. As for storage, we suggest using mid to higher tier SSD with over 240GB of space for the installation location of the main system and games. This effectively improves the boot-up speeds and read/write performance of games.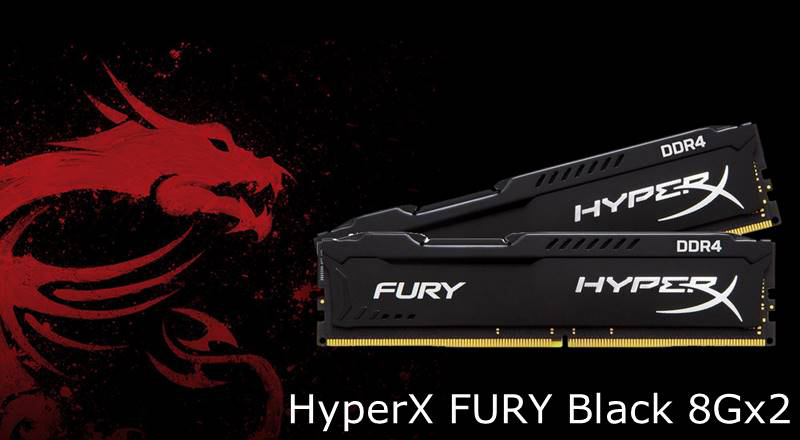 We also suggest to purchase a 7200RPM Hard Disk Drive with at least 1TB storage capacity for other miscellaneous data and games that are less frequently run. With the Intel Optane memory acceleration technology supported by B360 chipset motherboards and above, the performance of Hard Disk Drives is also significantly improved.
2-2. Cool RGB: Mystic Light provides cool RGB lighting effects, which  allow you to synchronize effects across the motherboard, discrete graphics card, CPU cooler, computer case, etc.
As we mentioned earlier, since RGB lighting effects are an indispensable element for the new generation of gaming PCs, we suggest adopting a motherboard that is equipped with RGB lighting and synchronization effects (for example, MSI's B360 GAMING PRO CARBON motherboard, as mentioned in this article), together with a compatible graphics card, cooler, computer case and cooling fan, or even peripherals such as keyboards, computer mice, microphone headsets, etc., allowing gamers to customize their favorite colors and lighting effects, in order to provide the coolest gaming experience.
2-3. Audio and video entertainment: Enjoy an immersive experience when playing games and listening to music, and try out the newest VR technology without hassle
The new generation of gaming motherboards are also equipped with various software and hardware enhancements. On top of ensuring the highest quality audiovisual experience when watching videos and listening to music, when gamers team up for gaming matches, team voice chat communications must be clear, and the best-in-game audio effects should be provided. It is crucial to strike a balance between the two.

The MSI Products
MSI B360 GAMING PRO CARBON, the best  RGB budget gaming motherboard

MSI's B360 GAMING PRO CARBON motherboard is equipped with Intel B360 chipset, and is able to support the newest Intel eighth generation Core series processors and DDR4-2666 memory modules; it also supports Core Boost and the most cutting-edge Intel Optane memory acceleration technology, and Turbo USB 3.1 Gen2 features. Through supporting the latest hardware specification, gamers are able to enjoy the ultimate speeds in their gaming experience.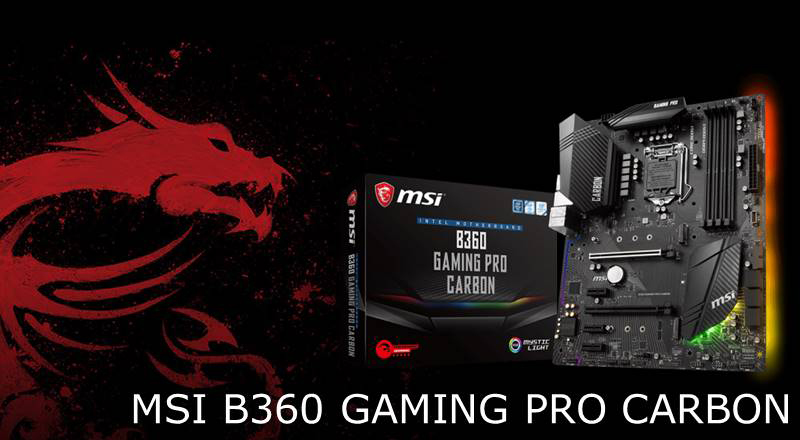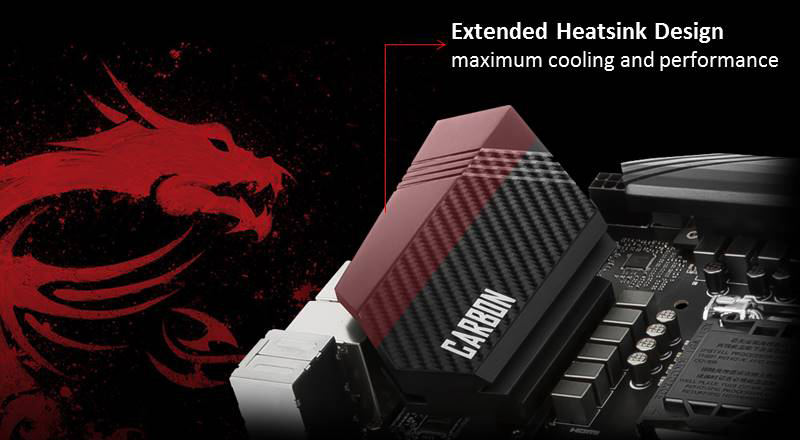 Audio Boost 4 with Nahimic and Voice Boost audio technology lets gamers experience the best audio environment. With Mystic Light and Mystic Light Extension, light source integration on the motherboard, components, and accessories can be controlled, providing up to 16.8 million types of lighting effects for the gamers to configure. High quality military-grade parts, cooling designs and rigid compatibility testing also provide numerous safeguards for stability. If you haven't made up your mind on the appropriate motherboard, please use the tool provided by MSI to filter out the best product for you: https://www.msi.com/Landing/best-cheap-budget-gaming-pc-build

MSI GeForce GTX 1060 GAMING VR X 6G graphics card, provides great cooling performance (heat sink & heat pipe, Torx 2.0 fan), in addition to being quiet (Zero Frozr fan-stopping feature), and aesthetically appealing (Mystic Light).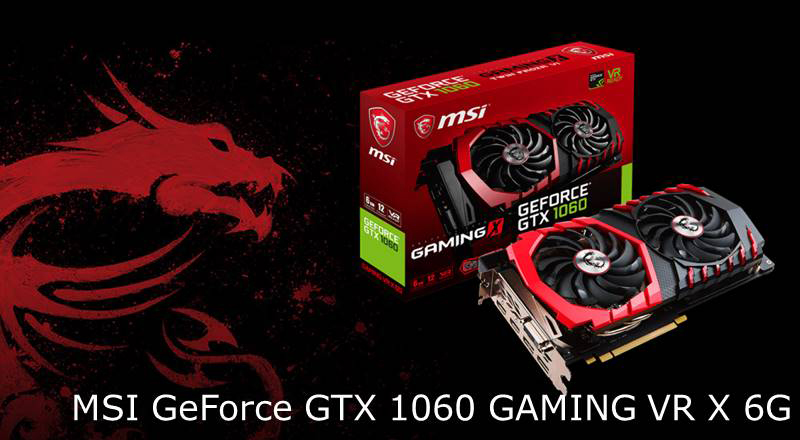 MSI GeForce GTX 1060 GAMING VR X 6G graphics card has adopted the NVIDIA GeForce GTX 1060 GPU. Equipped with 6GB GDDR5X (or more) memory, it's able to switch between three operating modes, namely "OC",  "gaming" and "silent", with clock frequency up to 1809 MHz / 1594 MHz / 8108 MHz (OC mode)—faster than the default speed of NVIDIA's reference design GTX 1060 6GB graphics card—making games run even more smoothly.
 
As for cooling features, Twin Frozr VI cooling architecture has been adopted. A nickel-plated copper base along with an aluminum heat sink and extra large heat pipe, together with the exclusive aerodynamic blades of the TORX 2.0 fan, are able to quickly vent away heat. The Zero Frozr intelligent fan-stopping technology is also able to make the fan stop operating in low-load situations to keep it quiet. Throw in customizable MSI GAMING Dragon LED lighting effects, and gamers are able to configure lighting colors and special effects as they desire, creating a personalized style.
All of the relevant tuning features mentioned above can be easily set via the MSI Gaming App utility. A mobile phone version is also provided, enabling gamers to switch the operating modes through their cellphones in order to achieve the desired performance speeds—and feel good while they're at it.


MSI Core Forzr XL Cooler, dual 12cm high-performance cooling, quiet, Mystic Light
MSI Core Forzr XL cooler has adopted eight sets of 6mm heat pipe and aluminum bonded fins, which are directly connected to the rigid nickel-plated copper base, conducting heat generated by the CPU to the cooling bonded fins right away. With up to 2 exclusive TORX 120mm cooling fans, air flow drawn in by their exclusive aerodynamic blade design will quickly take away the heat on the heat sink fins, which can effectively dissipate up to 250W of heat from the CPU.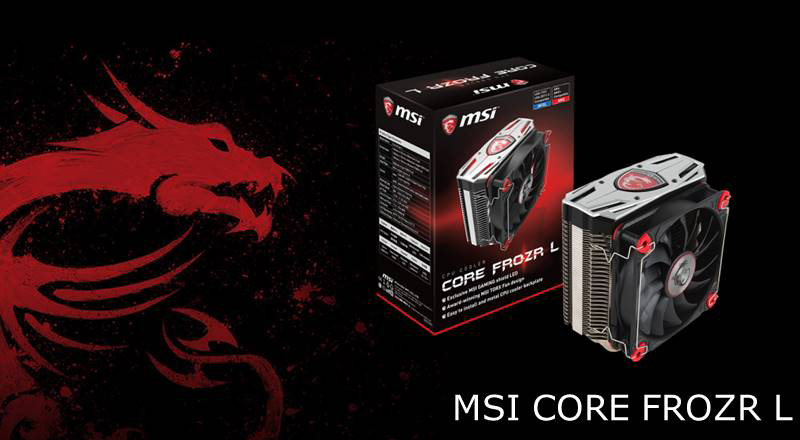 In addition, there are numerous designs that gamers can install and configure themselves: eccentric design reduces interference with the graphics card of the first PCI-E slot on the motherboard; the height of fan is kept at the adjustable range of 36mm-55mm, which avoids RAM clearance issues that may be encountered during the installation of memory modules. Furthermore, you may use MSI's Mystic Light App software with a cellphone or computer to customize the lighting effects on the heat sink cover, with 16.8 million types of lighting effects to choose from.
Recommended PC Build Guide List
Processor: Intel Core i5-8400

Motherboard: MSI B360 GAMING PRO CARBON

Memory: Kingston HyperX FURY Black 8Gx2

Cooler: MSI Core Frozr L

Graphics card: MSI GeForce GTX 1060 GAMING VR X 6G

Power supply: Cooler Master MWE Bronze 550W

Computer case: MSI MAG PYLON

Solid-state drive: Kingston HyperX Savage 2.5" 240GB SATA

Hard disk drive: Seagate Barracuda 1TB 3.5" 7200RPM

Optane: 16G or 32G

Still looking for a PC buying advice? To see MSI's latest product recommendations, visit our landing page for complete guide:
https://www.msi.com/Landing/best-cheap-budget-gaming-pc-build
Read More: 
Build guide 2018: the best high-performance Intel B360 compact computer
Build guide 2018: best value Intel B360 RGB gaming PC
Build guide 2018: the snow white Intel H310 budget gaming PC