{{blogList.blogTitle}}

So you want to do something special with your gaming rig? To make it look like a Batcomputer, that it lights up like a Christmas tree, or just to really impress on that cool LAN-Party. It's common these days to have a really awesome gaming rig and not just a standard computer case for all your really powerful computer components. Welcome to the world of Casemodding, where you can find and build the most beautiful computer cases for your precious hardware.
In this blog we will give you some inside info on Casemodding and some tips and tricks to start. So if you ever wanted to start Casemodding but you don't know where to start, just follow these tips and start modding! :-)
Before we start...
First you need to know that there are 3 types of casemods:
| | | |
| --- | --- | --- |
| | | |
| Casemod | Casecon also know as 'scratch build' | Pre-mods |
| Casemod or Case Modification is the most common version. It is nothing more than a modified computer case, where the base of the case is used. | Casecon, Scratch Build or Case Construction is the hardest form of casemodding, in this form you build the whole case yourself, from frame to side panel etc. | The last type is Pre-mods, this is a factory made case that is ready for use with a standard window or other things. |

What the F* is Casemodding?
Casemodding or Case Modification is changing the original shape of your case on several points. You can do so many different things, for example changing the color, adding a side window, special lighting or just cleaning up your cables. As mentioned above, you also have the extreme form, Casecon (or Case Construction). In this form you just rebuild your whole PC.
Gamers started Casemodding because they wanted to overclock their systems. Therefore, it was necessary to equip their gaming rig with better components to cool the system. It started with simple fans or air holes, but later on it transformed to water-cooled systems, where several key elements like processor or chipset are cooled by water. As this became popular, gamers began Casemodding to personalize their systems and Casemodding was born.
Things you can do!
In this blog we will focus on the 'Casemod' type, and introduce you to some possibilities that are available. There are tons of tutorials and websites on the internet to help you, but we will tell you a bit of the basics of Casemodding.
Window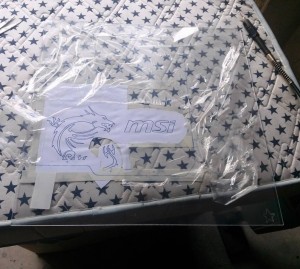 Most of the Casemods have a window in the side panel of their gaming rig. In this feature you can see all the great components, and is one of the basics of a casemod. You do want to show all your internal modifications.
Pro tip: Most of the time, it's just a perspex sheet that fits to a cut out in the side of the case. There is also a "basic of basic" way to do this, make a pattern with cut sheet or vinyl sticker by yourself, or buy it from a online shop, such as this one. Paste it on the side panel of the case, and done!
LED-fans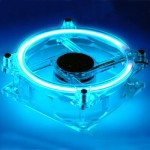 Easy installed and providing a cool lighting effect, these fans keep you gaming system cool but make it look cooler as well. There are several different shapes and colors to choose from, but it's a quick way to mod your PC.
CCFL's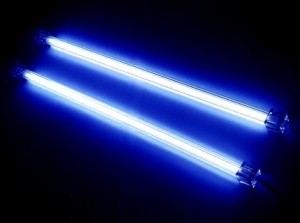 It looks like Neon-light you know from car tuning, but it is ready to use in your computer case. With different shapes and lengths there is enough choice for you to use these and lighten up your gaming rig. Nowadays, LED lighting is a great lightsource because it requires less power from your PSU.
(Water)Cooling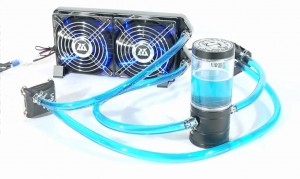 If you say Casemod, you say cooling. For gamers cooling is important to get the maximum performance out of their components. Their gaming rig needs good cooling and with some standard fans you don't get the desired result. Water-cooling is a great solution and used by many Casemodders. You can select cool fans or water effect to build an even more awesome Casemod.

Cable managment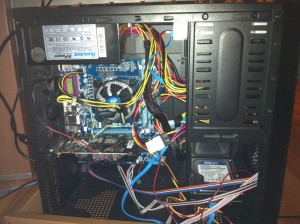 When you have awesome lights and fans in your case, and you can look in your case, you don't want to see a total chaos of cables. So also an important part of Casemodding is cable management. Arrange your components consciously in your case so you can use the space to hide your cables. Use mesh or heat shrink to make your cables more presentable. This is called sleeving.
Competitions and LAN-Party's
There are several kinds of Casemod competitions, you can split them roughly into two types:
- Onsite, is a competition that is made on location, and only there. A good example is the DCMM on Gamescom.
- Online, is a competition that you can participate online and build your mod at home. A good example is the MSI Pro MOD.
Or you could alway just do it for fun or to build the best and smallest case. You name it! Most of the time, people just love to share their beautiful and hard work on LAN-Party's. This is a place to get great tips for Casemods. Can you spot the Casemods on the photo now? ;-)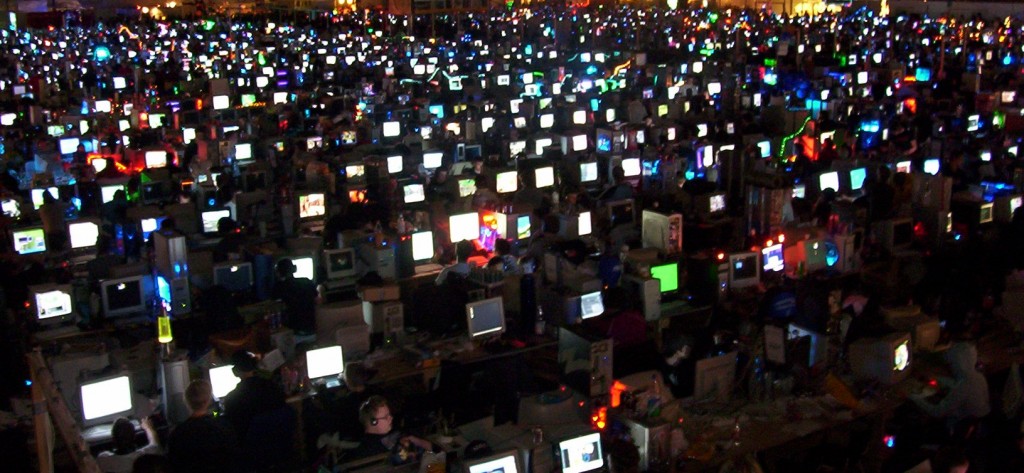 Pro Tips
So this is a small part of the world of Casemodding. There is so much to do with it, you can think of building screens in your case, hand cutting logo's, making custom buttons or even mod hardware like your mouse and keyboard!
For some more info on Casemods, check this website:
http://www.bit-tech.net/modding/case-mod/

Also if you are going to open up your PC, read this blog about upgrading your graphics card:
http://gaming.msi.com/article/pc-gaming-101-how-to-upgrade-your-graphics-card
Searching for some inspiration?
Want to see some really cool casemods? Check out these mods, all with MSI products. You can check more on https://www.facebook.com/PlanetMODs where new casemods are highlighted every week. 
          

At Doom's Gate
Modder: Mooz
Worklog

 

MSI Gaming Dragon
Modder: Soccer
Video

 
 
ENT
Modder: Balazs Szabo
Worklog