{{blogList.blogTitle}}
 Hi Gamer 
Consumer Technology Association (CES) is well known as the biggest IT show in the world and the first one in a new year, there are always some cool things showing up on CES.
Of course MSI was also there and proudly released some new gaming products crafted for gamers. Today we're going show some of those new products to you, let's check them out!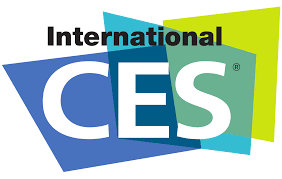 The Gaming 27XT Gaming All-in-One PC
You might had read some news and articles about this magnificent and special product already on the internet. The Gaming 27XT is a real killer, it won a double honoree innovation award on CES and it will change any thoughts you had about All-in-One PC's. This gaming AIO PC is all about "Performance", having a desktop CPU and other 'full-sized' components it also features an external "full size" gaming graphics card, that is supporting up to the GTX 980TI. Because it's external it is also easily upgradable. MSI wants to deliver a clear message to Gamers, This is just designed for gaming.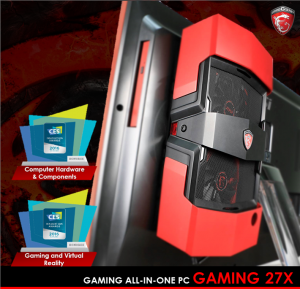 More and more gamers care about their gaming monitor, most of them want to have a monitor that brings sharp graphics and good viewing angles, so that it is more comfortable for gamers to play many gamers. But MSI cares about more, we care about VICTORY. It is important to us to make it easier for gamers to win their games. With Gaming 27XT's gaming screen, NO MORE screen tearing. We use an astonishing 144Hz gaming screen and adaptive sync technology to solve screen LAG and tearing issues. In this way MSI provides a more smooth gaming experience, especially for FPS gamers. If you like games, such as Call of Duty and Battlefield, you definitely need to try this.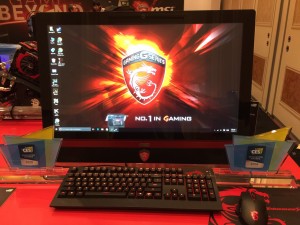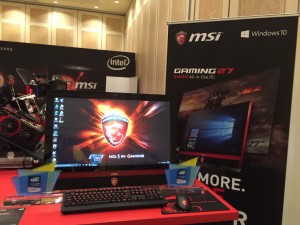 Like mentioned before, the MSI Gaming 27XT AIO PC is proud to be the only one with a double honoree it received in the CES 2016 Innovation Awards in both the "Gaming and Virtual Reality" and "Computer Hardware & Components" categories. 
Here is great introducing video "The top 5 Intel Gaming Desktops" from Linus Tech Tips.
">Top 5 Intel Gaming Desktops - CES 2016
MSI Gaming Desktop Nightblade X2 case mod.
The Nightblade Hercules, the Demigod.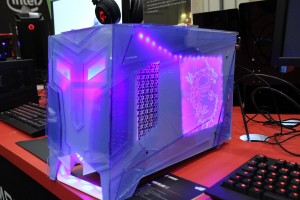 "Hercules, the Demigod, he is the son of God-King Zeus, he is well known as "man of unusual strength" and "The Lion slaver", and he's in commend to the image of hero for the world. "
The"Nightblade Hercules" is made in the image of Hercules. The power of the Nightblade X2 can conquer all the challenges that games throw at it, and with the ultimate gaming design by MSI, it's the best choice for the gamers.   
The "Nightblade Hercules" was selected "The killer case mods and tricked out PCs at CES 2016" by PC World.
http://www.pcworld.com/article/3020334/computers/the-killer-case-mods-and-tricked-out-pcs-of-ces-2016.html#slide2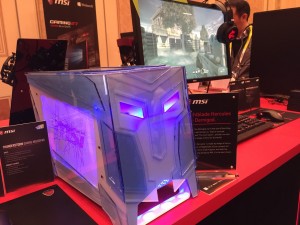 The designer of the Nightblade case mod is Tim Warning from Netherland. 
">MSI Gaming Desktop Nightblade X2 case mod "Nightblade Hercules" at CES 2016.