{{blogList.blogTitle}}
During Computex 2016 we showed a new addition to the Aegis Gaming Desktop PC series, MSI Aegis X. With this upgrade it is an extreme Gaming Desktop PC comparing to the already powerful MSI Aegis. But what are these upgrades and which version of the Aegis should you choose to play all your games? Let's take a look comparing the MSI Aegis with the MSI Aegis X.

Similarities between Aegis and Aegis X
Differences between Aegis and Aegis X
Connecting your devices on Aegis and Aegis X
So, Aegis or Aegis X?
Similarities between Aegis and Aegis X
Let's start with the similarities between Aegis and Aegis X. Aegis is a Gaming Desktop PC series that is made for gamers, so you will find some great gaming features on both systems. 5 of the most important similarities are:
MYSTIC LIGHT

Customize your Aegis with Mystic Light. Make your build look on fire or cold as ice. You are in control. You can select any of the colors from the palette to match your systems' design. Or use breathe, gradient or Gaming & Music modes.

CARRY HANDLE

A useful handle situated at the top-back of the Aegis case can be used to pick up and carry this lightweight gaming beast around from one LAN-party to the next.

DDR 4 SUPPORT

 The 6th Generation Intel® CoreTM i7 CPU comes with a brand new architecture that supports the high speed 2133MHz DDR4 memory modules. The dual channel of DDR4-2133 brings a 33% performance enhancement compared with that of the dual channel DDR3-1600 memory.

EASY ACCES TO COMPONENTS


 For those who always want to get the best out of their system, the components of the Aegis series are easily accessible and ready to be upgraded at any time. Whether it is storage, a processor or a graphics card, you can always keep your Aegis gaming rig up to date with the latest hardware.

SMALL SIZE (19.6 LITERS)


Small and Extremely powerful
Aegis has all the components of a 'normal' desktop PC but in a small and compact case.
Differences between Aegis and Aegis X
Aegis is an astonishing Gaming Machine, and Aegis X just gives a bit more punch to your Gaming needs. So what are the differences between the 2 Aegis versions? Let's find out. 
The main difference is the Chipset on the motherboard. Aegis uses the B150 chipset, while Aegis X uses Z170. This means Aegis X has some new and other features.
UNLOCKED CPU 
Aegis can equip up to Intel's 6th Gen Core i7-6700 processors, the Aegis X up to Intel's 6th Gen Core i7-6700K. This means that the Aegis X has an unlocked CPU that can be overclocked. If you need that extra performance in a game, the Aegis X can be overclocked to give more.
Aegis = no overclocking
Aegis X = overclocking
OC GENIE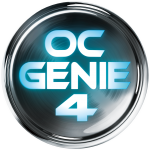 Speaking about overclocking, because of these capabilities on the Aegis X, we built in an easy feature called "OC Genie 4". This allow you to just simply push the Dragon Button on the front of the case, and the hardware inside is amped up in speed and performance, making games or other complicated computing tasks run even smoother than in normal mode.
SUPER RAID 4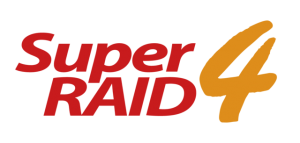 Get in the game before everyone else with Super RAID 4, MSI's fastest RAID 0 storage configuration. Combining dual PCI-E Gen 3.0 x4 SSD's utilizing NVMe technology, harness the full performance potential of the Gen 3.0 SSD outputting extreme read speeds over 3300 MB/s.
SILENT STORM COOLING

To get outstanding performance Aegis X is equipped with a powerful cooling system, Silent Storm Cooling 2 Pro. The difference between Aegis and Aegis X is that Aegis X is equipped with an advanced Dragon Liquid Cooling system to enable extreme CPU overclocking. The unique 'Silent Storm Cooling 2 Pro' design makes sure the system's temperature stays perfectly under control, supporting a cool and silent operation.
KILLER NETWORK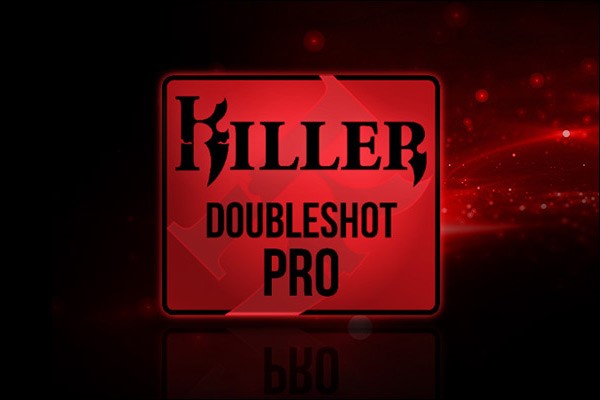 Aegis X comes with Killer™ Double Shot Pro, letting the Killer™ Ethernet connector and Wi-Fi adapter work together for the ultimate high speed attack. It will optimize your gaming connection and automatically detects and accelerates game traffic for a smoother, stutter free in-game performance.
VR LINK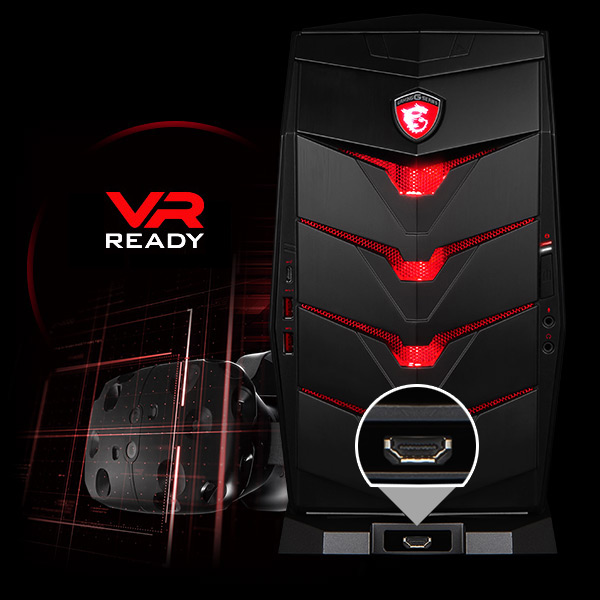 Do you like VR and are looking for a way to easily connect your VR device? The Aegis X is the Gaming Desktop PC for you, it features a special HDMI™ out port in the front of the case. You only have to connect your Graphics Card to the HDMI™ port at the back and you can connect your VR device in the front of the case. No difficult connecting with cables. Just connect your VR device easily and quick.
Connecting your devices on Aegis and Aegis X
A gamer has a lot of other hardware that he wants to connect to his gaming rig. So how many devices can you connect to Aegis and Aegis X? And what kind of ports do you have? Let's take a look.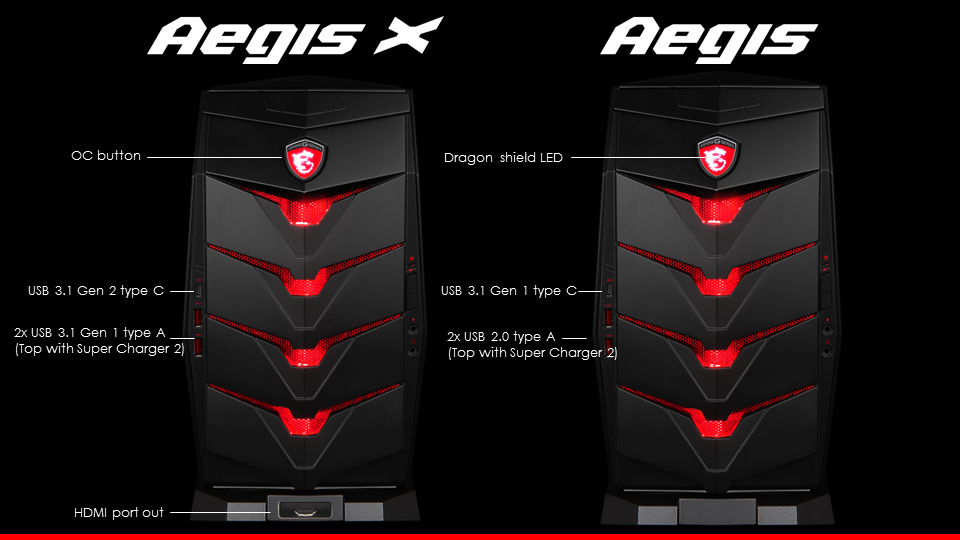 As you can see the Aegis X has a small difference. It comes with a "one-click" OC button in the front, you can read all about this earlier in this blog, and an HDMI™ port out. This port is made for connecting your VR device easily in front.
If we look at the back of the rig, we see also some small I/O differences.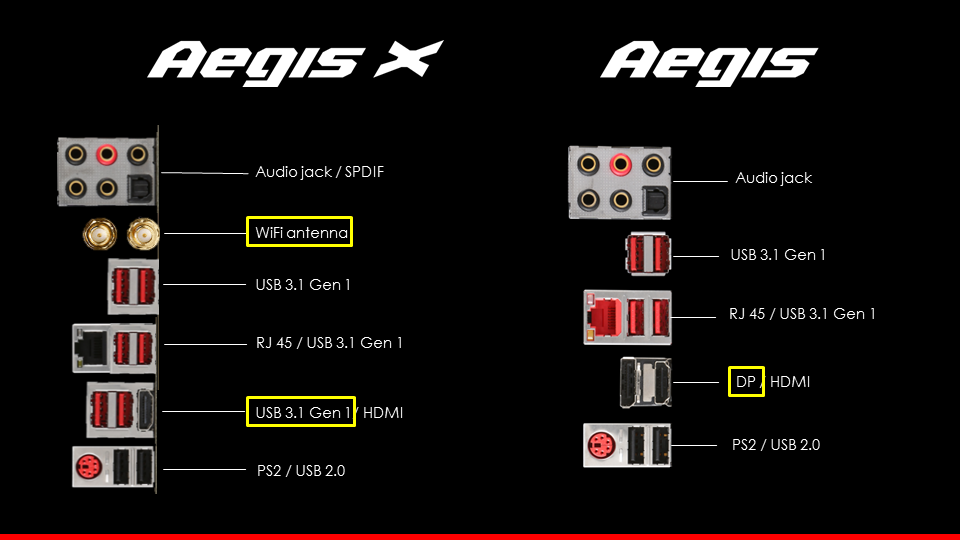 Aegis X has connections for external WiFI antenna's and has a few more USB ports, while Aegis has an onboard DisplayPort.
So, Aegis or Aegis X?
While the decision is still not easy, you can easily say if you want a great gaming PC both systems are the perfect solution for you. If you just want to play games and don't want to think about doing anything special with your PC, MSI Aegis is your choice. However, if you want to have just a little more power, want to overclock your system and want to play VR Games, MSI Aegis X is definitely your best choice.
Check out more detailed information about MSI Aegis and MSI Aegis X here: