The launch of Intel's new mobile 6th Gen Core CPU family has brought along a bunch of changes – of course we will see the usual barrage of small improvements in gaming performance and power consumption, but it's also a paradigm shift. For the first time in a very long time, we're seeing a shift in memory technology, going from DDR3L to DDR4.
First of all, unlike the shift from DDR2 to DDR3, there is not a huge price premium to pay as a consumer – pricing on DDR4 technology is already made affordable by desktop systems and competition among DRAM manufacturers – meaning it's surprisingly affordable to be an early adopter this time around.
Of course, it's not a change just for the heck of it – DDR4 is going to be the memory standard to be reckoned with for years to come, meaning it makes sense to go for a DDR4 platform if you want to add more RAM. Maybe most importantly, the performance is obviously also up – frequencies are higher, and while timings are seemingly more relaxed, overall latencies are significantly lower.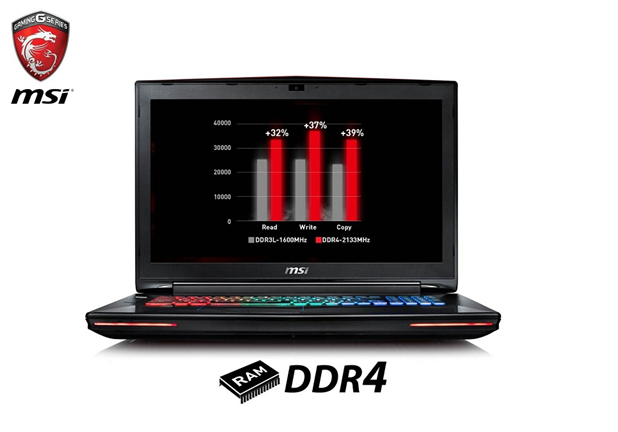 The result of this is plan to see in our graph above – going from DDR3L at 1600MHz (which is the standard speed used in MSI Gaming systems) to DDR4 at 2133MHz gives improvements in the neigbourhood of 35% on average. The benefits of this vary from application to application, but a lot of compression software relies on high memory performance, as do certain games. One thing that is clear is that it will improve your productivity, even in daily tasks.
To secure a system that comes with the memory of the future, look out for systems with the 6th Generation Core CPUs from Intel, available in our Gaming lineup of notebooks.