Looking for a new gaming mouse? Here's why the new MSI Interceptor DS300 GAMING mouse is a solid choice for any gamer besides being one of the most comfortable right-handed gaming mice.
Highly accurate laser sensor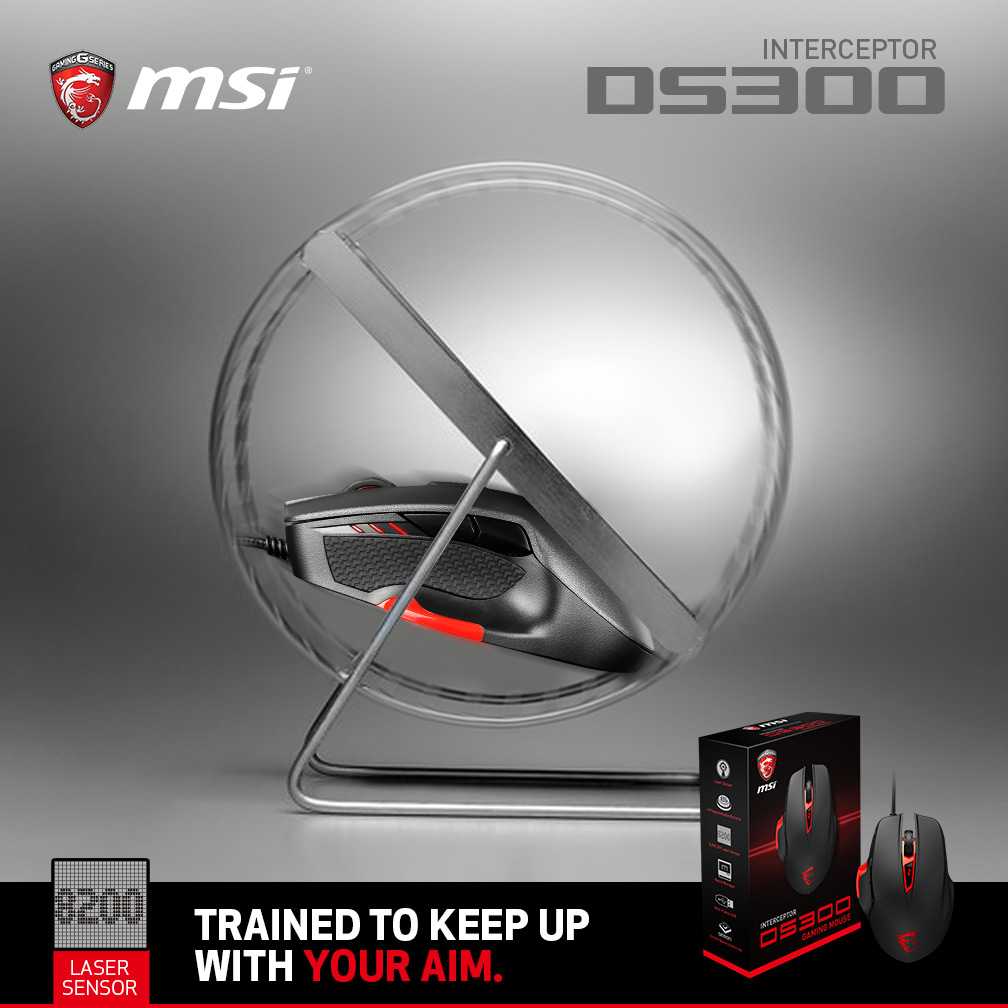 Whether you're playing shooters, strategy or MOBA games, swift and precise mouse movements can make a huge difference to your ingame performance. The highly accurate ANDS-9800 laser sensor offers a DPI of up to 8200, which can be easily adjusted with the DPI switch or fully customized in the software. A mouse that keeps up with your aim can make the difference to win the game!
Adjustable Weight System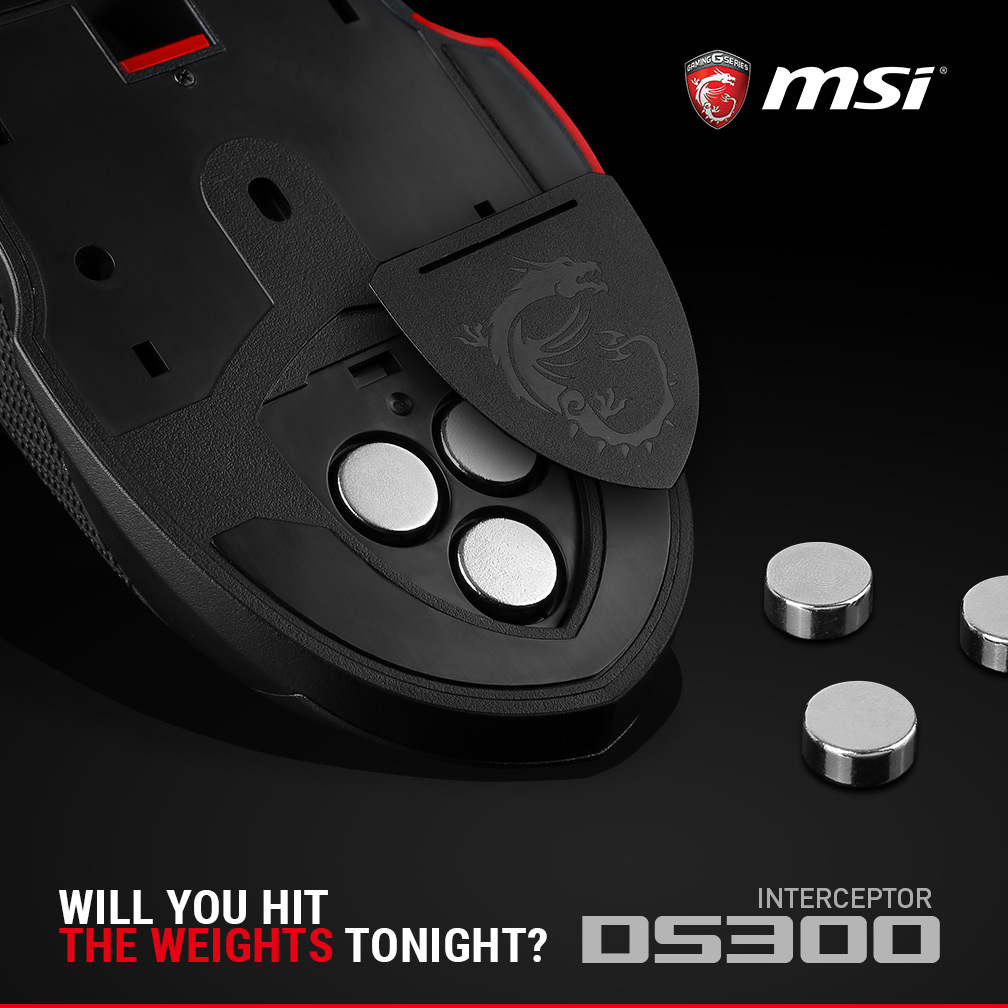 Playing with weights isn't just for people in the gym. In fact, adjusting the weight to your preference can give you significantly more mouse control by altering the resistance between the mouse and the surface. It can also make the mouse feel much more comfortable, depending on whether you prefer a heavy or light mouse. So whatever you do, be sure to hit the weights!
GAMING build quality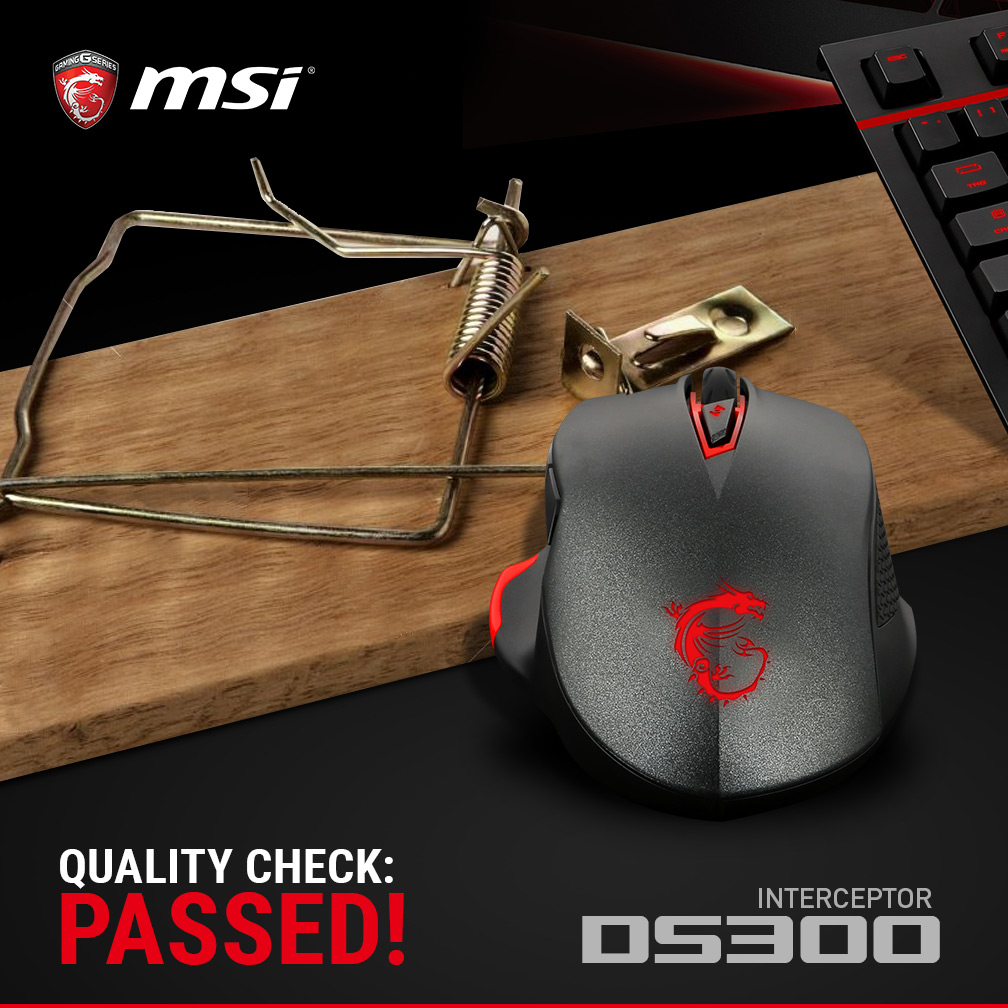 Gaming mice aren't cheap. So once you've found one that you love, you never want it to wear out or break down. The DS300 is built to survive years of intensive gaming thanks to high quality materials, including:
Omron Gaming switches, rated to last over 5 million clicks each
Smooth and durable mouse feet for optimal gliding on any mousepad
Durable braided cable to connect the mouse to your PC
High quality rubber side grips to ensure a solid grasp on the game
Rubber side grips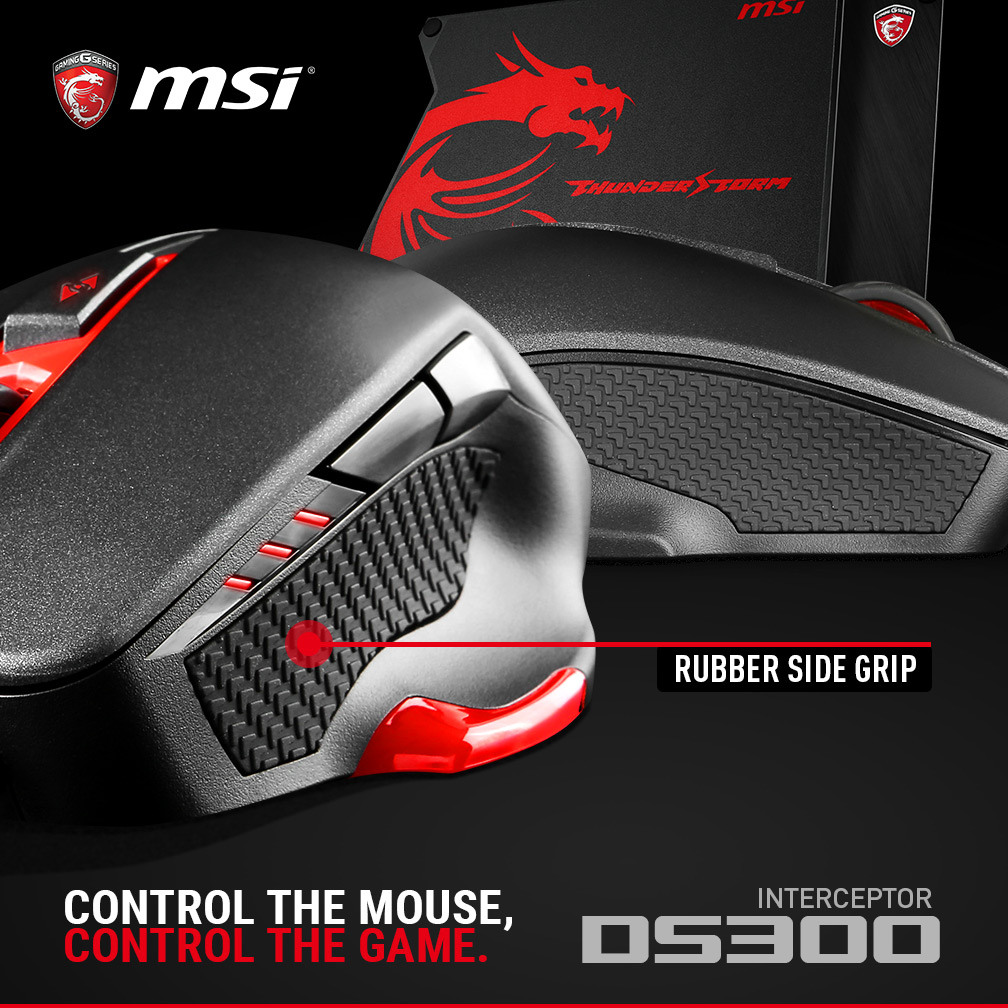 Control of the mouse equals control of the game, ask any pro and they will tell you. During a clutch situation in any game you can't afford to lose grip of your mouse for even a millisecond in order to grasp victory from the jaws of defeat. Two textured side grips made from high quality rubber provides a secure and comfortable grip on the DS300. Never lose grip again!
LED illuminated RGB Dragon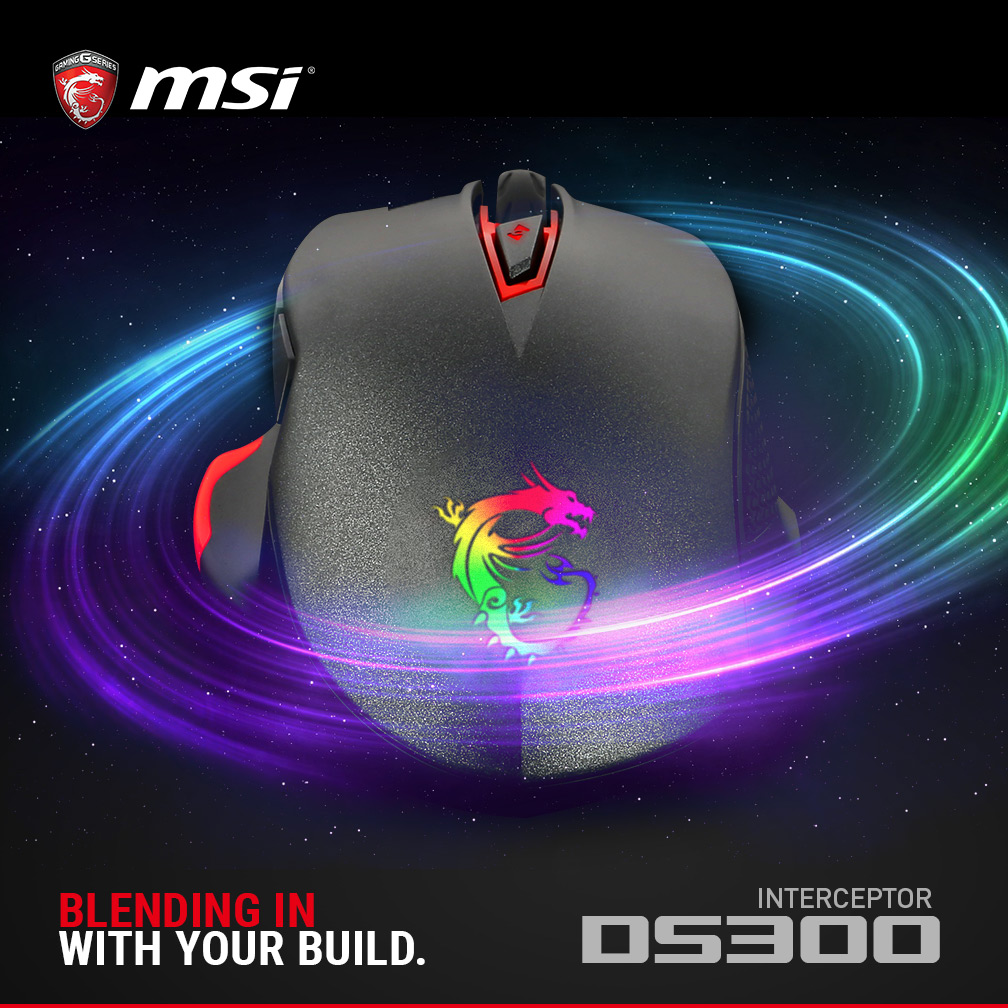 Sure, we know that a LED illuminated dragon which can be set to any of 16.8 million colors won't make you win a game. But it does allow you to win it in style, your style! So show your colors and pick an effect to your liking, or simply turn the lights off. Customize the DS300 to make it yours.
True MSI GAMING style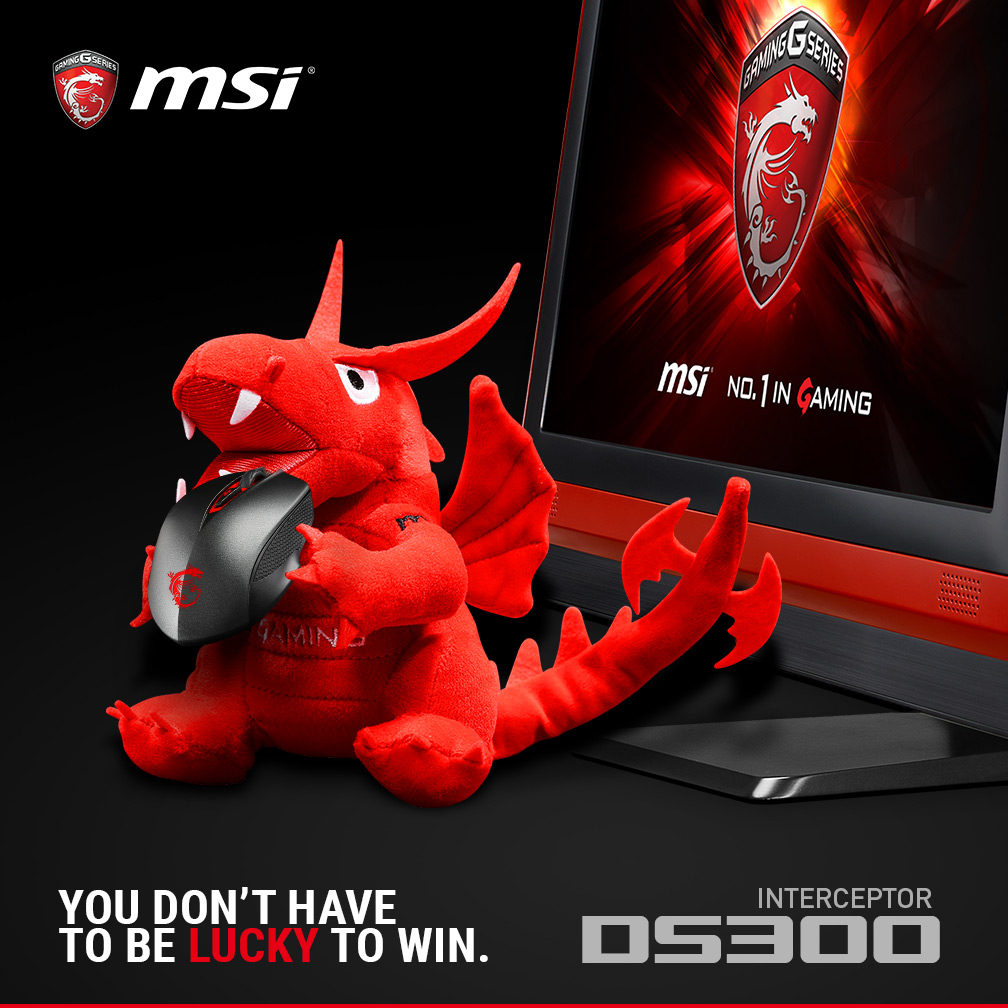 Last but not least, the DS300 GAMING mouse proudly displays the same black and red design of all the legendary MSI GAMING hardware. What better way to make your MSI GAMING build complete? No need to be lucky, all you need is the right gear!
What media say about the MSI Interceptor DS300 GAMING mouse
| | |
| --- | --- |
| | |
| "All of the right boxes are ticked…"    |    "The whole mouse is very solid…" |
For more information about the MSI Interceptor DS300 GAMING mouse, watch the video below or visit the product page.
Gear up!