| | | | |
| --- | --- | --- | --- |
| | | | Do you watch online game streams and wish you were a streaming celebrity? |
Looking to improve streaming video quality?
Then be sure to read on because in this article we will help you optimize your online stream using XSplit Gamecaster premium with MSI Streaming Engine, found on the X99S GAMING 9 ACK motherboard, for the best possible output quality and to help you get more viewers and subscribers on Twitch or any other online streaming platform.
A guide to serve the best viewing experience to your audience.

So, to start off our streaming adventure we need software to share our gaming activity. Here's where XSplit Gamecaster and Broadcaster comes in; "XSplit Gamecaster lets you easily stream and record your greatest gaming moments at the click of a button. It's simple, easy to use, and perfect for sharing your gameplay with the world." And the best thing is, XSplit Gamecaster premium comes free with any MSI GAMING motherboard*, so you don't even have to buy it!
Ok, so we have our streaming and recording software, now let's make sure when streaming we are using the highest possible output quality so our audience can enjoy the best viewing experience.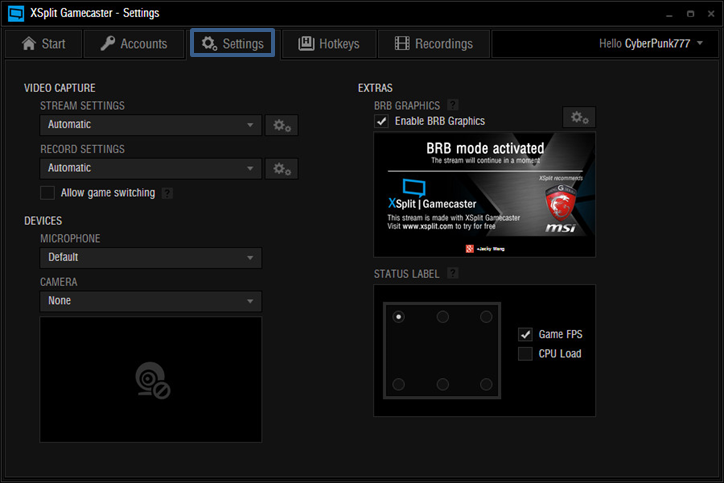 First, create an account with XSplit or use an existing account and log in. When the program is loaded, click the 'Settings' tab located in the top menu.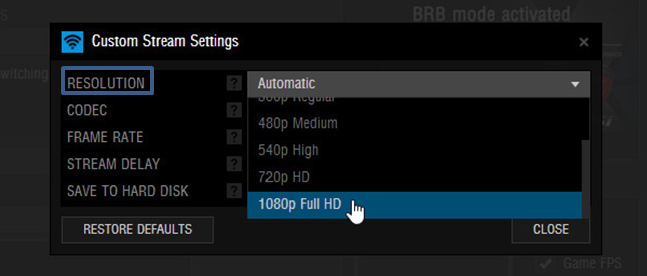 In the 'Settings' menu, select '1080p Full HD' in the 'RESOLUTION' section for the highest output in Full HD @ 60 Mbps. If your internet connection is unable to upload at this rate and you experience slowdowns or hiccups, you can select 720p HD. This is still considered a high resolution stream.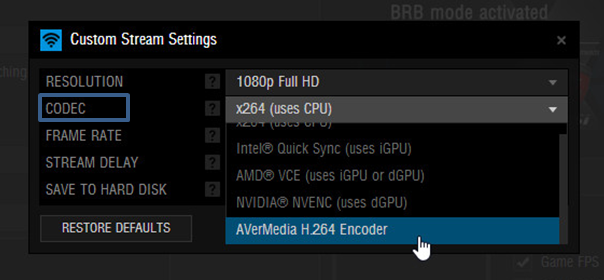 Next, in the 'Settings' menu, change the codec to 'AVerMedia H.264 Encoder' in the 'CODEC' section to use the built-in hardware Streaming Engine found on the X99S GAMING 9 ACK motherboard. This allows for the fastest decoding while not impacting your framerate during gameplay. For any other model you can choose between 'Intel® Quick Sync (uses iGPU)' or 'AMD® VCE / NVIDIA® NVENC' setting.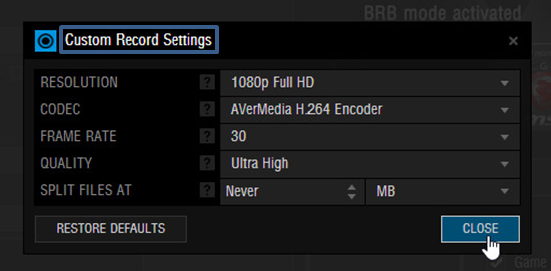 The settings we just changed help optimize your stream. However, you may also choose to record your gameplay and edit the files later to make it into a movie for example. Simply set the same parameters as streaming but choose 'Ultra HD' for 60Mbps and best quality.

Hit 'CLOSE' and you are all set.

Setting a hotkey in the 'Hotkeys' tab to for example CTRL+TAB to pull the XSplit Overlay when in game gives easy access to the most important controls and features when you are ready to stream or record. Pressing CTRL+TAB from our example shows you the menu below which allows you to start recording or streaming in just 1 click while gaming. Now simply select either 'STREAM' or 'RECORD' with one click and you are ready to become an online celebrity!
So, that wasn't so hard now was it? You are now serving your viewing audience the best possible picture quality. If you need more information or just want to watch an easy video tutorial, be sure to check out below video from Liya to get more help setting up XSplit Gamecaster and Streaming Engine. Enjoy your streaming adventures!
 *For MSI GAMING products and their bundled free XSplit premium license check with your local retailer