As you may know, MSI has devoted a lot of resources to cooperate with Nahimic in the past 2 years. In order to deliver a more impressive audio experience, Nahimic not only enhanced the original functions to boost the experience of hearing, but also launched new features which would provide some surprises to gamers in its latest version. 

New features you will find in the new Nahimic 2 are as follows:
Expert Mode (under Audio function)

Audio Launch Pad (under HD Audio Recorder 2)

Sound Tracker (brand-new)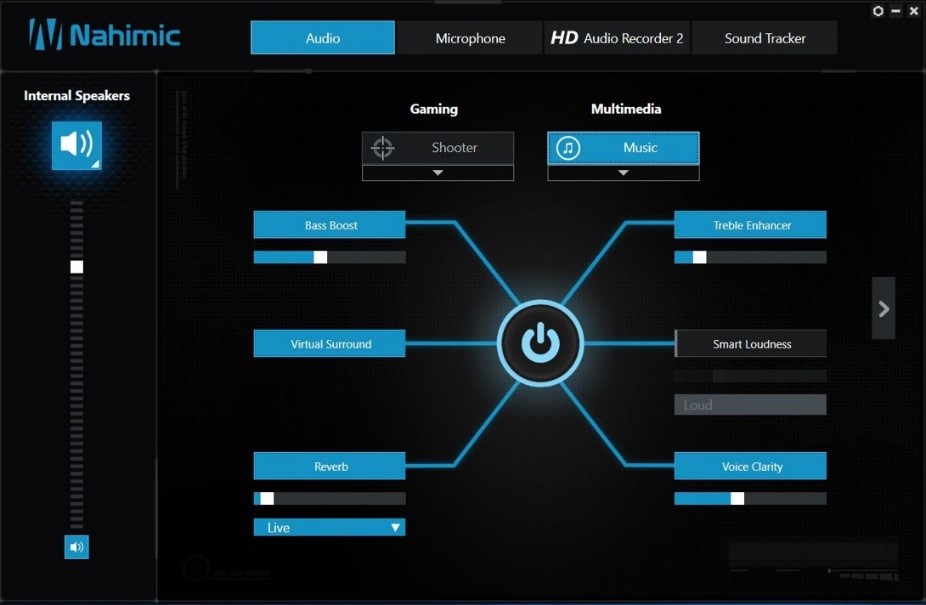 Before introducing directly each of the new features you are going to see in Nahimic 2, I will first give a brief introduction of each main function since some interfaces are also updated.

Main Software Interface
When double clicking on Nahimic 2, the first image you are going to see is as below.
Top of the GUI lies 4 buttons directing you to 4 main functions of Nahimic 2, which are Audio, Microphone, HD Audio Recorder and Sound Tracker.
On the left hand side of the GUI, it shows "Internal Speakers", meaning the whole audio system is now supporting the laptop's built-in speakers.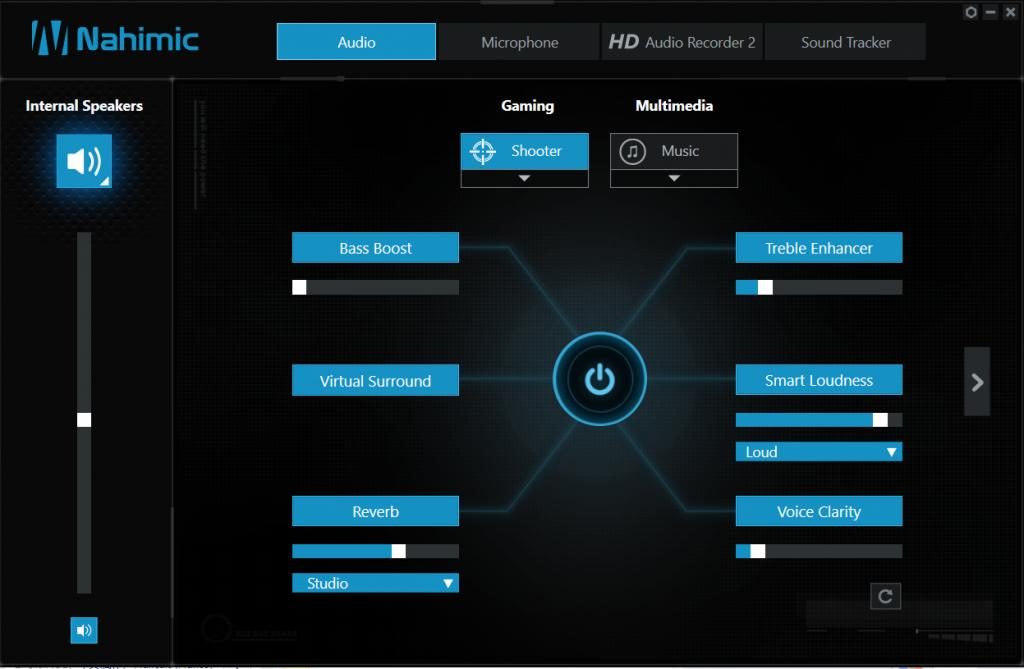 Once connecting a headphone to the laptop, a screen will pop up asking if you want to switch the audio device to HiFi headphone. By doing so, you are going to see the image of "Internal Speakers" changing into "Sabre HiFi", meaning that your machine has an ESS Sabre HiFi supporting high audio quality up to 24bit/192KHz sampling rate (the audio sampling rate supported varies by model. For GT80 series, it may reach up to 32bit/384KHz).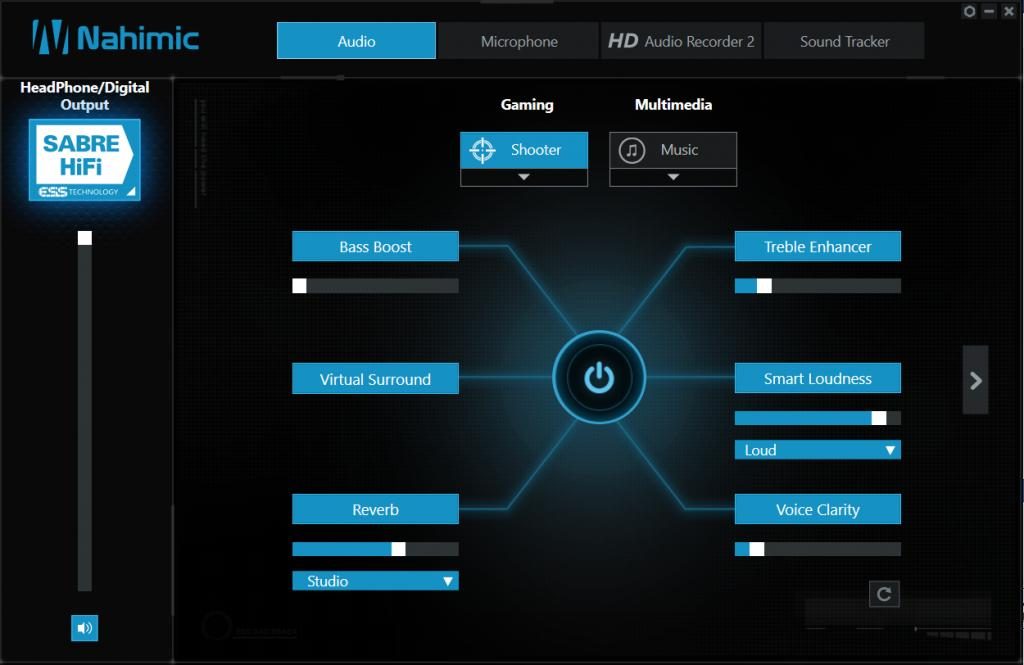 Audio Function
Under the audio function, the interface is a bit different from the previous version. Two different scenarios, Gaming and Multimedia, are there.
For the gaming mode, users get to choose from Shooter, Strategy, Role Play and Racing, depends on the type of games played.
And for the multimedia mode, users get to choose from Music, Movie, or Com if you are using online chat apps such as Skype.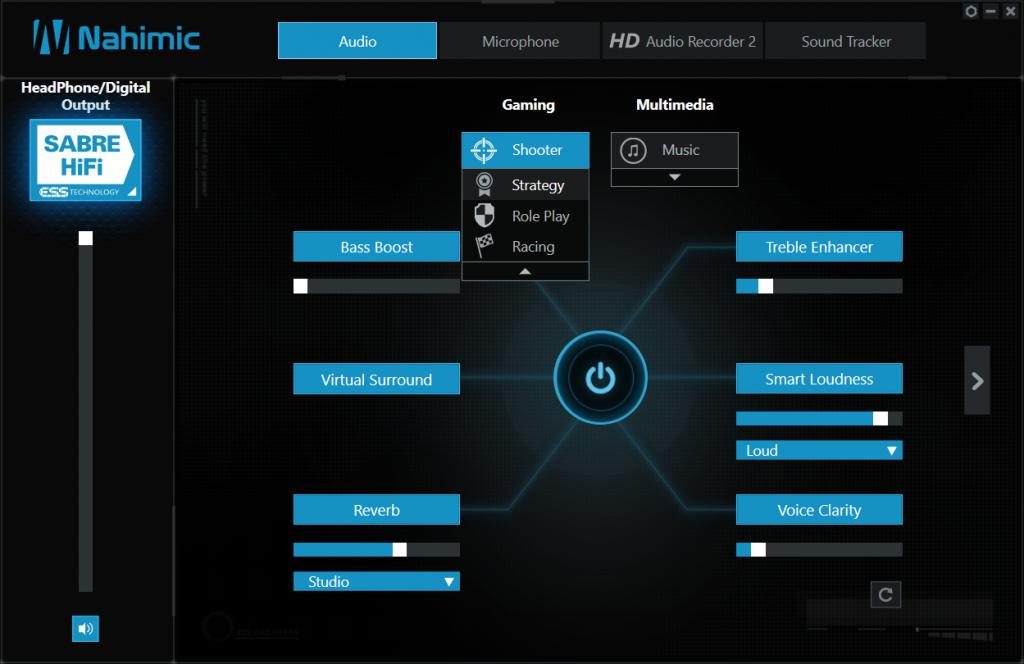 [Gaming Mode] Shooter, Strategy, Role Play and Racing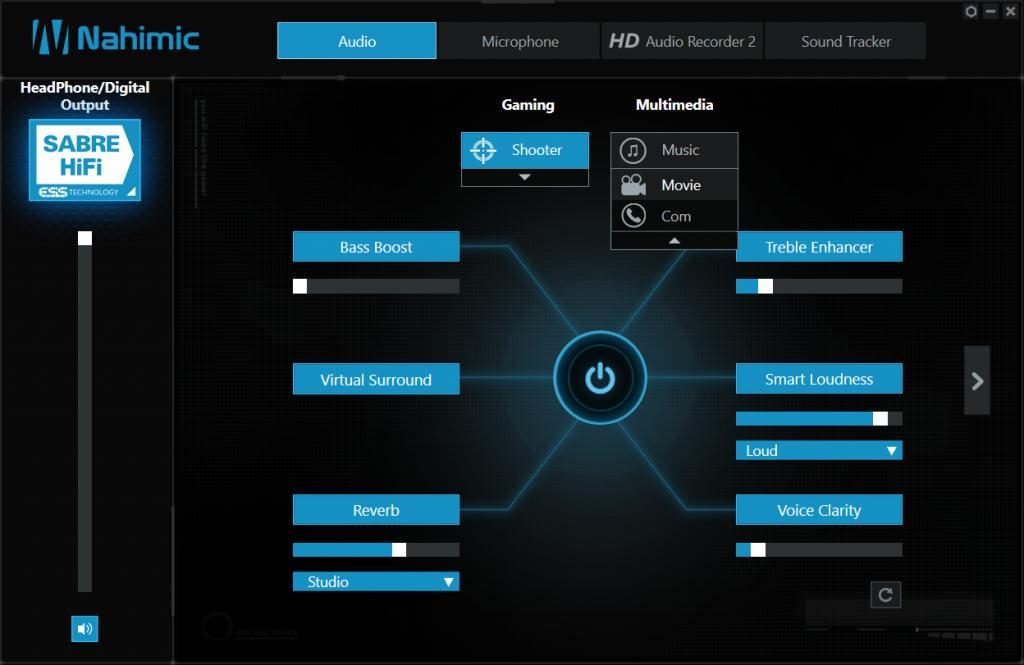 [Multimedia Mode] Music, Movie and Com


Audio Function - Expert Mode
Even though Nahimic 2 provides different preset profiles for different kinds of scenarios, there're still some users who want more options to adjust the settings on their own for their particular demands. To satisfy this need, Nahimic 2 offers "Expert Mode" allowing users to fine-tune their listening experience.

There are two places for detailed audio setting adjustments.
First of all, click on the "ESS Sabre HiFi" icon positioned at the upper left hand corner, you will be able to adjust audio format, sample rate (44.1/48//96/192 kHz) and bit rate (16/24 bits).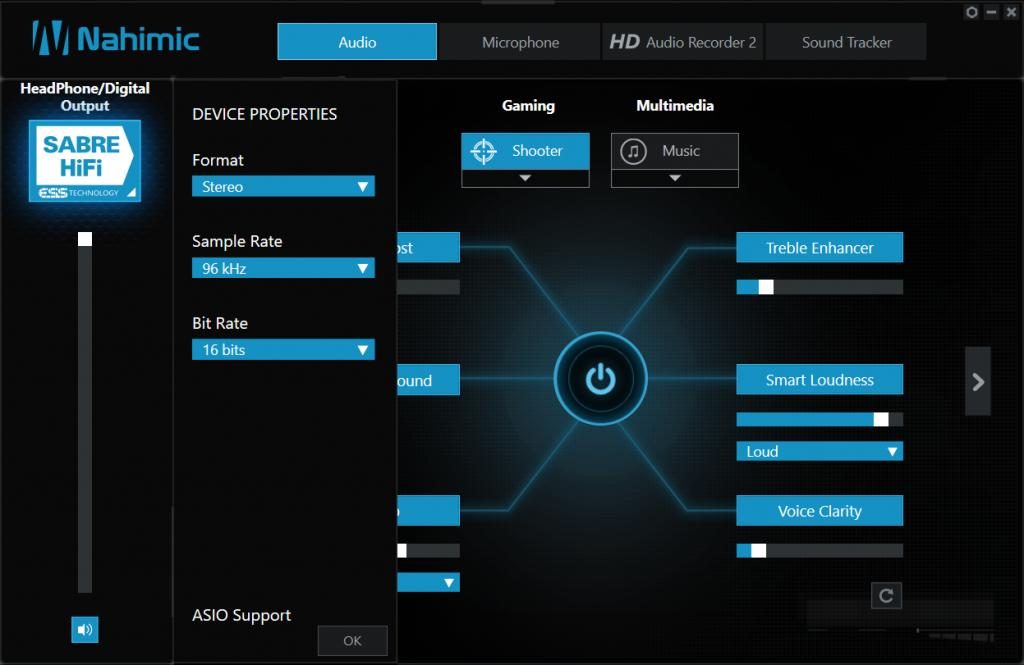 Second, by clicking the arrow situated on the right hand side of the GUI, you will be taken to interface shown in below picture where 6 pre-defined EQ configurations plus 1 configuration defined by users can be selected for their preference. 

The user-friendly interface allows users to understand and adjust these settings intuitively.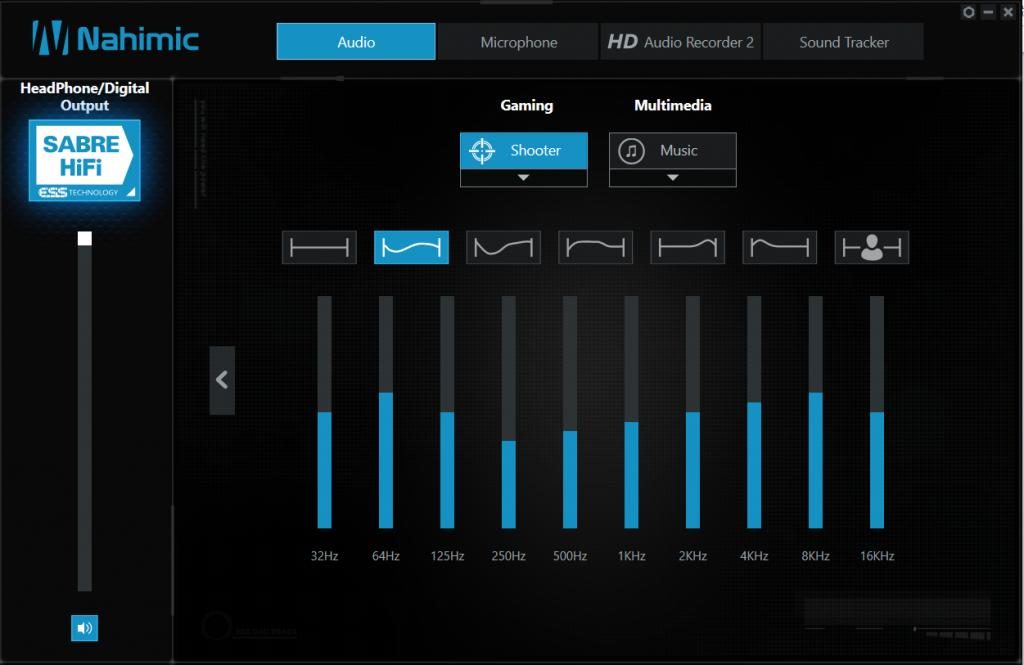 Microphone Function
There is no big difference of the Microphone function between Nahimic 2 and its previous generation. Users can remove background noise and enhance their conversation voice when recoding, playing online games or having an online chat/meeting so those on the other side of the line can hear you clearly.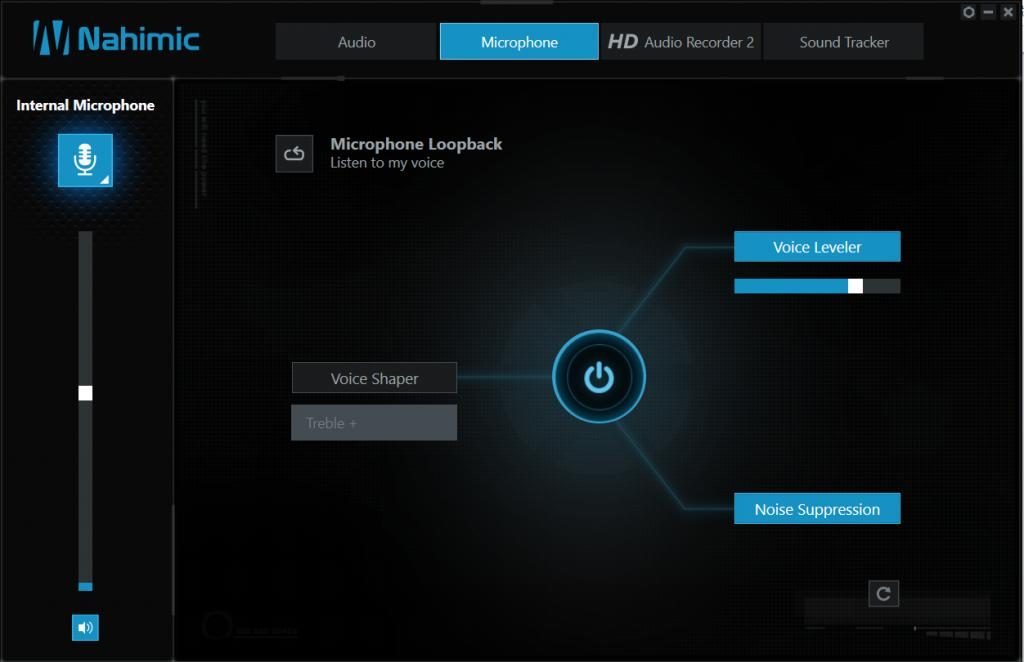 HD Audio Recorder 2 Function
By clicking on the arrow positioned on the right hand side of the GUI under HD Audio Recorder 2, users will be directed to below image where the "ON/OFF" settings of Audio Lanchpad (new function in Nahimic 2) and HD Audio Recorder 2 function can be modified.
By turning on the HD Audio Recorder 2 function, the microphone settings (the one mentioned in previous section) users made will be activated automatically when a recording is carried out.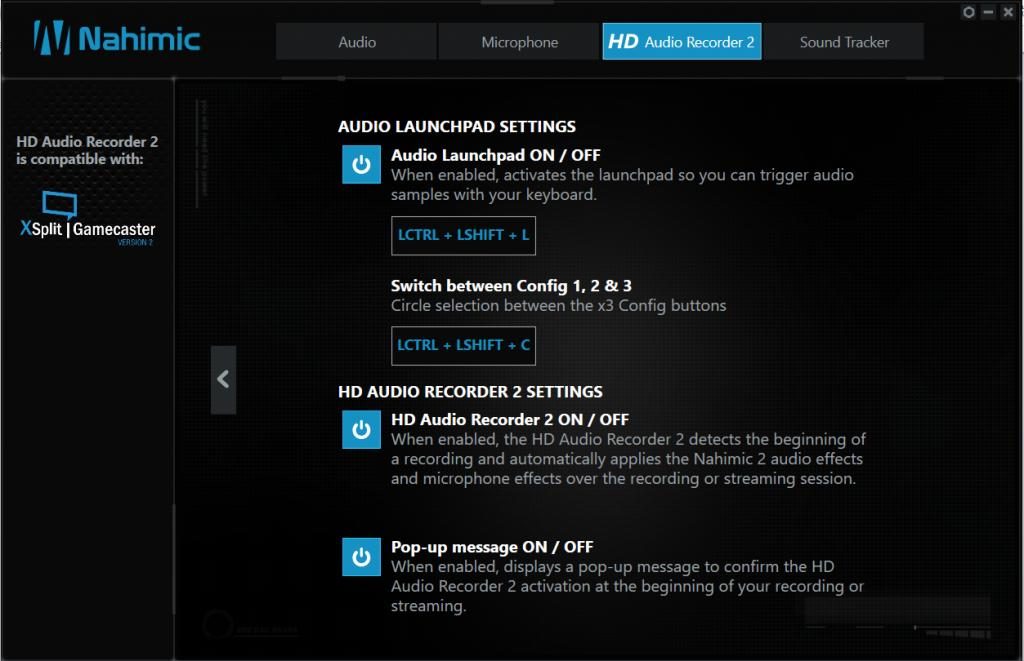 HD Audio Recorder 2 - Audio Launch Pad
By turning on the Audio Launchpad function, users get to launch pre-recorded sounds when streaming.
Streaming your gaming sessions live? Nahimic's HD Audio Recorder 2 gives your best gaming captions a studio quality sound. And you can add more fun to your streams only with a single click. It allows users to assign hotkeys to sound clips and define each sound clip by a different color. It is possible to use imported sounds or select prerecorded sounds available with the software. The Audio Launchpad broadcasts at maximum sounds with 30 seconds length. Users can have 3 unique profiles, but only 1 profile can be used at once. Your streaming will be more attractive, dramatic and interactive than your imagination.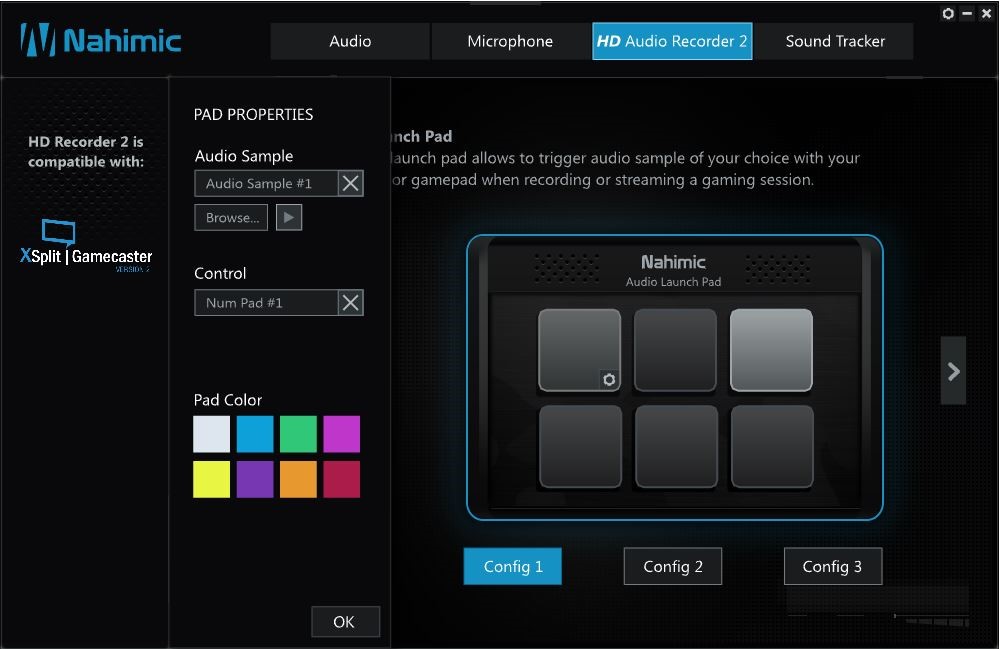 Sound Tracker Function (new) - Locate your target intuitively
The Sound Tracker is made up of a moving arrow in a circular radar. You can configure its position, size and transparency with an optimal in-game integration. The apparent cursor helps to identify positions of potential threats and help gamers dominate every game.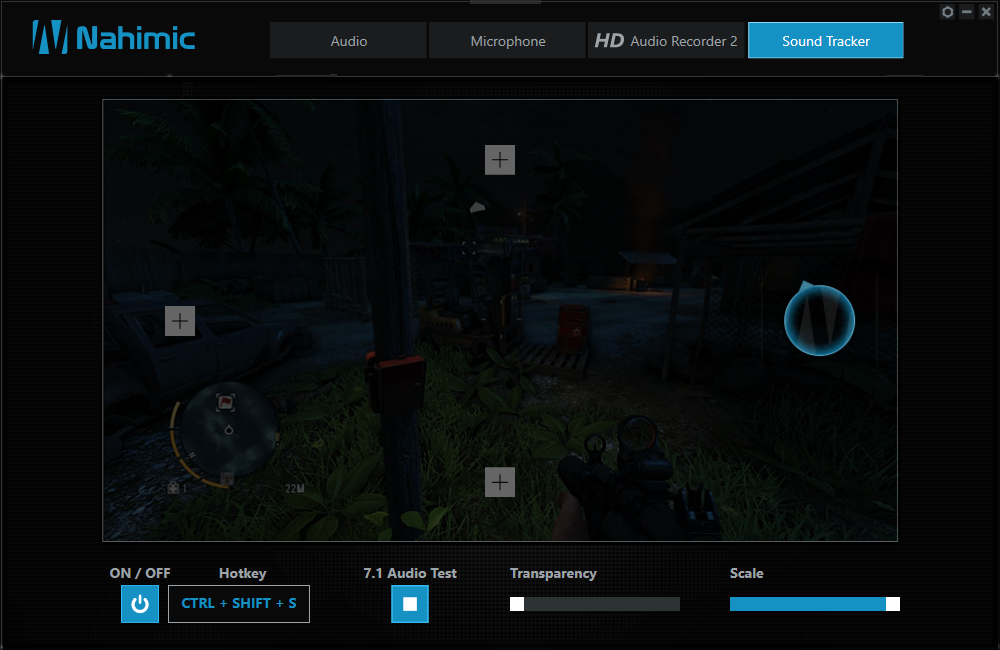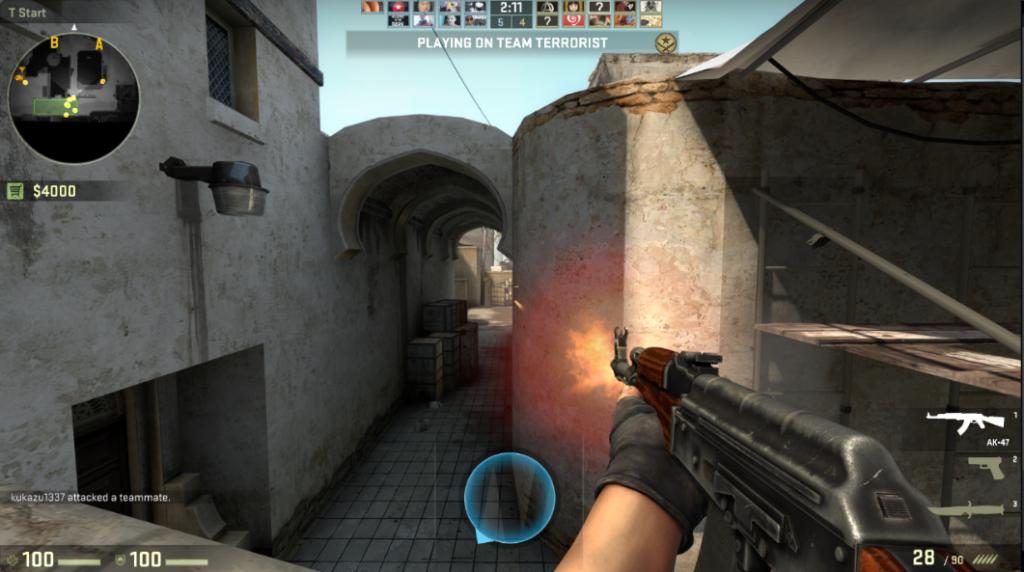 At last, we want to remind you again. If your gaming notebook was bundled with Nahimic version 1, you can update Nahimic to version 2 for free. 
So what are you waiting for? Just update it right now! 

Find out more details via the link.
https://gaming.msi.com/features/nahimic