INTRODUCING THE NEW MSI GAMING SERIES – PERFORMANCE GAMING OFFER YOU GAME IN STYLE
WRITTEN BY Shrek
Posted on August 05 2015
---

In the last article we talked about Enthusiast GAMING, which brings the amateur gamers to masters. Here we would like to share with you MSI Performance GAMING Series, which is about personalization. Different from Enthusiast GAMING, Performance GAMING is targeted to Massive Multiplayer Online Game (MMO or MMOG), that allows a large number of gamers to participate simultaneously over an internet connection.
For instance, either MMO or MOBA are the most popular forms in gaming, which usually have at least one persistent world, and each role in the game has their own character and distinguishable attack or defend capability. In MOBA games, your teammates determine whether or not you get to have fun. Choosing an appropriate character and teaming up with other teammates have become an essential step. More importantly, having a performance PC and the best possible internet connection are also the MUST for being a good player. Just like the possibility of changeable skin in gaming, gamers expect to show their style no matter in gaming or external reality. By so doing, to get a unique and customizable performing system turns into significant.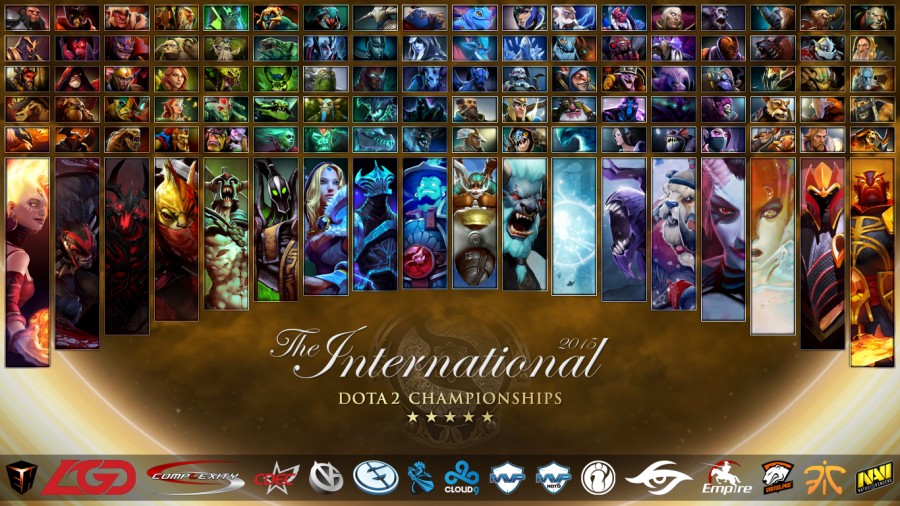 Source picture: http://silva-aurea.com/storage/TI5/1366x768.jpg
If you want to know more about MSI Performance GAMING, make sure you take a look at these AWESOME features below to help you conquer the battle arena!
Not only show performance on games but is also good to customization
In addition to game play, the demands of customizing PC in style (also called Case Modding) are also considered. Through a couple of years' survey, we discovered that most of the professional modders prefer a simple-shaped board and pure color scheme over complicated motherboard design. Therefore, the Z170A KRAIT GAMING sporting a black & white design is perfectly adequate for a modder. MSI determines to build a board to approach case modders for helping them perfect their works, and also fulfill the needs of gamers who favor the black and white gaming motherboard.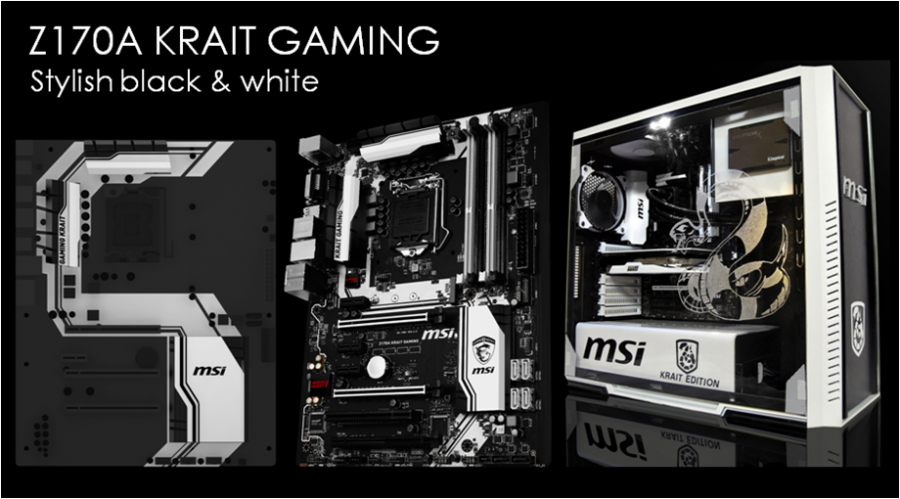 Mystic Light
Besides the color scheme, MSI also developed the function of "Mystic Light" on the motherboards in this series, which allow users to "Match your system color". The users can customize the look and feel of their PC with RGB LEDs on MSI Performance GAMING motherboards by using GAMING APP. It allows you to adjust in 16.5 million colors and 8 light effects, and also enjoy the LED music sync. You would feel so fun when the lights flash following the rhythm of music. For modders, it brings their works flash and tempting. If you are a gamer, the lights will definitely make your own PC eye-catching when carrying it to a cheerful LAN party.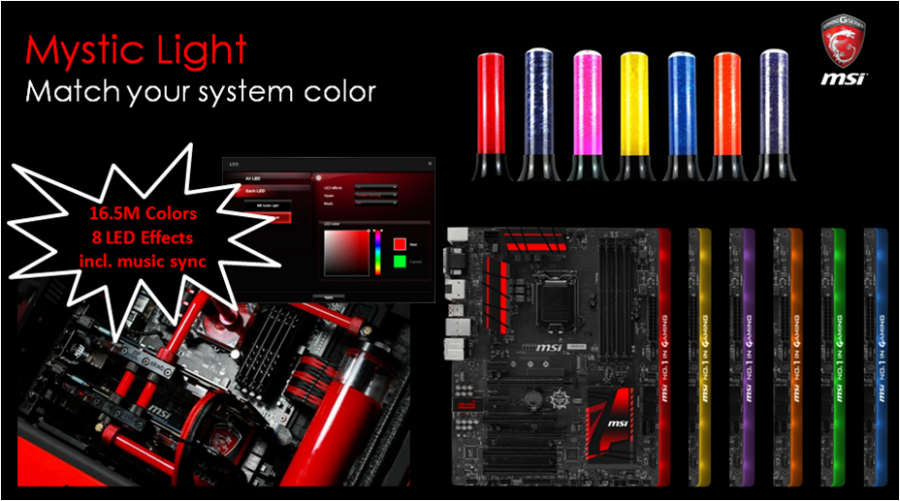 DPC Latency Tuner
MSI DPC Latency Tuner is a convenient tool that helps you optimize your PC settings to get a smooth audio/video playback experience and a faster responsive system. For instance, you can regulate the CPU, iGPU ratio and DRAM frequency easily when playing different games. The higher frequency multiplication can bring well image resolution. Also, different games have their own appropriate core, and you can change it to single or duo cores by adjusting the CPU Ratio Apply Mode to acquire the best gaming experience.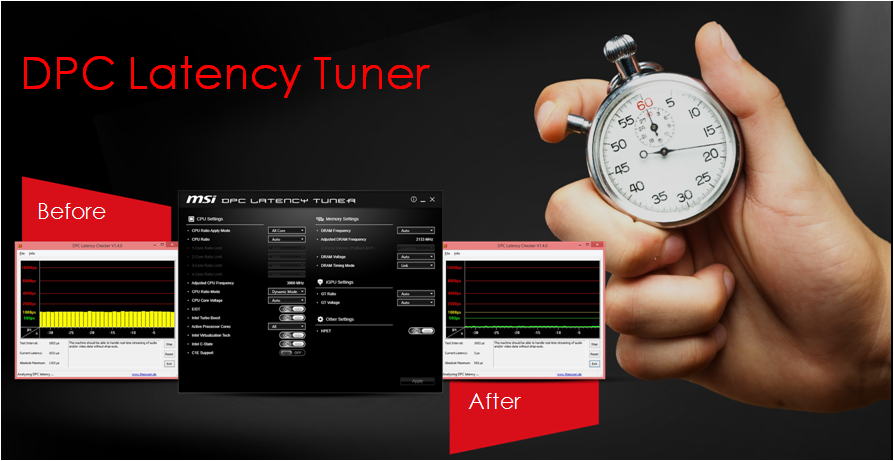 USB Audio Power
The stable and isolated 5V power supply provides better signal transmission over USB. You can discover that power dispatching by MSI USB Audio Power is better than traditional solutions and can entirely enhance USB audio quality.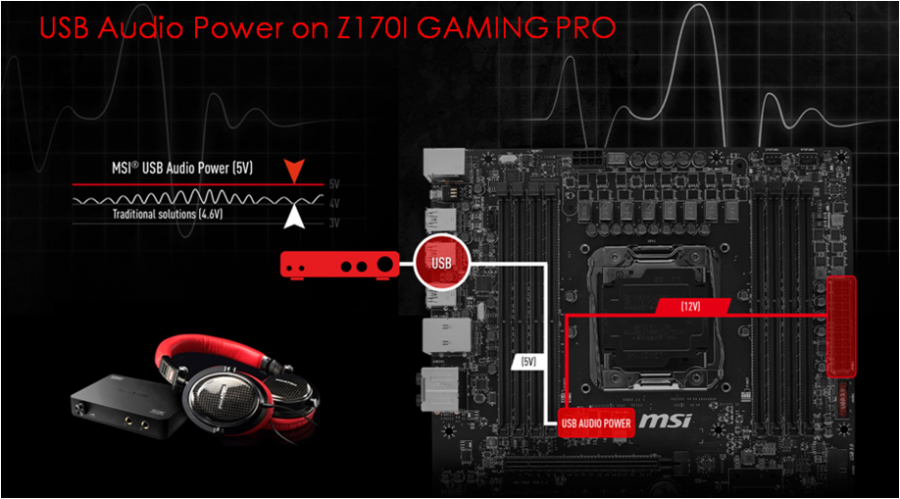 GAMING LAN
GAMING LAN features carefully selected components to ensure the best online gaming experience without lag. Get ready to crush your enemies on the battlefield with MSI GAMING LAN.

Steel Armor
To protect against damage from heavy VGA cards during transport. Additionally Steel Armor also has more solder points on the PCB for more strength. Compare to the others, MSI VGA Armor is 35% stronger and MSI Steel Armor is even 4 times steadier.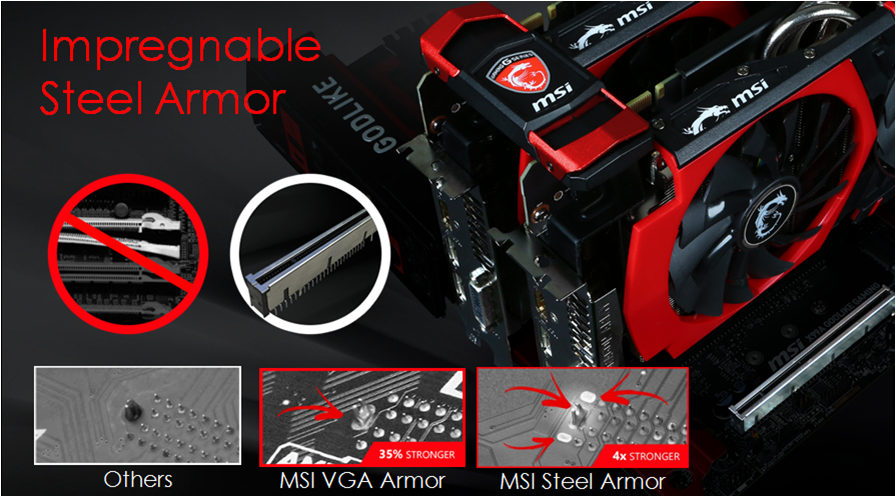 DDR4 Boost
By fully isolating the memory circuitry from other components, DDR4 Boost ensures the memory signal stays pure for maximum performance and stability. XMP LED shows the system enabling Intel XMP to perform beyond standards for the best gaming performance.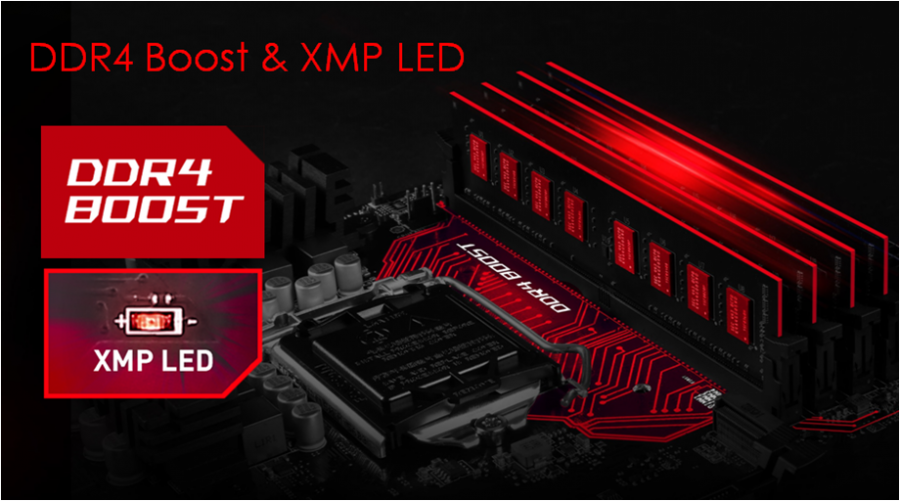 To sum up, the Performance GAMING motherboards can entirely support gamers in competitive and exciting battlefield. Our focusing hero Z170A GAMING PRO and KRAIT GAMING support multi GPU configuration (2way NVIDIA SLI and 3-way AMD Cross Fire™), turbo M.2 and USB3.1 Gen2 (2x Type-A), which can truly boost game efficiency and accelerate the speed. Furthermore, the onboard geometry design and ambient lighting can enrich and expand the creativity on case-mods. If you are ready to upgrade to the newest Intel Z170 platform, MSI gaming series is your 1st choice.
Check out MSI Z170 line-up GAMING motherboards here 
Also, you can go to our Slide Share!
[slideshare id=51330995&doc=msiz170gamingseries-150806035724-lva1-app6892]