{{blogList.blogTitle}}
In this blog we're going to talk about something that adds some serious bling to the new GAMING X and GAMING Z graphics cards.

LED lights on PC components are one of those little extra's that make life more interesting and colorful.
They can be found on almost all types of gaming components and peripherals from SLI bridges to keyboards, mice, headsets and even mouse pads.
Years before the LED trend came up, people were already looking for ways to put their builds in the spotlight by putting CCFL lighting units in their cases. We all had at least one of those friends that pimped out their rig and took every opportunity they got to show it off too. LED lights have made this a lot more accessible without having to put in the hours that you had to in the old days.
Let's get a few things out of the way before we go on shall we?
No, LED lights are not required for the components to work and they also won't make your graphics card go faster, but man can they make your gaming rig look cool!
They're here to increase that "ohhhh shiny!" factor of a brand new product. And let's be honest, who doesn't want their new graphics card looking all shiny and new?
But hey, if you're not into all those bright lights, we always include the option to simply turn them off. ;)
A guiding light
Lights attract attention and our GAMING X and Z cards are designed to be proudly displayed as a statement of the ultimate gaming attitude. 
This is why the latest TWIN FROZR features red LED claws which lets a fierce red ambient light break through the black cover. This really accentuates the famous jagged shapes of the card while illustrating the massive power hiding under the hood.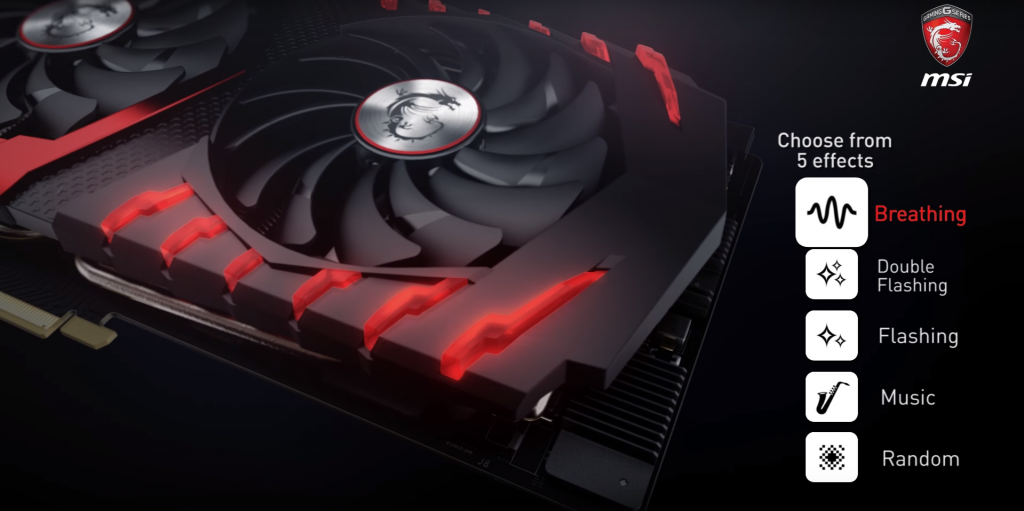 On the side of the card the well-known MSI GAMING dragon LED has been fitted with some brand new RGB Mystic Light capabilities and the highly exclusive GAMING Z cards even have RGB LEDs built into the backplate. The beauty of RGB is that it lets you select your own color out of 16.8 million possibilities and truly make your build look unique. Especially if you have a matching motherboard and graphics card in your rig that can take on the same colors and effects it will give amazing results. Simply changing the color of your LED lights can completely transform the look of your gaming rig and keep things exciting whenever you feel like it.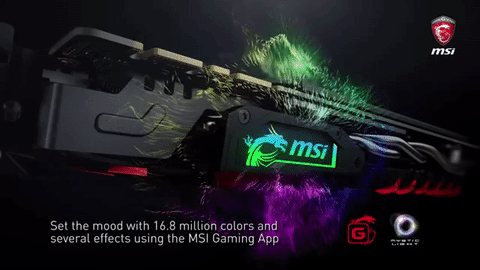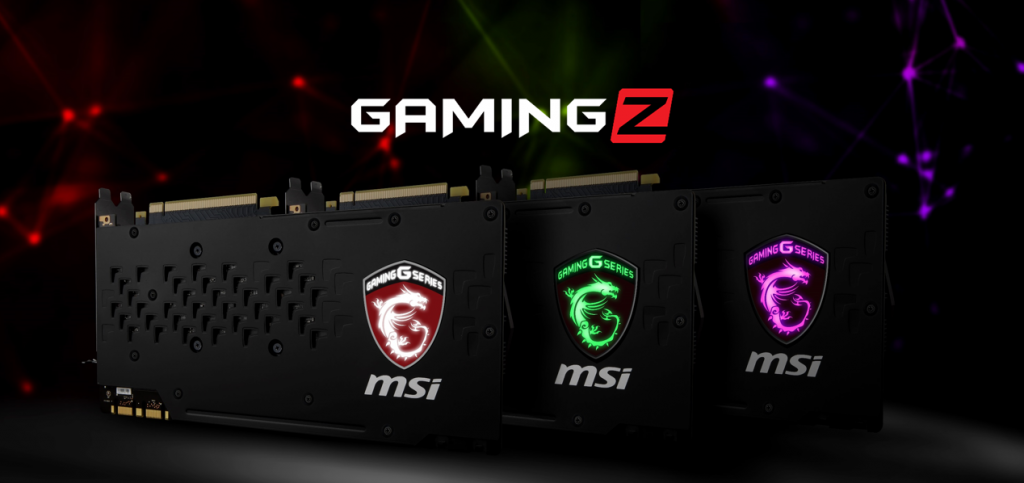 Combine that with the many different animated effects available by using the MSI Gaming App and you have almost endless possibilities to try out and determine what you want your gaming rig to look like today. From steady lights, slow breathing or any random selection to responding to in-game audio or music, the choice is yours.