Mainstream VR Gadgets: Get Ready for the VR Revolution
WRITTEN BY Silvia
Posted on August 02 2016
---
The Virtual Reality era has arrived in 2016, with several devices and VR content being released. The public has the opportunity to obtain abundant amounts of information and knowledge from various channels, such as through mass media or IT manufacturers. What's more, they can even experience VR for themselves with real immersive trial sessions at exhibitions, offline VR campaigns, or even VR-promotion stands which are usually found shopping malls or electronics markets. By taking part in these events, people can gain more hands-on experience with different VR headsets or gadgets.
VR has actually been in development for a long period of time. However, it wasn't until just recently that some well-known manufacturers, such as Oculus, Valve/HTC, and another second-tier brands, overcame long-standing obstacles hindering the development of a high-end quality headset. Google Cardboard has also given smartphone owners an inexpensive ticket into the VR arena. People are now free to select their VR gear according to the technical specs they desire as well as the prices they can afford.
Being a high-end computer manufacturer, MSI is dedicated to making PC hardware (e.g gaming motherboard and graphics card) that are fully compatible with mainstream VR equipment. As we know, both the HTC Vive and Oculus require powerful PC motherboards and graphics cards. Let's introduce some VR headsets and interesting gadgets. More about VR-ready hardware and our own MSI Electric City VR content, you can visit: http://goo.gl/mefhRz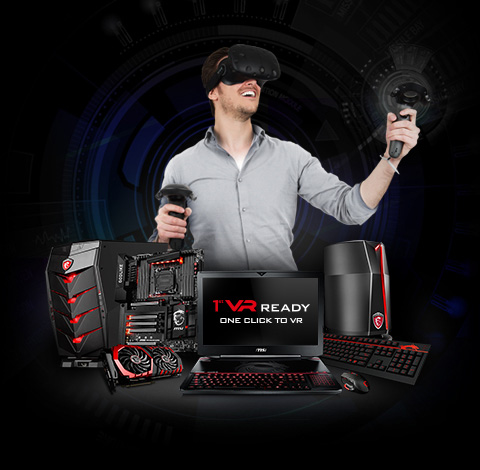 HTC Vive
HTC Vive is the product of a joint collaboration between HTC and Valve that requires a powerful gaming PC to play, similar to Oculus Rift. Compared with other brands, the HTC Vive has been priced at a higher price point of US$799. The Vive has a 1080x1200 pixel resolution and a refresh rate of 90Hz for each eye, and boasts a viewing angle of 110 degrees. The entire product bundle includes two tracking towers and two SteamVR controllers. It should be noted that the system requires a 15 feet by 15 feet tracking space for precise movement tracking, although users may also utilize their wireless controllers to input information. An advantage the Vive has over competition is that there are already about 100 Vive-compatible games ready for download on Steam.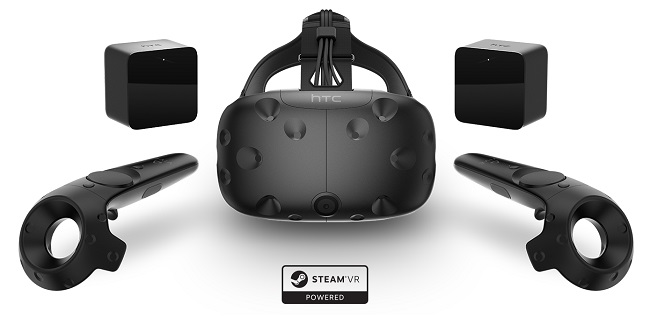 Source picture: http://www.gadgets-reviews.com/images/htcvive3.jpg
Oculus Rift
The Oculus Rift is priced at US$599, and, like the HTC Vive, its headset has an OLED display with a resolution of 1080x1200 per eye and a 90 Hz refresh rate. One Xbox One controller comes bundled with the Oculus Rift, although players may wish to purchase other gadgets if they wish to pursue more dynamic movements. Despite having demonstrated the Oculus Touch controller in 2015, which can track your finger with a 360-degree spatial representation, this controller has yet to see release, even though the Rift was launched in April 2016. As Rift players do not need to move around to play, this system requires less space to operate.

Source picture: http://www.gadgets-reviews.com/images/oculus_kit.jpg
In addition to headsets, VR gadgets are also beginning to emerge and are attracting larger crowds. It's not unusual nowadays to see hardware companies demonstrating their VR gadgets at large exhibitions. All sorts of gadgets and devices are coming out to offer an even more in-depth, immersive VR experience. Here are a few!
VRGO
To be frank, a player needs to consider the total space they have available to set up a VR environment in, because one of the largest challenges with VR is its requirement of an ample amount of space to move around in. VRGO, a project founded with the aim to satisfy the basic requirements of saving space, smooth movement, and wireless operation, successfully raised enough funding in December 2015. It also won second prize in the British Inventor's Project at Gadget Show Live. The concept for the VRGO is that players would sit on the VRGO chair and control their movements by tilting or rotating when they were immersed in a VR world. The biggest advantage of the VRGO is that it is equipped with low latency Bluetooth. That means it can connect to a PC or cell phone at the touch of a button, and it also works with any game, keyboard, or joypad input, so players may sit on the chair and play without a controller in hand. It can be easily transported anywhere due to its light weight of 4 kilograms.
For further description and specs, please click here http://www.vrgochair.com/.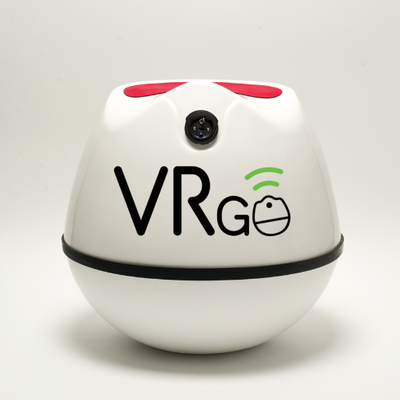 Source picture: http://geeknewscentral.com/wp-content/uploads/2016/04/VRGO_400x400.png
Virtuix Omni
Although HTC Vive has provided a natural and immersive solution by limiting players to move within a space of 15x15 square feet, one of the most difficult challenges in VR is how to handle movements and space within programs. The ingenious gadget Virtuix Omni seems to be able to deal with this issue. The idea of Omni came from an omni-directional treadmill, which is equipped with a concave disc and special shoes, so the player can walk in any direction smoothly. The concave design utilizes gravity to pull the user's feet back to the center of disc. When playing a game, the player's motions can be tracked through sensor pods that are mounted on top of your shoes. The harness encircles your waist which is reminiscent of a climbing harness. This platform allows you to walk, run, step backwards, jump, and strafe with 360-degree movement.  For further description and specs, please click here http://www.virtuix.com/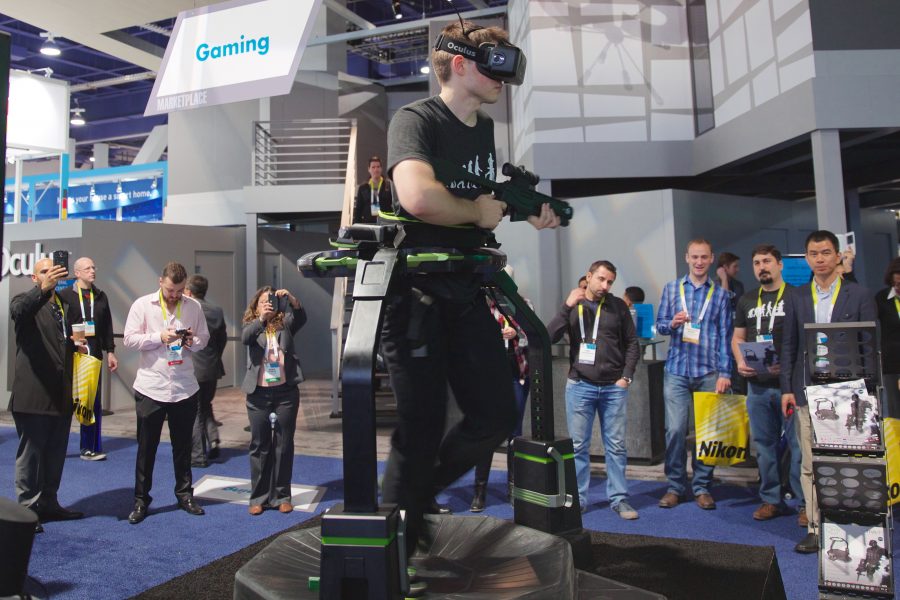 Source picture: http://cdn.arstechnica.net/wp-content/uploads/2015/01/JT3A1926-Version-2.jpg
Manus
The Manus is a pair of VR gloves which detect your hands in the virtual world. Instead of a joypad, the gloves allow players to use physical hand and finger motions within an immersive space. Not just limited to gameplay, Manus may also be utilized in the vehicle and medical industries. If the appropriate programs were developed, engineers would be able to simulate the assembly of significant vehicle components, and doctors could also simulate tough surgery sequences in virtual reality through the use of these gloves. They have a battery lifespan of up to 8 hours. The Manus kit includes a USB dongle, two wrist-mounted holders (for Vive's controllers), and a pair of washable gloves.  For further description and specs, please click here https://manus-vr.com/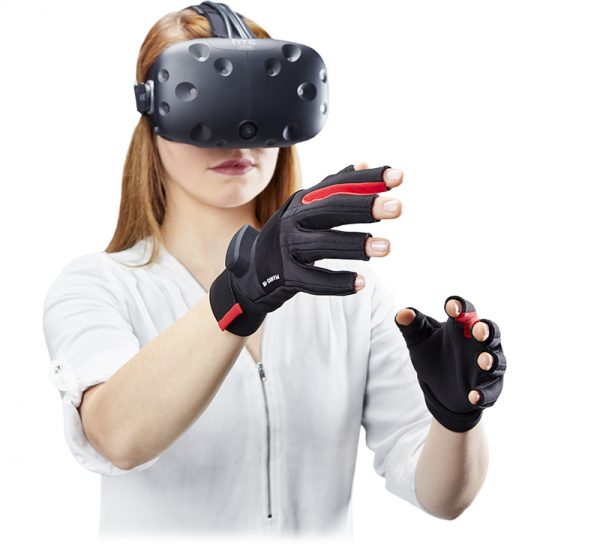 Source picture: https://manus-vr.com/media/Manus_product_photo.jpg