{{blogList.blogTitle}}
MEG Z390 GODLIKE DELIVERS INCREDIBLE NETWORKING PERFORMANCE
There is no other motherboard coming to market that is generating more excitement than MSI's MEG Z390 GODLIKE motherboard. It is packed full of incredible hardware and features that gamers and consumers will love. MSI had better game play in mind when designing this motherboard. CPUs and GPUs are so powerful now and deliver incredible frame rates and amazing application performance. When users experience lag or freezing video, it is rarely (if ever) the CPU or GPU's fault – it is usually your network.
By putting Killer Networking hardware into the MEG Z390 GODLIKE, MSI gave their customers a powerful weapon that delivers incredible speed, intelligence, and control. MSI put the industry's fastest WiFi module into the MEG Z390 GODLIKE – the Killer Wireless-AC 1550 featuring 160 MHz channel support. By delivering up to 1.73 Gbps of theoretical throughput, the Killer 1550 is the fastest networking product for gaming, streaming, and downloading. When connected to a router that also supports 160 MHz channel technology, users can experience throughput well over a gigabit! If you prefer to connect over Ethernet, don't worry – the MEG Z390 has you covered by including two Killer E2500 Gigabit Ethernet Controllers on board.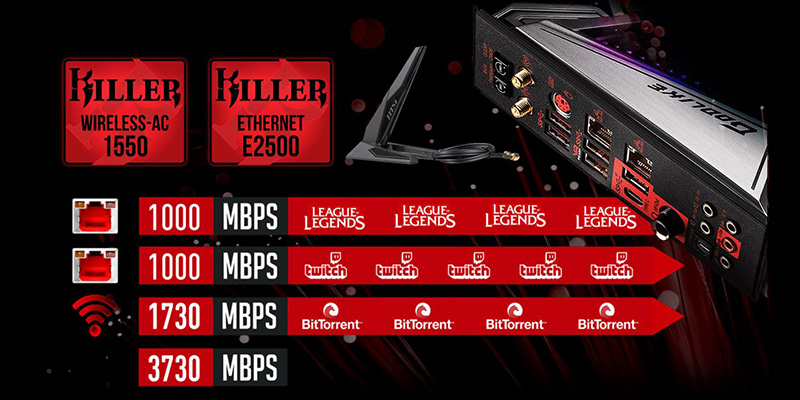 Unlike other products, Killer treats your important gaming and entertainment network packets like they are gold. Killer has built-in intelligence to detect and prioritize these packets above all else to ensure you have the best online application performance combined with the lowest latencies. With Killer, you can be sure that your game, voice, and video packets are not waiting behind other less urgent traffic (like downloads).
Use Killer Control Center to customize your PC's networking
Killer also delivers an incredible experience through its Killer Control Center. By giving you the power to control, monitor, and configure your PC's Networking, users can customize their PC's for the precise online networking experience they want. They can change applications and website's priority levels, view and limit application traffic, even block traffic from applications they don't want stealing valuable bandwidth.  
Easy access to Killer xTend
One major benefit of having three Killer Networking products on board is access to Killer xTend Technology. The MEG Z390 GODLIKE is more powerful and capable than the networking equipment in most homes, so Killer makes it easy to extend the reach of the home network. With Killer xTend Technology, users can easily configure their Killer Wireless-AC 1550 or one of the two E2500's to connect to your internet access point, and then use the other two Killer products to extend your home network! For example - you can plug one E2500 to your router and use the other one to connect another device, such as a gaming console, to the network. Another possibility is having Killer xTend automatically clone the credentials of your home access point and then let other devices get wireless internet directly from the Killer Wireless-AC 1550. By using the MEG Z390 GODLIKE as a network extender you can save the expense and complexity of buying a separate piece of equipment.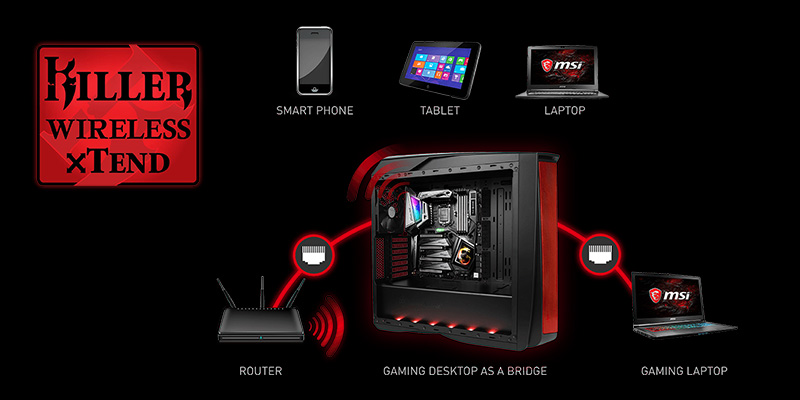 Killer xTend ensures a good experience on the MEG no matter how many devices are connected through it because Killer xTend prioritizes important PC traffic (like games, voice, and video) above the network traffic from connected devices. This means that users can game confidently while using their PC to expand the reach of their home network.
You can't go wrong with the MEG Z390 GODLIKE from MSI and you can't go wrong with Killer Networking.
Find out more about MSI MEG Z390 GODLIKE motherboard:
https://msi.com/Motherboard/MEG-Z390-GODLIKE.html