MSI first to break 5000MHz memory clock barrier
WRITTEN BY Xeno
Posted on May 27 2016
---
A TRUE TESTAMENT TO 30 YEARS OF BUILDING THE BEST HARDWARE
To celebrate MSI's 30th anniversary and showcase MSI's dedication to continue to bring the world the fastest hardware, overclocker Toppc pushed the Z170I GAMING PRO AC to be the first to take down the DDR4-5000MHz milestone, setting the new world record at an unbelievable 5002.4MHz. The MSI Z170I GAMING PRO AC, MSI's most powerful ITX Intel Z170 based motherboard, simply obliterated the DDR4 memory clock world record by nearly 100MHz and achieved the highest memory speed ever achieved while overclocker Toppc was running G.Skill DDR4 4GB memory with a remarkable DDR4-SDRAM clock speed of 5002.4MHz.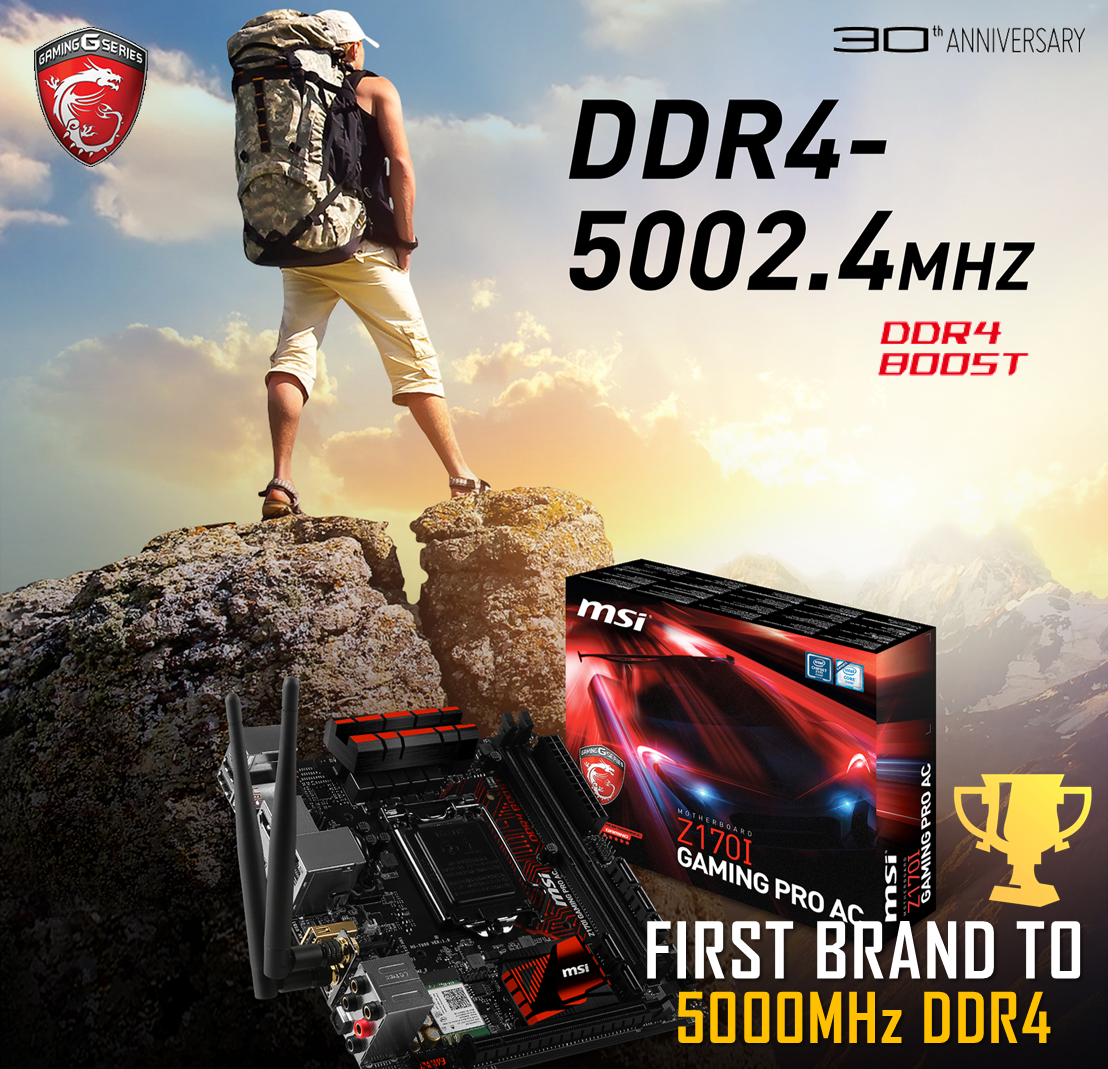 HWBOT validation / CPU-Z validation
This world record is a milestone in component history, breaking the mythical 5000 MHz mark and shows once again MSI's dominant position in performance for Z170.
STABLE AND HIGHLY EFFICIENT, PACKED WITH FEATURES
The little Z170I GAMING PRO AC motherboard, using MSI's unique DDR4 Boost technology, is not only packed with gaming features, it also shows that it's perfectly suited to deliver plenty of power for heavy gaming & overclocking sessions.

The Z170I GAMING PRO motherboard presents new performance features and improvements as well as technical ingenuity. Offering reliable and fast Gigabit LAN from Intel® and Audio Boost 3 technology, Z170I GAMING PRO AC provides tones of benefits for enthusiasts who looking for HTPC. Users enjoy blazing fast system boot up and loading of applications and games. Delivering speeds up to 32Gb/s, Turbo M.2, which located at the back of the motherboard, is more than 5 times faster than a regular SATA III 6 Gb/s connection with excellent experience. Furthermore, when looking for a small and efficient workstation, this little ITX performer is perfectly capable of handling heavy workstation tasks.