{{blogList.blogTitle}}
When it comes to gaming at high resolutions (4K) and enjoying all the graphical goodness that the latest games offer at high settings, using multiple graphics cards is the way to go. SLI technology has enabled gamers to harness the power of multiple NVIDIA graphics cards for years already. But how does it work exactly and what kind of benefits can you expect from using two or more graphics cards? 
We'll save you the full technical story, which you can read in this detailed article by Tom's Hardware.
Here's what you need to know about SLI:
When running two or more graphics cards in SLI, it is always advised to have cards of the exact same type to ensure the best possible performance.
A physical (SLI) bridge links the cards together and allows them to coordinate their power.
Increasing the number of graphics cards will also increase your power requirements, make sure your power supply is up to the job.
SLI performance may vary per GPU and game, many of the latest AAA game titles are very well optimized for SLI.
What kind of performance can you expect from a typical SLI setup?
Game performance will increase greatly, depending on how well your game of choice is optimized for SLI.
Below you can see the difference in game FPS performance from a single GTX 980 vs 2 x GTX 980 running in SLI.
Having two MSI GTX 900 series GAMING graphics cards running in SLI not only gives you great performance, it looks really awesome too! But a standard SLI bridge isn't quite the ultimate finishing touch for your MSI GAMING SLI setup, right?
Introducing the MSI GAMING SLI Bridge
Now you can get the perfect SLI bridge to match your mighty MSI GAMING rig. Both in terms of aesthetics and performance!
Built from high quality materials, the GAMING SLI Bridge features a GAMING armor cover forged out of metal to give plenty of support and durability.

The GAMING SLI Bridge comes equipped with a LED illuminated GAMING logo, which can be operated separately or synchronized to match the light effects on your MSI GAMING graphics cards.
Easily control the effects of your GAMING LED lights with the MSI Gaming App.

To ensure a perfect fit for your ultimate GAMING rig, make sure you have the right spacing for the 2-way L GAMING SLI.
(typically 1 empty slot between two MSI GAMING graphics cards)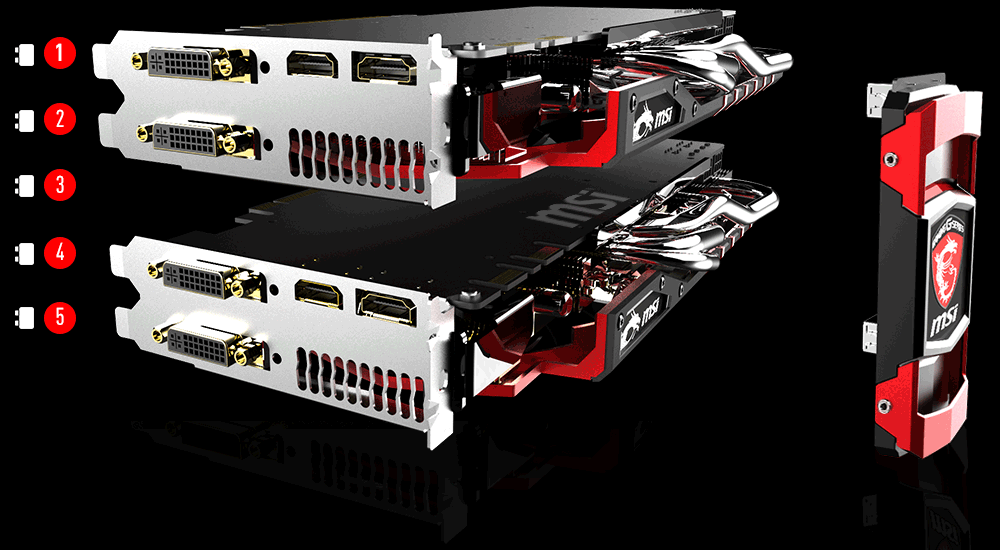 For more information, visit the GAMING SLI Bridge product page.