Thinking inside the box with the compact yet powerful Nightblade MI Series
WRITTEN BY Shrek
Posted on January 21 2016
---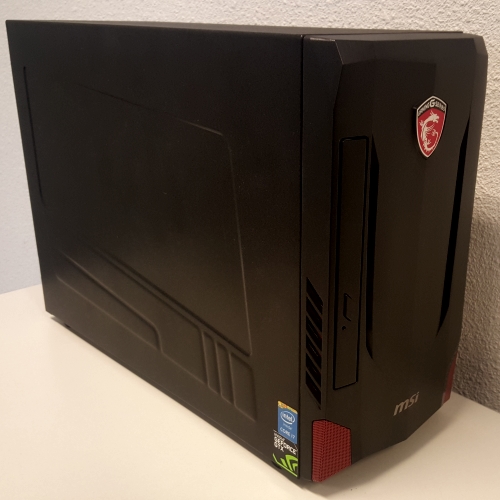 The MSI Nightblade MI and MI2 systems are full featured gaming desktops in a surprisingly small form factor. It is not an easy task to fit such an amount of gaming hardware in a case with a volume of only 10 liters. To achieve this, some ingenious design choices have been made. In this article we will learn you all the ins and outs of the MSI Nightblade MI Series. Get set for a big tour through a small gaming rig.
Powerful desktop components
Despite the limited amount of space, the Nightblade MI systems make use of desktop components instead of their less powerful mobile counterparts. Both the CPU and graphics card are regular desktop models that offer a significant advantage in terms of gaming performance. These components are also easier to find in case you want to perform a future upgrade.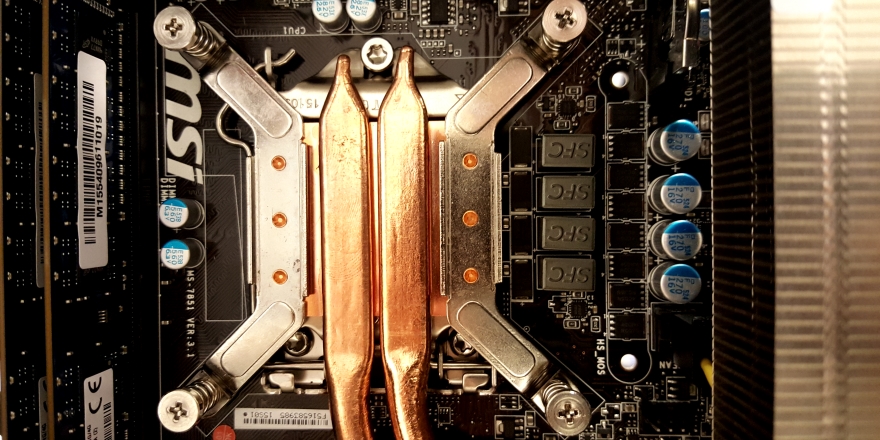 Easy access to upgradable components
Only two screws need to be removed to be able to remove the surrounding panel and gain access to the Nightblade MI's internals. This way, it is easy to expand or upgrade your gaming rig according to your wishes. Not only the CPU, graphics card and memory can be upgraded, there is also room for a 2.5" SSD as well as two 3.5" hard disk drives and all of them are easily accessible. Next to that, all Nightblade MI models come with a slimline optical drive pre-installed.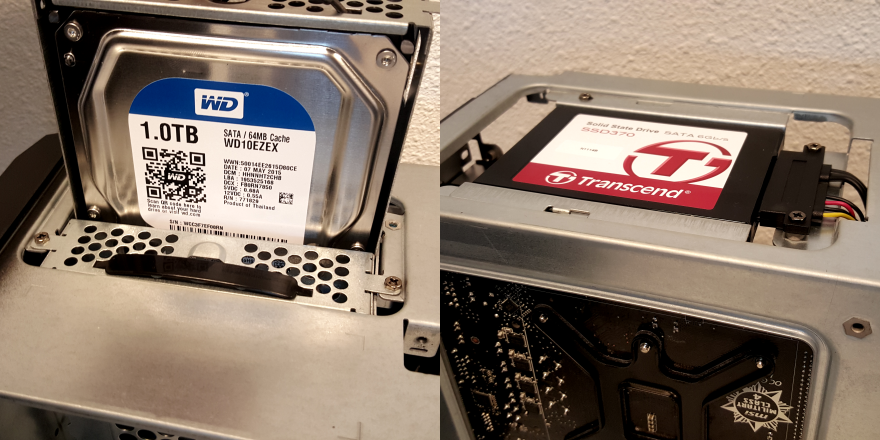 Ingenious design
You might wonder how all of these components fit within only 10 liters of volume, because in a regular setup this would be simply impossible. To achieve this, the division of the components is a bit different than you might expect. The graphics card isn't directly placed in the motherboard's PCI-Express slot, but utilizes an ingenious riser system to place the graphics card vertically on the right side of the system. That way we've made it possible to fit graphics cards up to 290 mm in length inside the case.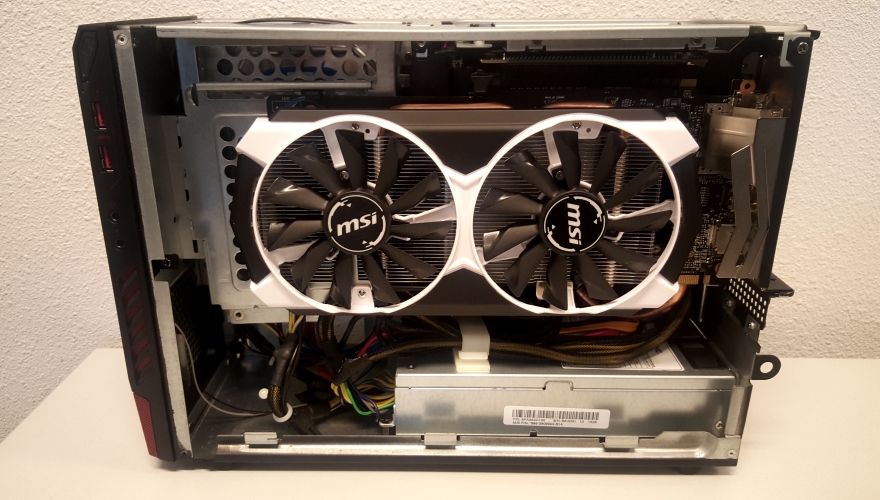 Silent Storm Cooling
There is also a downside of using desktop instead of mobile components; they generate more heat. To effectively transfer the heat, without giving in on portability, the Nightblade MI is equipped with an advanced thermal solution named Silent Storm Cooling, to make sure all essential components are efficiently cooled.
The Nightblade MI systems can be equipped an 80 mm intake fan at the front of the case. In addition, the graphics card's fans grab their fresh air directly from outside of the case because of the perforated side panel, while its riser system doubles as a holder for the blower-type outtake fan that blows the air through an aluminum heatsink. This heatsink is directly connected with the CPU by the use of two copper heat pipes.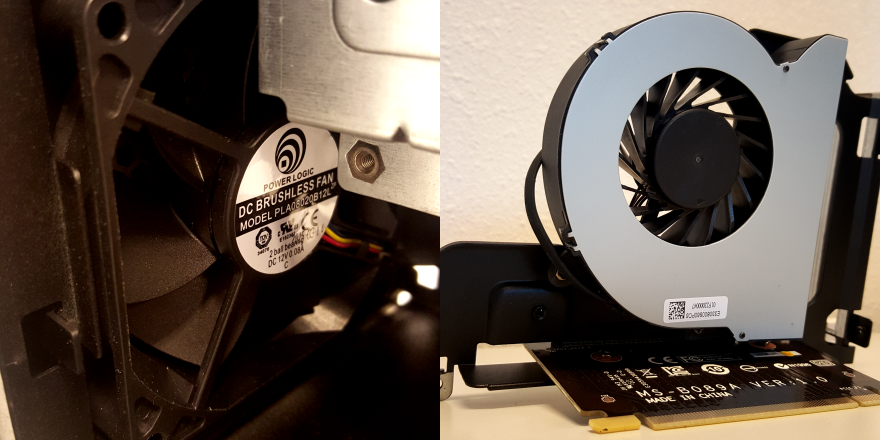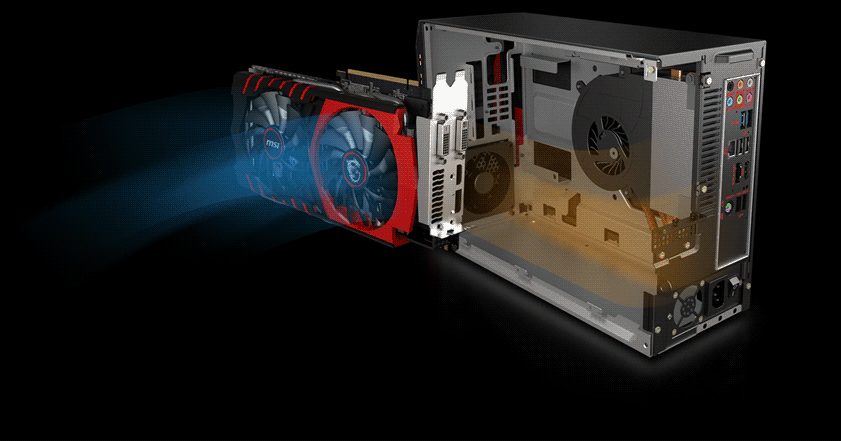 Compact & efficient power supply
A regular, ATX-sized, power supply unit would require more space than necessary. That's why the Nightblade MI features a 350W FlexATX PSU that perfectly fits the bottom of the case. This 80 PLUS Bronze certificed power supply guarantees excellent efficiency as well as two PCI-Express 6-pin connectors to drive a powerful graphics card.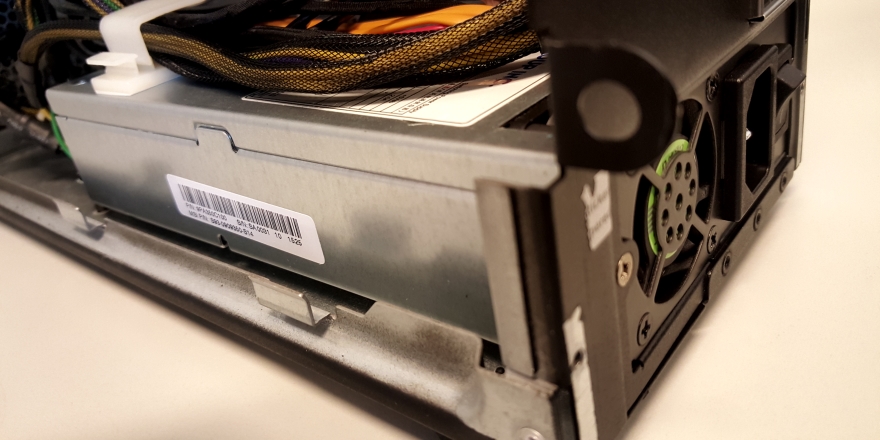 Stay portable with an MSI Nightblade MI gaming rig! Want to learn more? Check out https://gaming.msi.com/features/desktop to explore all its GAMING features.