{{blogList.blogTitle}}
Exciting news! MSI obtained an invention patent for the TORX fan design that is used in TWIN FROZR V thermal solution. The patent was granted by the United States Patent and Trademark Office (USPTO), one of the five largest patent offices in the world and the authority of approving technological achievements and progress.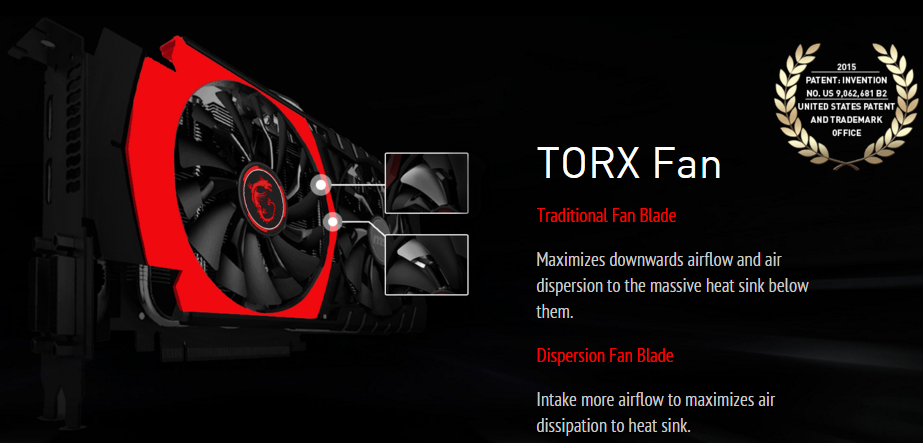 Let's check out the science behind MSI TORX fan.
The MSI TORX fan is composed of two types of fan blades; the traditional fan blade and the dispersion fan blade. Thanks to the most accurate calculations and sophisticated design, they function differently but work as a team. The traditional fan blades produce downward pressure to direct the massive airflow that dispersion fan blades are able to generate. By using this method, the airflow is optimally used to efficiently cool the heat sink below.
Compared to a regular fan design, the TORX fan aerodynamics are completely different.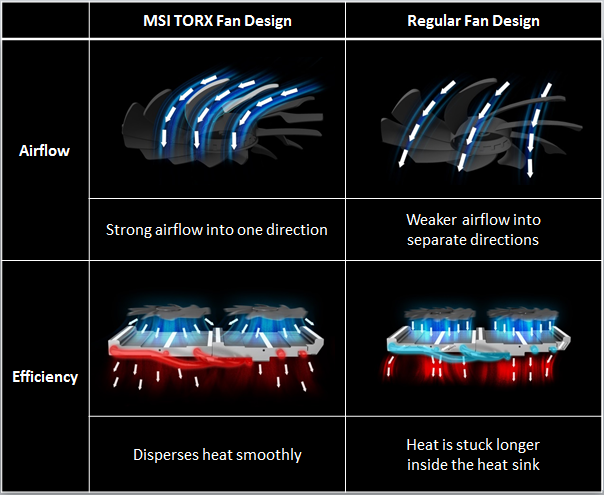 The MSI TORX fan, combined with the other features of the TWIN FROZR V thermal solution such as ZERO FROZR and the SuperSU architecture, ensures that MSI GAMING graphics cards will always deliver outstanding performance together with the most cool and silent gaming experience possible.
 For decades, MSI has been at the forefront of innovation in the graphics card industry. We are proud to receive recognition for our efforts and our passion for making breakthroughs happen to improve your gaming experience. You can rely on MSI to bring you the very best!
 TORX fan technology is only one part of the TWIN FROZR V. Here you can find 5 reasons to go for TWIN FROZR V graphics cards: http://gaming.msi.com/article/5-reasons-to-go-for-twin-frozr-v