{{blogList.blogTitle}}
The computer is an indispensable tool when it comes to daily life and work. Therefore, PC users will want to purchase or upgrade their computers every once in a while. In contrast to mobile phones, home appliances, and cars, computer components often have unified interfaces and specifications, and with PC-related information readily available on the internet, building your own PC isn't a difficult task. So, when it comes to buying desktop computers, people usually think about either building their own PC, or purchasing a pre-built PC.
Assembling a computer, i.e. "building your own PC" or "DIY", refers to the components of the computer being chosen and purchased separately, and then assembled by either the computer store employees or the consumer themselves. On the other hand, for pre-built computers (also known as "branded" computers), on top of the system unit itself, the optional keyboard, mouse and monitor will usually be included as a bundle offer from the PC brand manufacturers or retail vendors; you simply buy the PC, bring it home, and plug in its power, and it can be used right off the bat. Some say that building a computer costs less, while pre-built pc have relatively poor performance for a higher price. But is this really the case? In this article, we will analyze the pros and cons of Custom PC versus Pre-built PC. If you are thinking about which one you should choose, please read on.  
Custom computers have a relatively lower cost—even more so in comparison to higher-end computers.
Usually, price is what most consumers care about the most. After all, they want to make sure that every penny of their hard-earned money is put to its best use. Certainly, the price for assembling a computer is cheaper relative to buying a pre-built computer, but why is this the case? Pre-built computer manufacturers require human resources for the assembly and testing of computers. This is reflected in the cost: the price of the product must be higher than its manufacturing costs in order for it to be profitable. On the other hand, assembling a computer eliminates this part of the cost. Therefore, an assembled computer with the same hardware specifications will be cheaper, even if a genuine copy of Windows operating system is included. In other words, for the same price, you will get a pre-built computer with relatively poorer hardware specifications. As the saying goes, "you get what you pay for". This will somewhat impact the overall performance, features, and scalability of the computer.
As for the price difference between custom computers and pre-built computers, the gap is minimal when it comes to regular entry-level computers that are less than $500 USD. However, when considering the components and parts for mid to high-end computers (in the same price range but from different brands), the price gap for each item may very well be over $30 USD. This is especially true for motherboards, graphics cards, and RAM modules. With different brands for different chosen computer components, the price gap can become very apparent.  
Custom PC are flexible in terms of specifications, as each component can be purchased according to one's needs.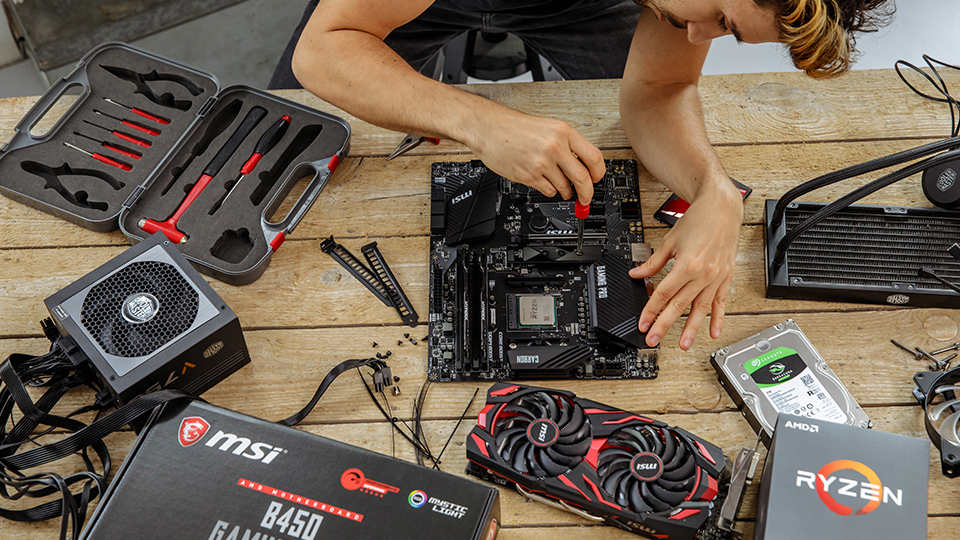 When assembling a computer, the different needs of every user can be met, since each component can be chosen at will. There is a wide range of specifications, brands, and styles to choose from; therefore, one can pick the products with the higher price-performance ratio, and better quality. On the other hand, pre-built computers offer different models to meet varying purposes and preferences (such as models for word-processing functions, audio-visual features, and gaming), as well as a variety of style and size options. Certain features for some models can be customized, but there may be restrictions on the available brands and components. Some components may even involve customized versions of brand vendors, so the design of these components will be more geared towards cost concerns. Therefore, there are relatively fewer choices for pre-built computers; when buying them, compromises between needs and prices will generally have to be made.
For example, some people don't play video games, so they only require entry-level graphics cards, or even no graphics card at all (by utilizing the integrated graphics that come built-in with processors). In this case, it is not necessary for the power wattage of the computer to be particularly high. However, if one requires both the computing performance of high-end processors and more RAM capacity, the right pre-built computer may be hard to find. This would be another scenario where one may wish to assemble their own computer.  
Pre-built computers are the most convenient, and quality is guaranteed.
There are actually very few gamers who assemble their own computers. The biggest advantage pre-built computers offer regular computer users is convenience, which encompasses overall manufacturing quality, software and hardware testing, and after-sales service. The value of pre-built computers lies within these advantages.
For regular pre-built computers (meaning brands that are not hardware manufacturers), the computers offered will be cost-driven—either by customizing stripped-down versions for mass-production, or by adopting a standard reference design to lower the cost. Hardware manufacturer brands do not take these measures. Take MSI's desktop computer, for example: it targets the gaming market, and offers a wide range of product series that meet different needs. The Aegis series is specifically designed for top PC gaming players, and offers the most outstanding gaming experience; the Infinite series desktop computer emphasizes providing a comprehensive gaming experience without limits; the Trident series desktop computer features a thin and light form while being equipped with excellent gaming performance—on top of being eye-candy when placed in the living room, it also allows gamers to enjoy their games on the TV. As for the Nightblade series, although compact in design, it boasts ample storage capacity and perfect performance. In order to enhance gaming quality, MSI has also adopted gaming graphics cards that focus more on materials used and cooling function. This is unmatched by any regular pre-built computers.
Assembling a computer isn't all that difficult, but it does requires relevant hardware knowledge. This includes a proper attention to connector cables and ensuring the operating system, drivers, and antivirus software are properly installed. Pre-built computers take care of these tasks for the consumers. Pre-built computer purchasers also don't have to worry about compatibility issues among components that they purchased separately, or whether those components will provide consistent and stable operation. The manufacturing of pre-built computers follows strict, standardized procedures regarding software installation/hardware assembly and testing, so there will be fewer related problems and issues than seen with self-assembled computers.
Moreover, you can't assume everything's running smoothly just because the computer is able to boot up and operate. If issues arise in the future for your assembled computer, you are required to find out where the problem lies, and have the faulty component repaired—with or without warranty. With pre-built computers, the warranty will cover the entire computer, so the brand manufacturer will handle any issues, saving you time and effort.  
Which should you choose: Custom PC or Pre-built PC?
Actually, buying a computer is just like having a meal. You can choose to do some grocery shopping and cook for yourself at home, go to a restaurant, or even pick up some take-out food; each choice has advantages and disadvantages, and there is no definite better choice. It all depends on the needs and circumstances of the individual computer buyer.
First of all, gamers who can assemble their own computers will do just that; there is no reason for them to choose pre-built computers. They are able to detect and replace any faulty parts, and even if the entire computer is broken beyond repair, they can always count on themselves to start fresh by buying computer parts and assembling them. If you are buying computers for others, for your company, or for your school—regardless of whether you know how to assemble a computer—it is most convenient to buy pre-built computers, as this will save you time and effort in picking which one to buy. When considering the maintenance responsibilities that may follow, you'll also save yourself a lot of trouble with pre-built computers, since you can have the brand manufacturer handle issues that may arise. If you don't know how to assemble a computer, but you really want to save money, you can pick your own computer parts and have the computer store employees assemble it for you. Otherwise, if you don't know an expert in self-assembled computers who is willing to help you out, it is most convenient to buy a pre-built computer that fits your own budget and needs. All you have to do is bring the pre-built pre-built computer home, plug in its power, and you can use it right away while enjoying a warranty for the entire system unit. If you choose to assemble your own computer, you may experience more issues, which could cost you more time—and more money.
Not sure how to choose an MSI pre-built desktop? Feel free to refer to the following website:
https://www.msi.com/Landing/best-gaming-desktop-pc