Super RAID has since its first incarnation been at the forefront of storage transfer speeds – starting with peak transfer speeds of around 800MB/s with two SSDs in RAID0. As SSD technology has improved, transfer speeds have gone up, and the ability to package several SSDs into one system has also become possible. This led to the developments Super RAID 2 and 3, both available in our current lineup of notebooks. Basically, Super RAID 2 is three mSATA SSDs in a RAID0 array, and Super RAID 3 is an additional SSD on top of that, still RAID0.
This has yielded transfer speeds in excess of 1500MB/s or 1.5GB/s – this means for instance that you can open your applications instantaneously and that your in-game maps will load lightning fast. However, we're not ones to rest on our laurels – having long had the fastest storage solutions, used in both our Gaming systems as well as our Workstations, we've taken the opportunity to introduce Super RAID 4 with our new refreshed notebooks – for even higher, slightly dizzying, transfer speeds of up to 3300MB/s – over 3GB/s.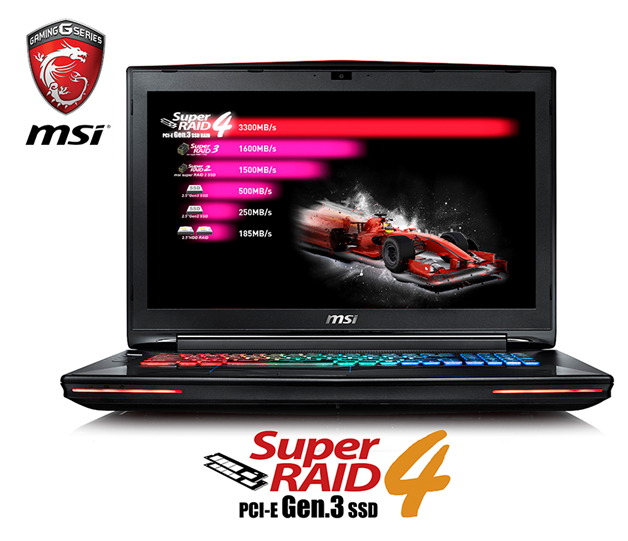 Super RAID 4 consists of two PCI-E 3.0-based NVMe SSDs in RAID0 and is available on the Skylake-equipped versions of the Gaming systems GT72 and GT80.