{{blogList.blogTitle}}

Gamers love to be in control. In a game, on the battlefield and when using their PC. To give gamers optimal control of their hardware, MSI has developed MSI Gaming Center. This smart piece of software lets you control some handy features to configure your gaming rig. In this blog we're going to explain the various options of MSI Gaming Center and explore all the ins and outs about it. Let's get started!
MSI Gaming Center compatibility
You can use MSI Gaming Center on most PC's out there, if you have an MSI Desktop or All-in-One PC it will be one of the many standard features it comes equipped with. If you don't have it yet, you can download MSI Gaming Center here.
MSI Gaming Center key features:
- EZ-SWAP
- Utility
- ScenaMax
- Device Setting
- System Monitor
EZ-SWAP
The biggest feature of Gaming Center, EZ-SWAP. In short, EZ-SWAP lets you build 2 profiles to easily switch from 'working mode' to 'gaming mode'. You can modify both profiles with default settings so you don't have to manually switch all your settings, but you can do this with a single click. Let's take a look.
By default EZ-SWAP is turned off like below: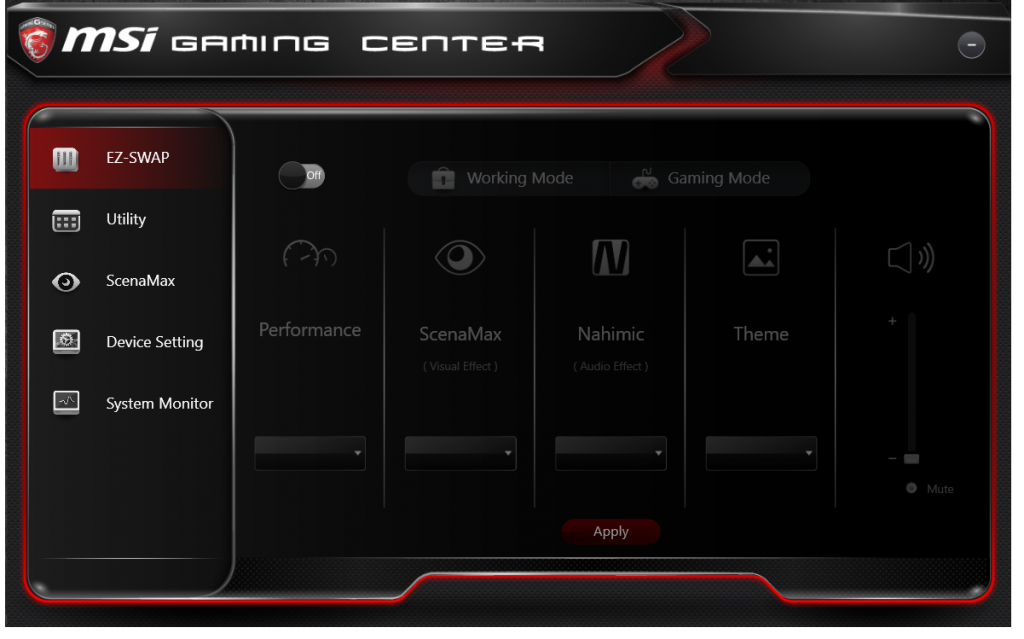 When turned on, you can set your profile here(1). As stated above, you can edit the 'Working Mode' and 'Gaming Mode'.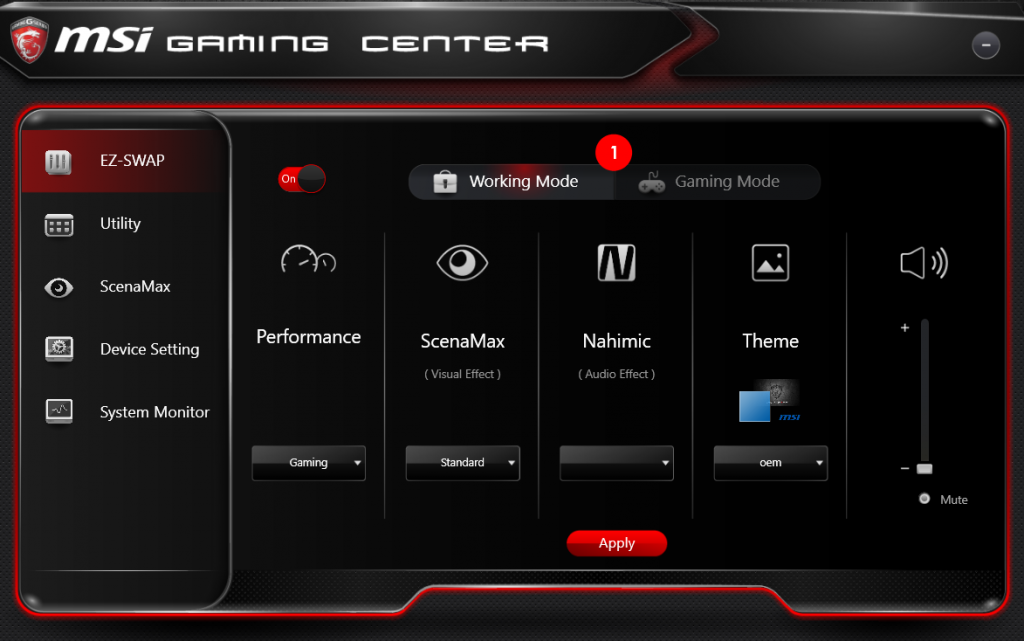 You can edit 5 options in each profile, the first one is: Performance.
In this mode you can select certain performance profiles for your system. You can select from 3 presets: OC, Gaming and Silent.
- OC selects your overclock settings for your system
- Gaming selects your gaming performance profile
- Silent makes sures your system runs as silent as it can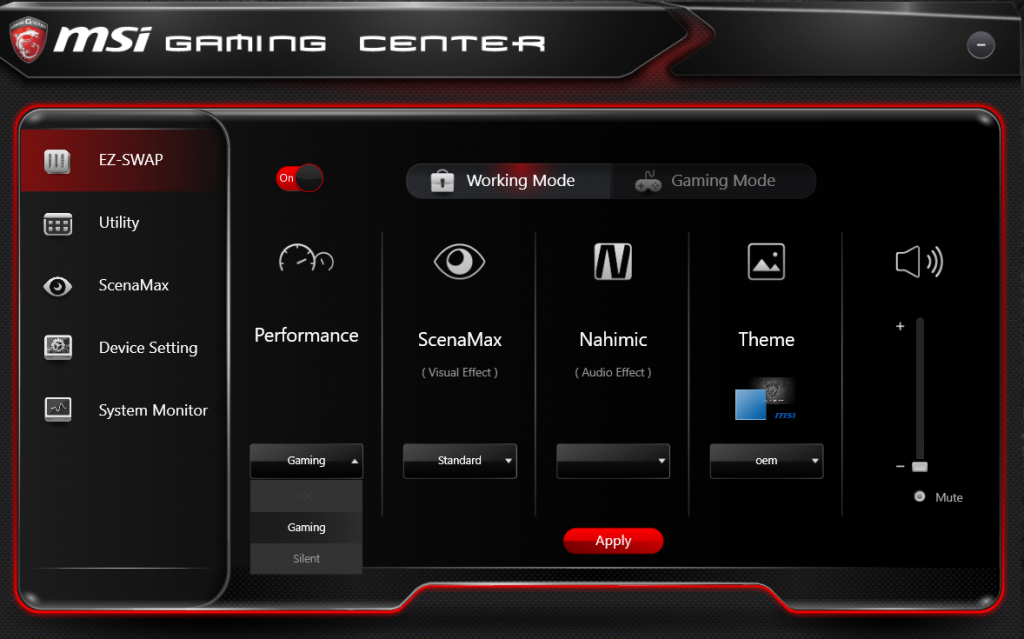 If you select one of the profiles, another app will pop up. The MSI Gaming App. In this app you can tweak your GPU even further. Check here for more information about MSI Gaming App.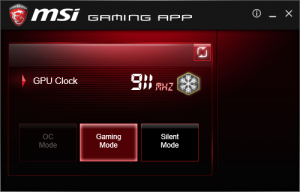 Second setting for your profile is: ScenaMax
In this setting you can select display options, there are 5 pre-set options you can choose. In the third feature we will be going into detail of these settings, so if you want to know what the 5 pre-sets are, just scroll down.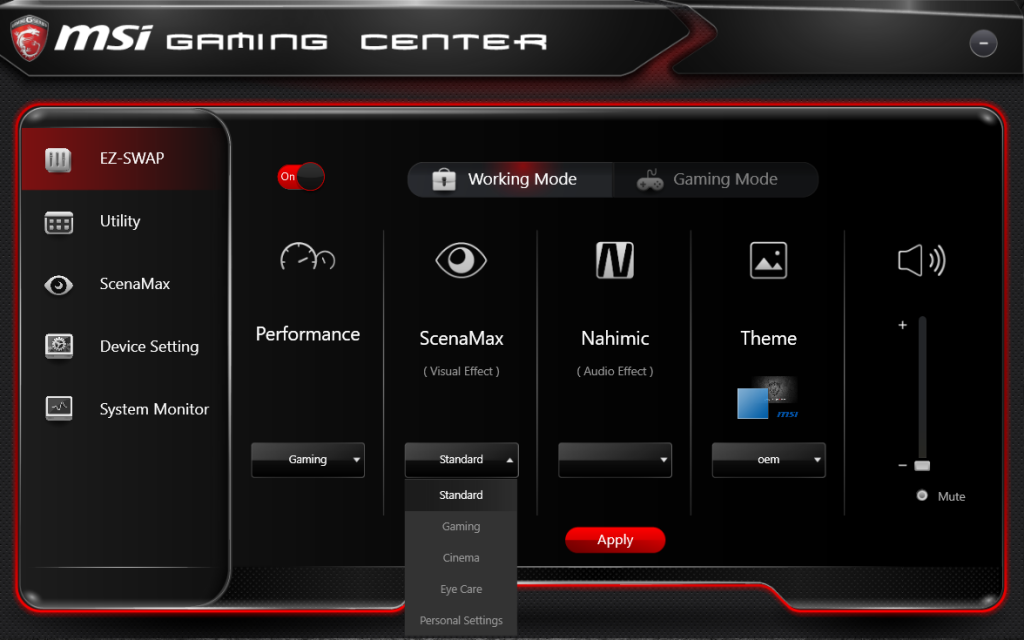 The third setting is: Nahimic
Nahimic audio software offers a high definition sound technology which boosts the audio and voice performance of your computer. There are 3 profiles for Nahimic to tune the audio perfectly for either Gaming, Music or Movie. For more information about Nahimic, check here.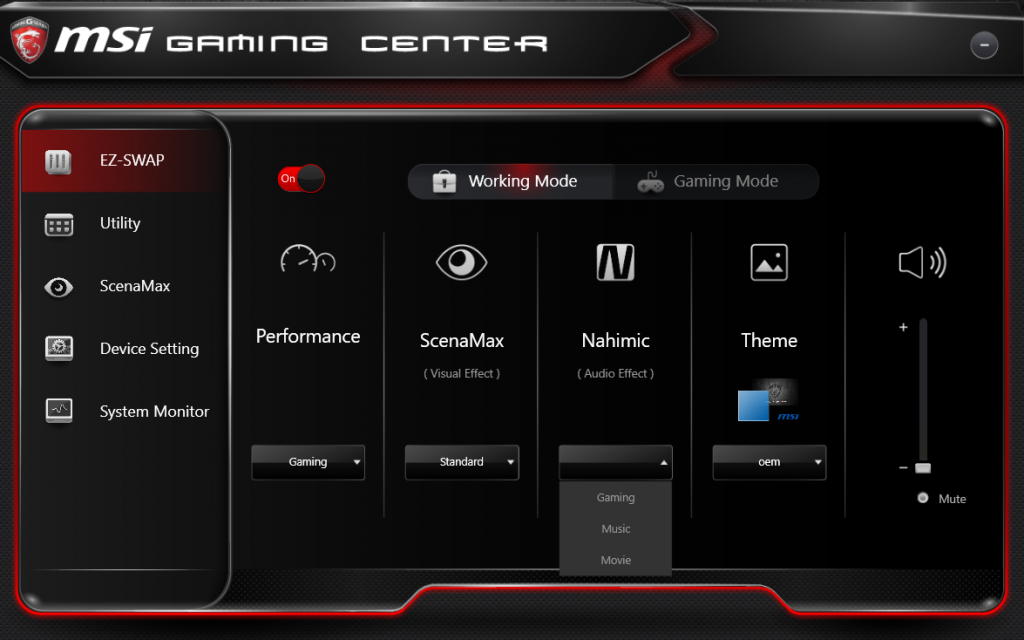 Fourth option is: Theme
In this setting you can choose your Windows theme. So for example if you select 'Working Mode' you can use the default Windows blue theme. But if you're going to game, with one click you can change the Windows Theme into a more gaming looking one.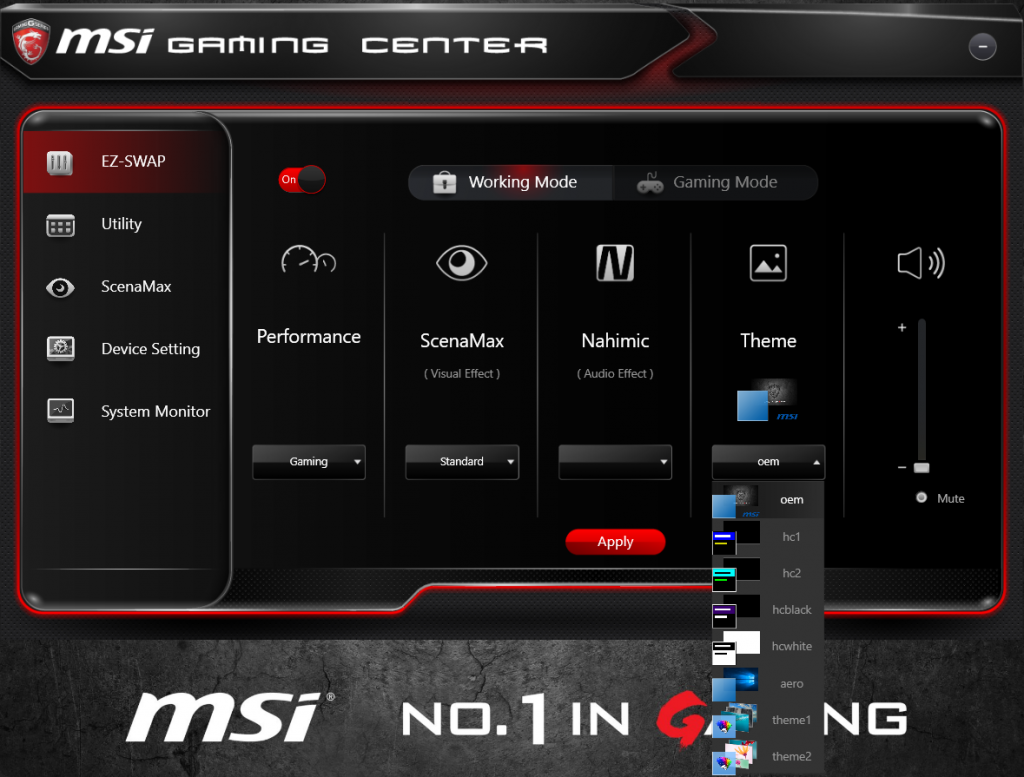 The last option: Sound
With this feature you can set the sound to a default level or just mute it. For example when you're using a headset to game and speakers to listen to music while working, you can easily mute the sound.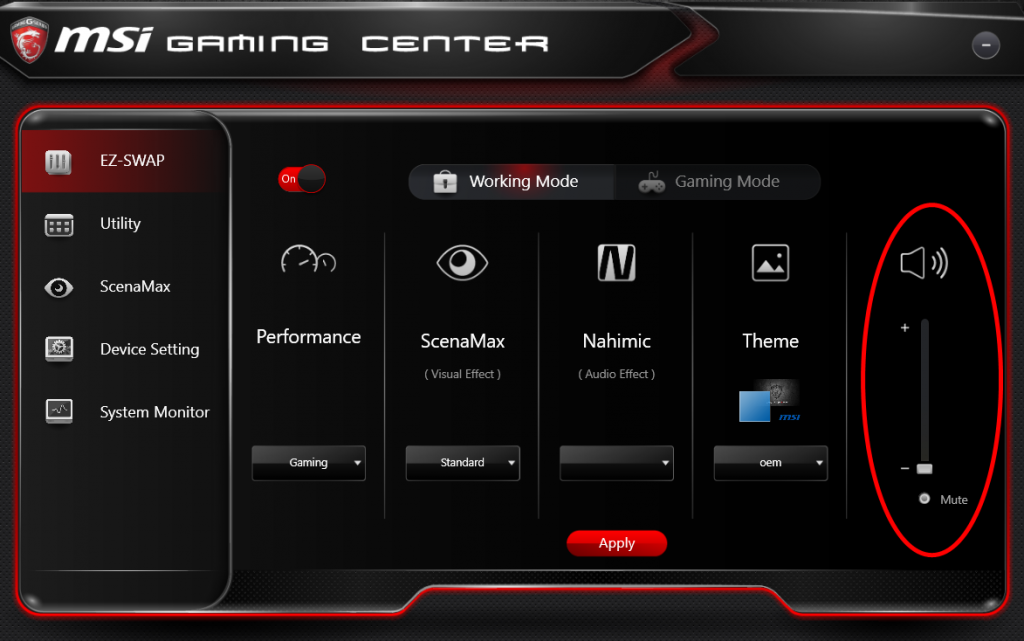 EXTRA:
When you turn the EZ-SWAP on, you will get 2 new big buttons on the screen. With these buttons you can easily switch between the profiles you setup. You can place these buttons anywhere on your screen. So you don't have to startup Gaming Center if you want to quickly switch profiles.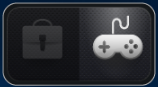 Utility
The Utility feature is the easiest to use feature of Gaming Center, it will detect MSI applications on your system and put shortcuts of them in Gaming Center. This way you only have to start one application if you want to tweak your gaming PC. In this screenshot you can see the MSI Gaming App and XSplit have been detected.
MSI Gaming App can be used to customize your MSI GAMING graphics card, you can find more information here.
XSplit is easy live streaming and recording software that comes with a free premium 6 months subscription with most MSI products.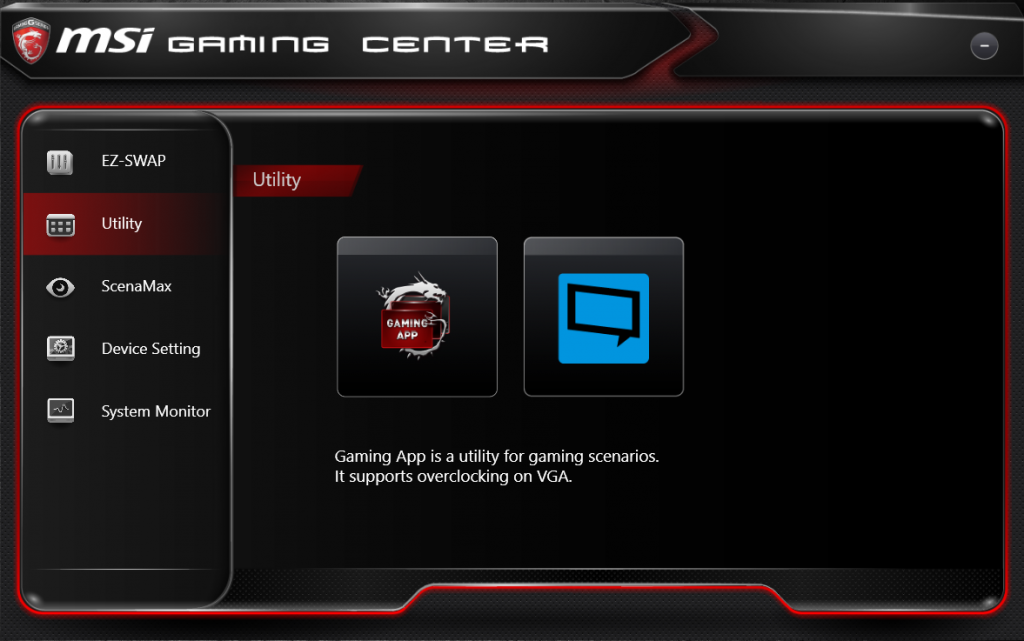 ScenaMax
With ScenaMax, you can control your display settings to adjust them to your needs. There are 3 modes, and one to change the settings manually.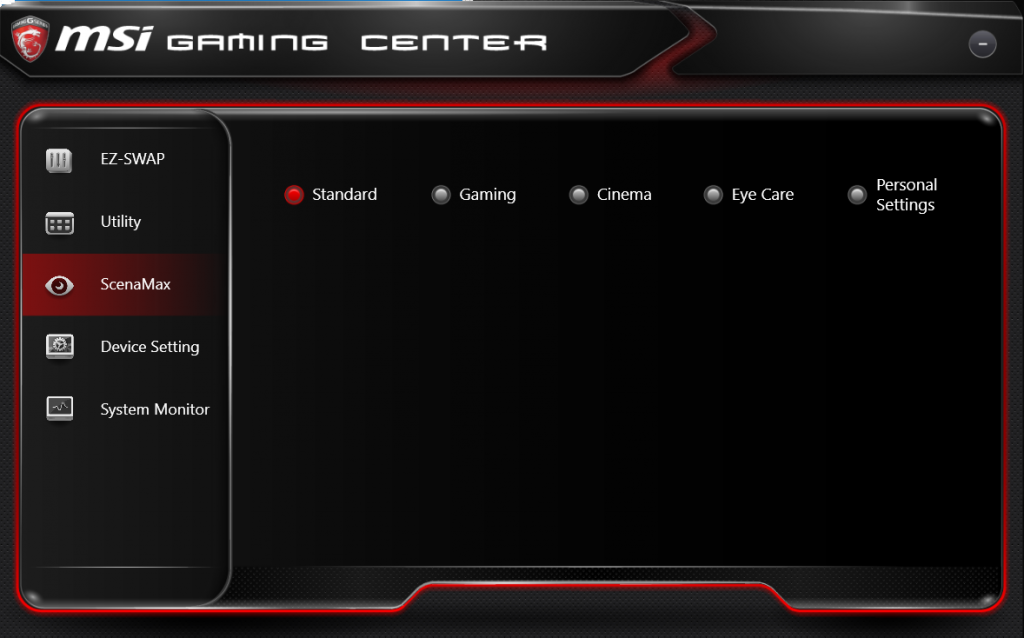 GAMING MODE: This effect will setup your screen for an optimal gaming experience. A slightly lighter display will be the effect that will make all enemies perfectly visible.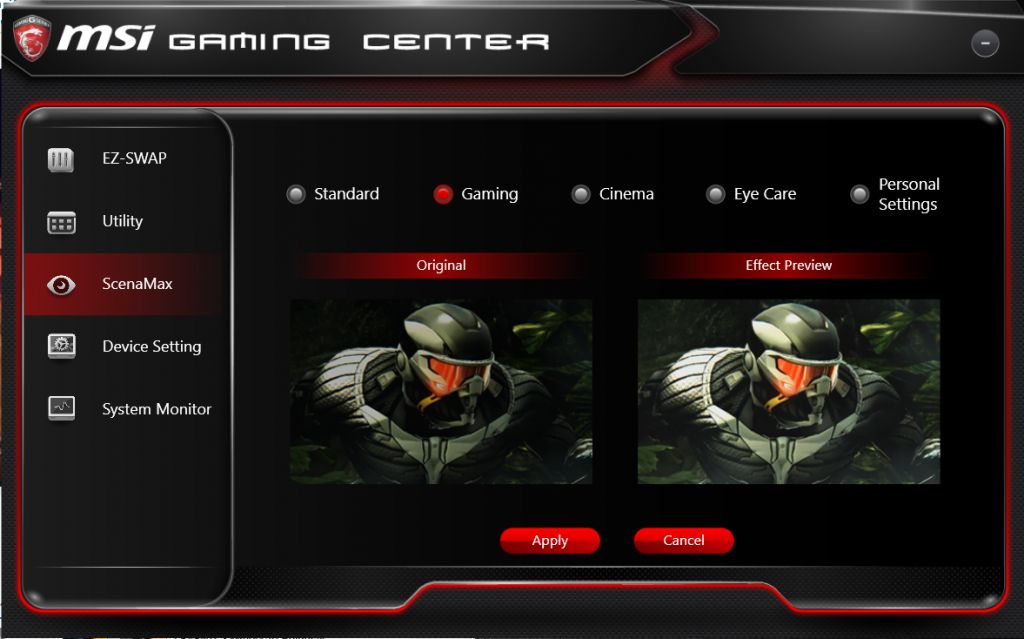 CINEMA MODE: This effect will setup your screen for an optimal cinema experience. A slightly brighter and colorful setting for the ultimate movie experience.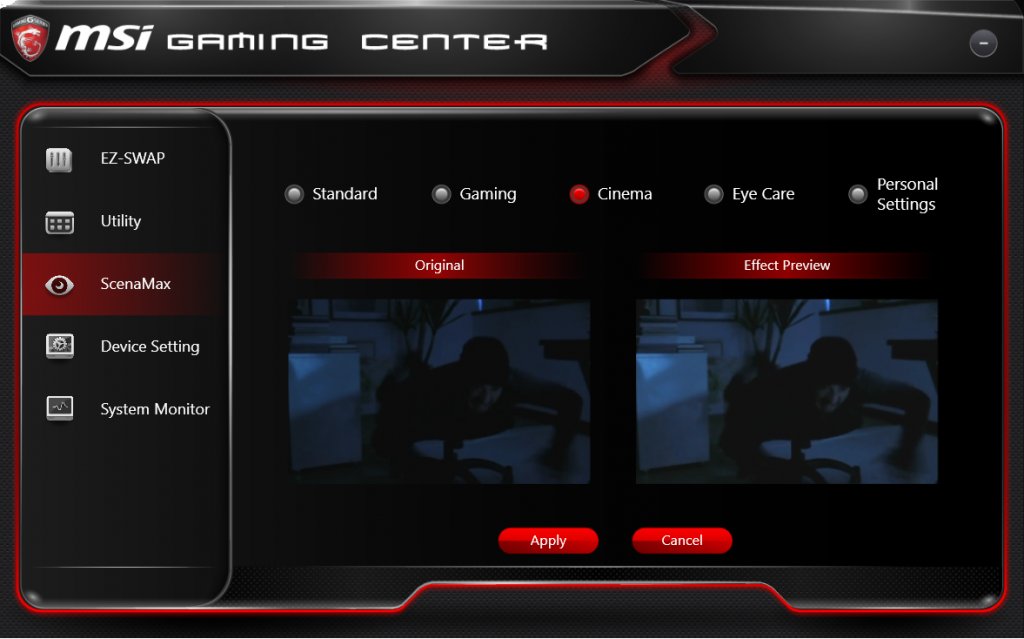 EYE CARE MODE: Your display will emit less blue light, this is better for your eyes because exposure to the blue light spectrum could cause serious long-term damage to your eyes.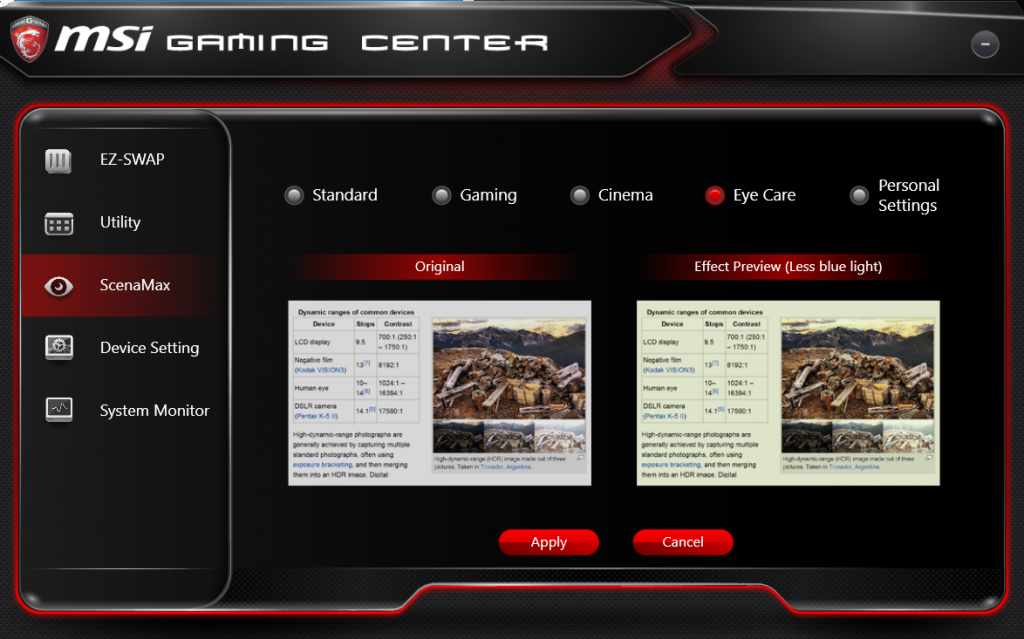 PERSONAL SETTINGS: In this mode you can manually set all the values for your screen. Adjust the Gamma-Level, Brightness and Contrast at your will and to your needs.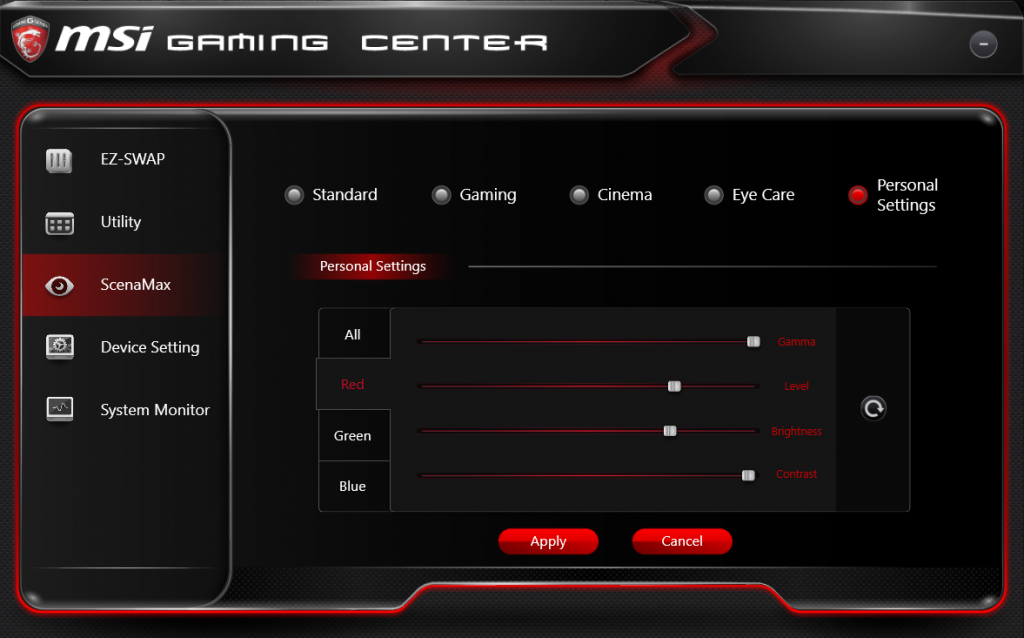 Device Setting
Device Setting lets you control various PC functions. It can control your microphone input volume (or you can mute it), change the volume of your sound (or mute it), enable or disable your Wireless antenna and enable the special MSI Super Charger to charge your mobile device super-fast.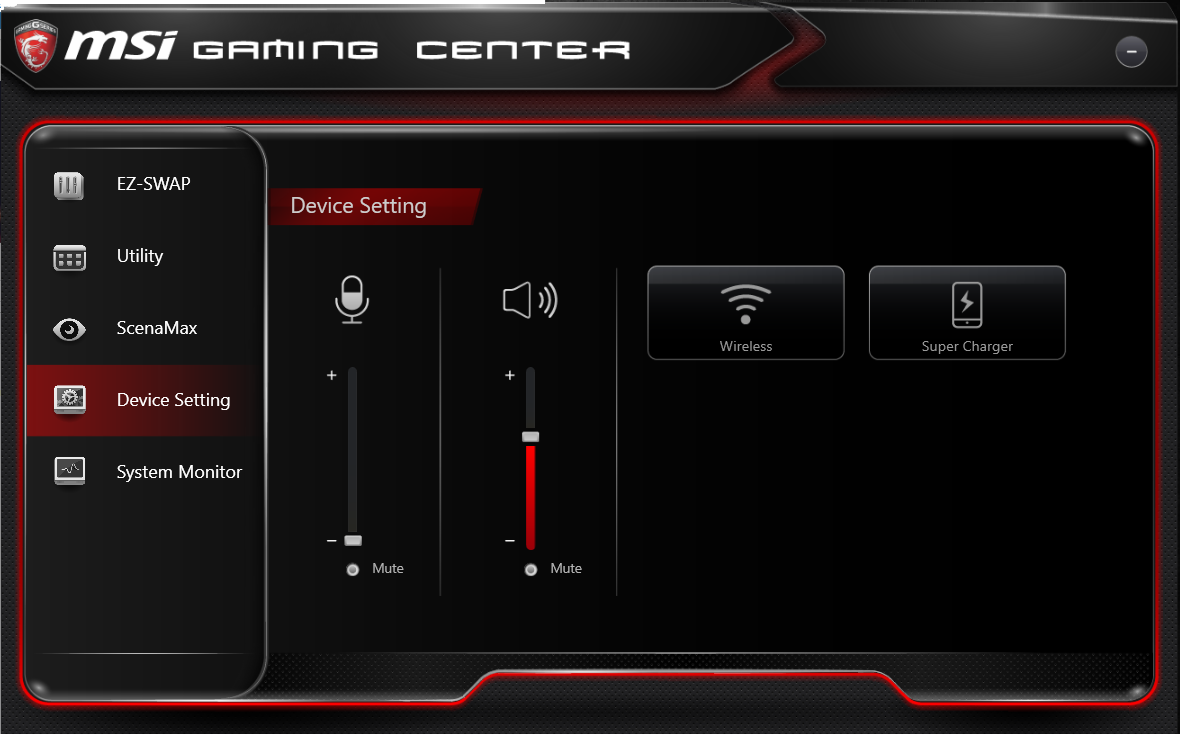 System Monitor
The last feature of the Gaming Center is the System Monitor. The name gives away what it does: this feature monitors the system's performance. You can view the following status:
- Disk load
- Memory load
- CPU load
- GPU load
- Ethernet and wireless network speeds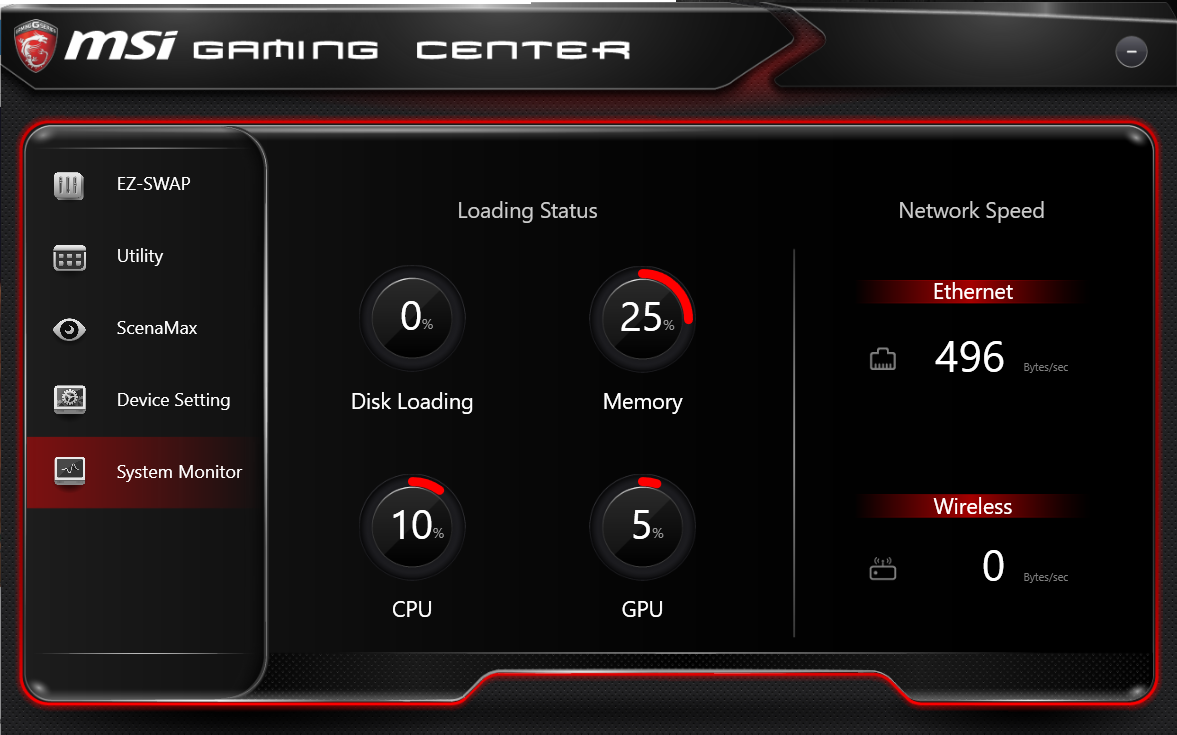 Do you want to control your gaming rig with one program? Be sure to give MSI Gaming Center a try!

Download Now!