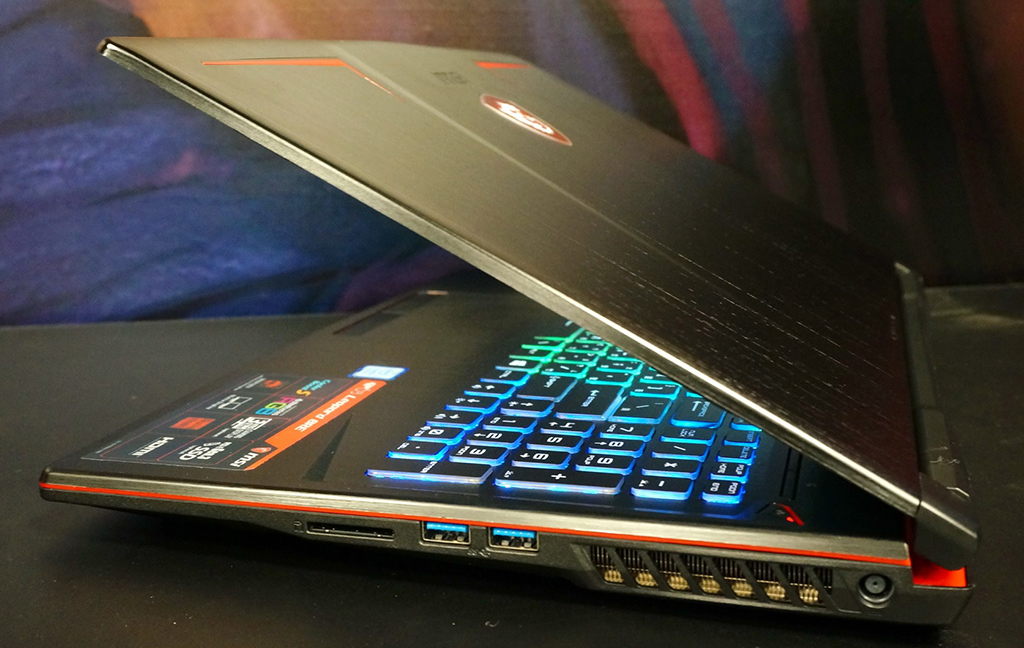 On 4/3, Intel launched their latest 8th Gen Core i7 processors platform, the Core i7 8750H CPU. The improvement of the Core i7 8750H is not only a new generation, but also very significant improve as first 6Cores/12Threads architecture on mobile CPU platform. This might be a small step from Intel, but a big leap for much more powerful gaming notebooks!  
The GP63/GP73 got similar design as previous GE63/GE73
Our latest GP63 and GP73 Leopard 8RE comes with brand new design, evolved from GP62 and GP72, the GP63 designed with 7 heatpipes and 2 powerful fans, that makes the cooling system more powerful to handle 8th Gen Core i7 8750H easier to boost at higher performance. Compared to other notebooks at same level, this is the best cooking design you've ever got than before.
7 heatpipes and dual fans of Cooler Boost 5 is really powerful!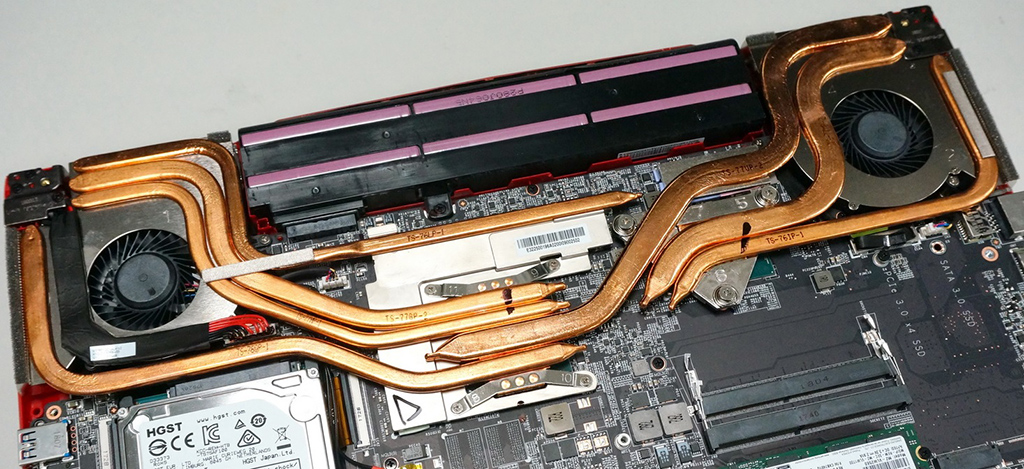 Inherit the ID shapes and speakers design from GP63/GE73, the speakers also become Giant Speakers, same chamber size, but only comes with 2 speakers, free of woofers. Maybe the base sound effect was a bit weaker than GE series, but the Giant Speakers still runs more powerful to over 102dBA, it's higher than previous GP62/GP72 series which was around 96dBA level, that makes the new GP63 and GP73 with louder sound volume and better sound detail for gamer.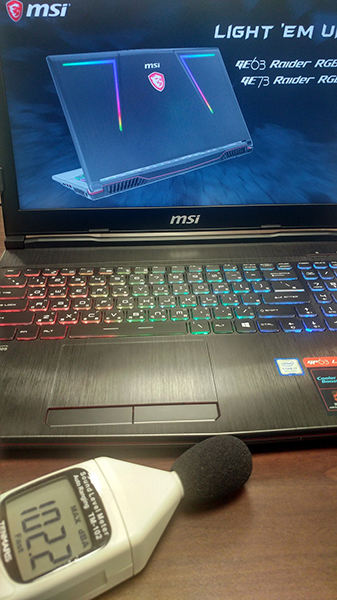 Listen to a notebook of the sound quality, the volume is important but not the only condition, the sound detail also as good as GE63, just a small difference on the low frequency sound, because this model did not have woofer.
The Giant Speaker chamber design is really big, same as the speakers!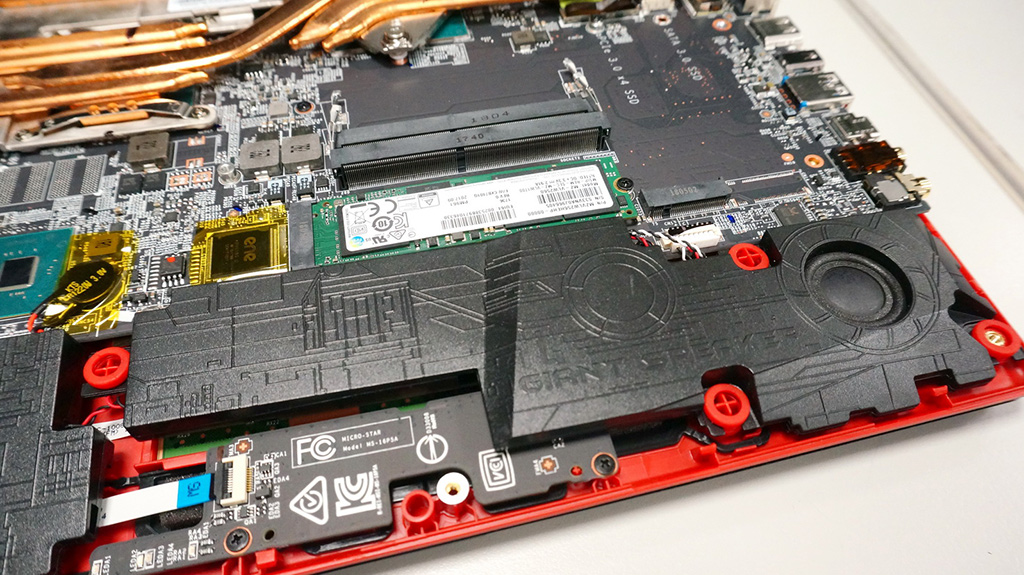 CPU performance boost up over 42% than old 7700HQ notebooks
When I got the latest GP63 Leopard 8RE gaming notebook, I really wish to sell my old GS73 to buy this new model!! The shape of GP63 Leopard 8RE looks fantastic. This model comes with 8th Gen Core i7 8750H CPU and GTX 1060 graphics, my comparison is previous GP62 with Core i7 7700HQ and GTX 1060 graphics from others. I tested the CineBench R15 as a good start, the CPU multi-core score is 1062cb, compared to previous i7 7700HQ is 744cb, the new i7 8750H is 42.7% faster than 7700HQ.
Check on the OpenGL score from CineBench R15, 8th Gen Core i7 8750H got 102.32fps, it's also 11% faster than Core i7 7700HQ at 94.54fps. So even with same GTX 1070 graphics, the professional OpenGL test still could improve more than 8.2%!
The Core i7 8750H got 1062cb at Mulci-CPU score, and OpenGL test is 102.32fps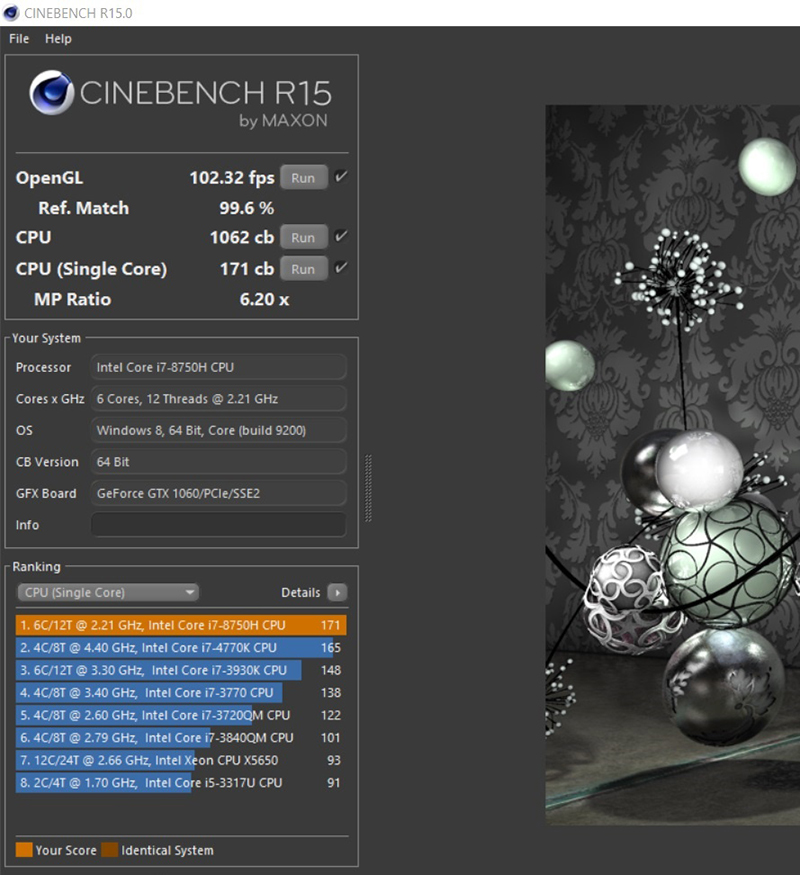 The Core i7 7700HQ got 744cb score at CineBench R15 test, and OpenGL test is 94.54fps.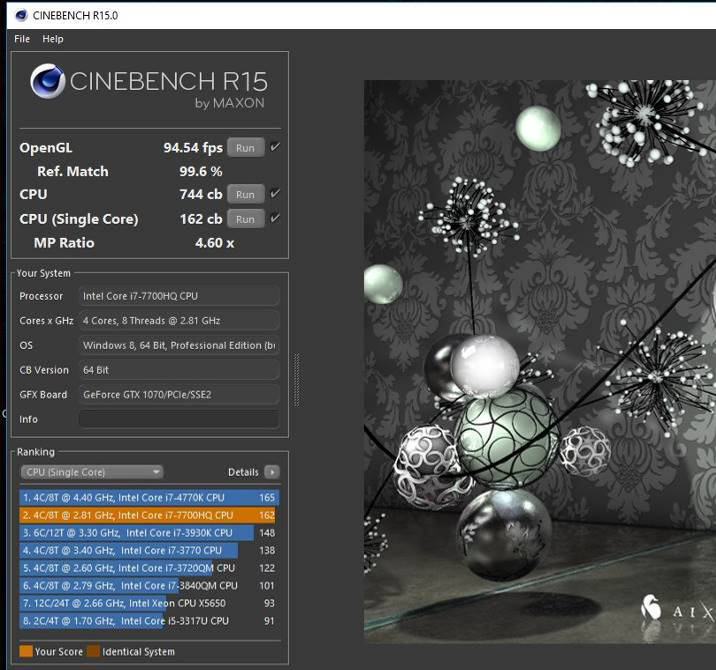 Core i7 8750H of Video Transcoding test got 28.5% faster
The FHD/4K video transcoding and editing works are getting more popular in recent years, so I also looking forward to see what Core i7 8750H could improve on this part. I used "X264 FHD Benchmark" tool to test the performance gap between GP63 of Core i7 8750H and 7700HQ.
Let's take a look on the result; the six Cores of Core i7 8750H on this Full HD video transcoding benchmark comes out 32.4fps, which presents much faster than Core i7 7700HQ test result of 25.2fps. 8750H got more than 28.5% faster on the video transcoding benchmark than 7700HQ, we could see that 8th Gen. Core i7 platform did have great improvement on the FHD/4K video transcoding performance and could reduce the time for video editing.
Intel® Core i7 8750H got 32.4fps at X264 FHD Benchmark test; it's28.5% faster than i7 7700HQ CPU at 25.2fps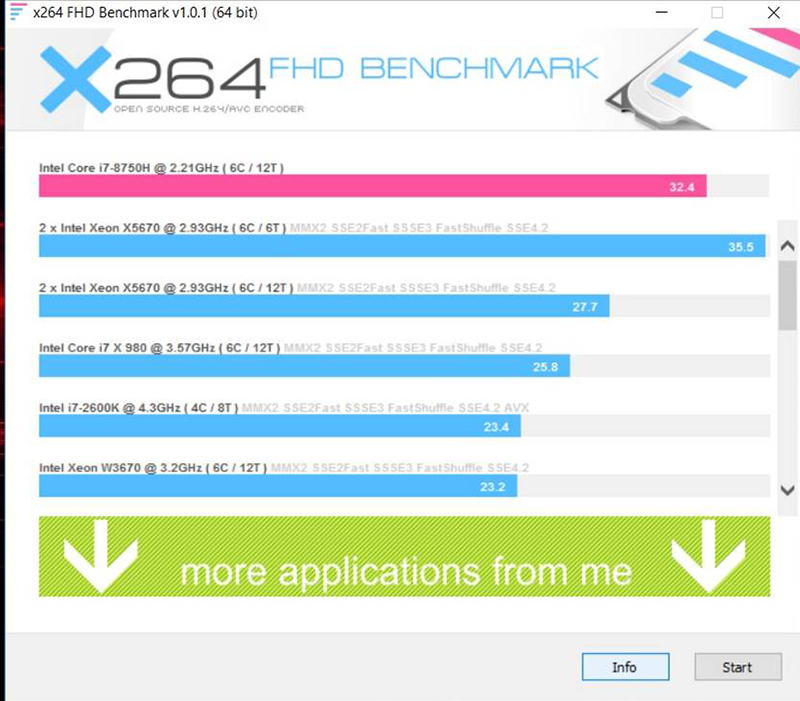 The 3D Mark 11 Performance Boost was higher than expect
With same GeForce GTX106 graphics, just the Core i7 CPU difference, users will still get big performance gap on the 3D Mark 11 benchmarks, the old i7 7700HQ got P12600 score in average, but on the latest GP63 with SPORT mode, we got P14173 score which is 12% faster, if you runs TURBO mode with GPU OC 200MHz, the score could reach P14854, that makes the gaming performance might be able to reach 17.8% faster, it's great for a new gaming notebook improvement!
GP63 default on SPORT mode of 3D Mark 11 P14173, 12% faster.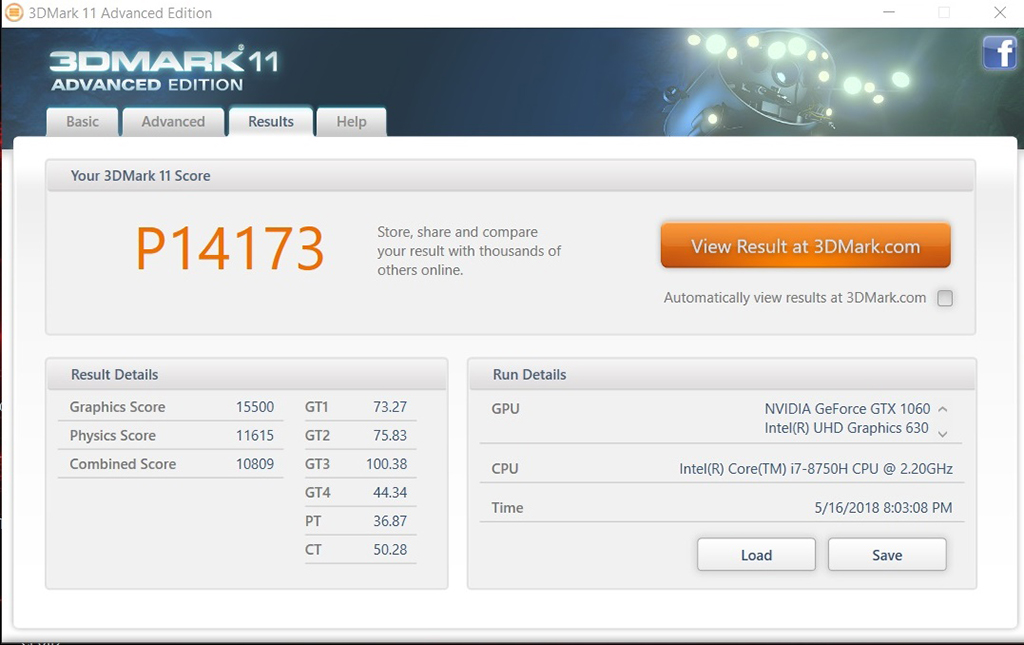 GP63 boost on TURBO mode with GPU OC got 3D Mark 11 P148543, 17.8% faster.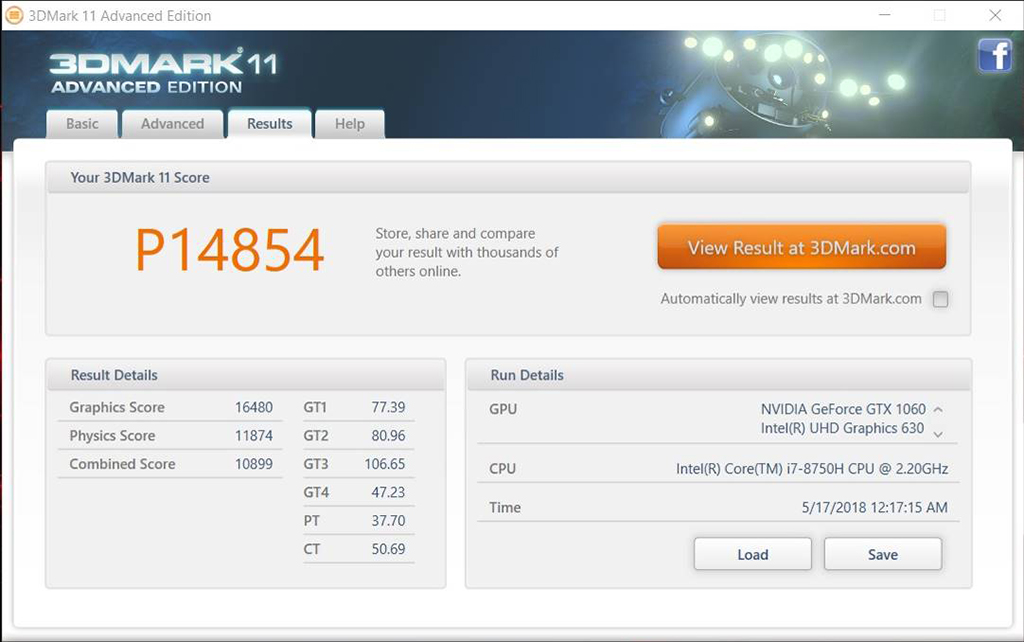 Conclusion on the GP63 design and performance improvement
The GP63 and GP73 got better cooling system and sound quality compared to GP62 and GP72, also looks fancier on the outlook edge and shapes. With these 3 simple but useful benchmark tests out of 4 results, we could realized that the latest Intel® 8th Gen Core i7 platform are capable to improve most of the CPU demanded programs, the maxima performance boot could over 42% depends on the multi-cores usage optimized status. Besides of these tests, use the Core i7 8750H platform to play games and live streaming, the fps will drop much less than Core i7 7700HQ platform because of 6C/12T architecture is more efficient on multi-task works than 4C/8T CPUs.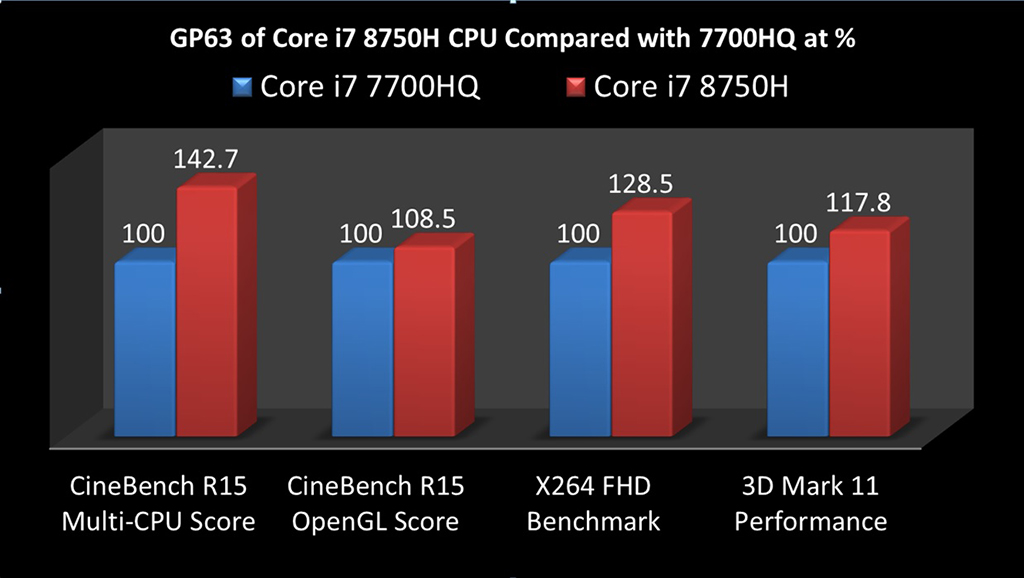 Let's get online to buy a new GP63 or GP73 series gaming notebooks from the market, this time they got better design, more features and greater CPU performance improvement than any of the previous 2 generations of Intel mobile platform!!