{{blogList.blogTitle}}
On the official MSI Instagram we carried out a survey to find out exactly what it was that gamers wanted as a gift over this Christmas period. A horde of 300 people gave their opinions and we sorted through all of the different gifts that gamers desired to give you the definitive list of the best gifts for this Christmas.
If you are a gamer or know a gamer, then this list should provide you with exactly what you need to make sure that Christmas goes off without a hitch. Make sure that you don't disappoint anyone this year and have a look at what gamers really want this Christmas.  
TOP 6: Xbox One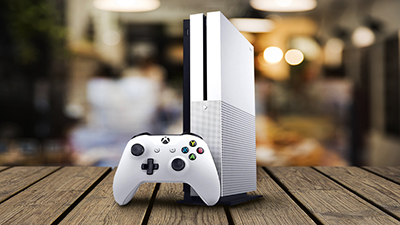 The XBox One is an absolute monster of a console. It's not just the gaming that makes it such a cast iron choice though. So, what does the XBox One have that makes it such a desirable choice for a gift?
Well firstly, it is the ability for the XBox One to be used as a complete media hub. It includes all of the media apps that an android box or Roku box would include. It even allows for the use of Kodi, which means that as a streaming box it matches up to all of the main media boxes out there. It also includes a Blu-Ray player integrated into the disc drive. This ensures that it has something over all of the other media boxes on the market. The ability to play physical media. Add in an XBox media remote and the XBox One is as easy to control as any device out there.
Secondly, it's a top of the range gaming machine. Almost all of the latest and best releases will make their way to the XBox One over the course of its lifespan. That means that whatever game you fancy playing over the course of the next year will be easily available to you. There are also a number of XBox exclusives that make it stand out above the other consoles on the market. Halo 5 and Dead Rising 3 are just two of the huge titles that help the XBox One to dominate the competition.  
TOP 5: Steam keys/ Game Code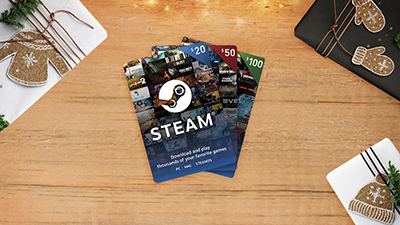 This is always a choice that is near the top of the list every year. Steam Keys and Game Codes are perfect for players because it allows them to download the game you have gifted to them and begin playing almost instantly.
Some of the biggest games of the year are usually the choices people make. Assassin's Creed, PUBG, Fortnite and Red Dead Redemption 2 are all some of the games that people picked out in our survey. No doubt Football Manager 2019 will be high up on people's lists for life consuming stocking filler.  
TOP 4: VR headset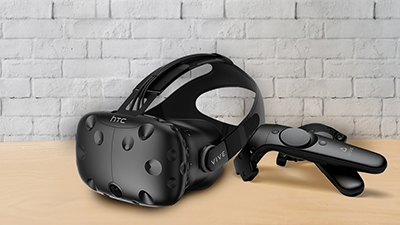 Virtual Reality headsets have gone from a plaything of the rich to something almost anyone can afford in a very short time. While this is usually the way that technology works, VR companies are attempting to increase their market saturation before the chance is gone.
This has led to the price of the high end VR headsets to begin falling to an affordable level without reducing the quality of the headset.
The three main headsets that people want are the Oculus Rift, HTC Vive and PlayStation VR. The Rift and Vive are the most expensive of the devices and require a high performance PC in order to run them effectively. The PlayStation VR is a cheaper device, but the specs of the other two devices in addition to them including controllers that have been specifically designed for VR. That is, your choice all depends on your budget and whether you have a PS4 or not.  
TOP 3: Peripherals: Keyboard/Mouse/headset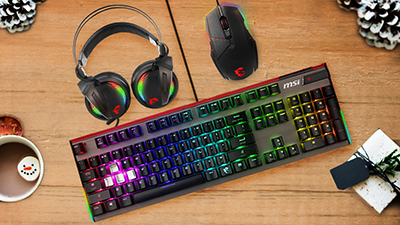 When you're gaming, there is nothing worse than your aiming sticking or moving too fast due to a poor quality mouse. Maybe a sticky space bar impeding on your jumps comes close. Or how about low quality, tinny sound blasting out from your earphones? All of these can seriously hinder your actual gameplay or just plain ruin the experience. It makes sense that peripherals are near the top of the list for most people, after a powerful PC, high quality peripherals are something that every gamer needs.
That's why we have picked out some of our high quality peripherals to help you make the right choice for your gaming this Christmas. Peruse through our devices and you'll see exactly what you can achieve when we are powering your play.  
MSI PICKS
 
 
 
- Hi-Res certification guarantees the highest sound quality
- Enhanced Virtual 7.1 Surround Sound
- Amazing LED Light Effect
- Smart Audio Controller
- Choose from millions of colors with RGB Mystic Light
- Fully Customizable Look and Feel
- Experience incredible accuracy with the Avago PMW3330 optical gaming sensor
- Choose from millions of colors with RGB Mystic Light
- Features special OMRON switches rated for over 50 million clicks
- Cherry MX RGB Red Switches backed with Lightweight aluminum construction
- Full RGB LED Illumination, millions of colors and several astonishing light effects can be easily controlled by RGB Mystic Light
- N-Key Rollover and Windows Key Lock for smooth gaming experience
- Dedicated Multimedia Hotkeys
- 4X Luxury Metal Keycaps (Default) and 12X Rubber Keycaps provides excellent typing feedback
- Sturdy palm rest for extra comfort
- Braided Cables & Gold-plated Connector
TOP 2: Pre-built Gaming PC with the Best Gaming Monitor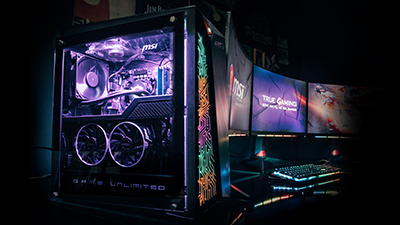 A top class gaming desktop is one of the most popular choices that people make for their Christmas gifts. A gaming PC is still the holy grail when it comes to gaming. Running your games faster, smoother is what every gamer wants. It's only an ultimate PC can achieve this. Also, take your game to the next level with a curved gaming monitor that's as powerful as your PC!
In order to get these while still not moving too far away from the convenience of consoles means that a pre-built gaming desktop is a choice that a lot of people tend to veer towards over the holiday season. We've chosen two of our most popular packages to give you an idea of exactly what a pre-built gaming PC and monitor can offer you.  
MSI PICKS
 
 
 
 
 
Gaming PC: Infinite A
- 7th Gen Intel® Core™ i7 -7700 processor with DDR4 memory
- Up to MSI GeForce® GTX 1080 GAMING 8GB GDDR5X graphics
- Mystic Light RGB LED design to customize your Gaming PC
- Exclusive Silent Storm Cooling 3 cooling system
- VR Ready

Gaming Monitor: MSI Optix MPG27CQ
- urved Gaming display
- GameSense
- WQHD High Resolution
- 144Hz High Refresh Rate
- 1ms Fast Response Time
- Mystic Light
- Adjustable Stand
- Gaming OSD APP
 
Gaming PC: Trident 3 8th
- Intel Core i5 8th Gen 8400 (2.80 GHz)
- 8 GB DDR4
- 1 TB HDD
- Windows 10 Home 64-Bit
- NVIDIA GeForce GTX 1060 3 GB GDDR5
- Virtual Reality Ready

Gaming Monitor: MSI Optix MAG241C
- Curved Gaming display
- 23.6" FHD VA panel with 1ms & 144Hz
- HDMI, DisplayPort, USB
- True colors
- VESA mountable
Current gaming desktop and gaming monitor promotion bundle:
Top 1: Custom PCs will always prevail!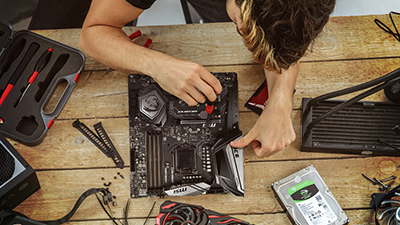 When it comes down to it, the final choice that people really desired was a custom built PC. A custom PC does offer a slight more difficulty than a pre-built PC, but it blasts past that problem with a huge number of advantages. Firstly, it allows for you to focus on exactly what you want for your PC. The pure number of customization options means that no two custom PCs are the same.
Secondly, building your own PC adds a feeling of achievement to your device. If you have built it yourself then you feel good about it. You also have a working knowledge of your PC and it is much easier to carry out upgrades in the future.
Finally, you can trim down the software list that is included with the PC. Pre-built PCs often carry a large number of programs that are unneeded. This slows down the start up for your PC and end up clogging it up and slowing it down over time. A custom PC allows you to alleviate this problem by carrying out your own fresh install.
As well as the functional options there is also the option to make your rig an aesthetic delight. Including flashing lights and utilizing RGB builds to create the best looking PC around. We've picked a one of our top custom builds to catch your eye, so you can have an idea of just what is possible when you go down the route of a custom build. What's more, we have game bundle offers for our gaming motherboard and gaming graphics card currently, information is listed below. Enjoy your big deal!  
MSI PICKS: CUSTOM RGB PC BUILD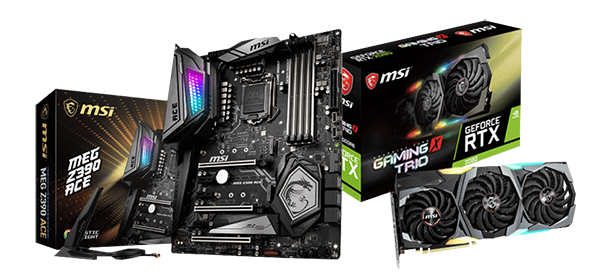 - Motherboard: MEG Z390 ACE
- CPU: Intel core i9-9900K
- GPU: GeForce RTX™ 2080 GAMING X TRIO
- Cooler: Corsair Hydro Series™ H150i PRO RGB 360mm Liquid CPU Cooler
- Memory: Corsair VENGEANCE® RGB PRO 32GB (2 x 16GB) DDR4 DRAM 3000MHz C15
---Memory Kit — Black / HyperX Predator DDR4 RGB 32GB (2 x 16GB) DRAM 3200MHz
- PSU: Corsair RMx Series™ RM1000x
- SSD: Corsair Force Series™ MP510 960GB M.2 SSD
- HDD: WD BLACK PERFORMANCE DESKTOP HARD DRIVE 2TB

Setup Kit Pack: https://kit.com/msi_gaming/xmas-buying-guide-custom-rgb-pc-build
Current gaming motherboard promotion bundle:
Current graphics cards promotion bundle:
The gap between a custom rig and a pre-built PC all depends on your budget, your level of technical skills and possibly how lazy you are. While a pre-built PC is undoubtedly a much simpler prospect that almost provides the convenience of a console, a custom PC will give you a performance level of a much greater magnitude. If you can devote the extra time initially then you will reap the rewards in the long run.
Of course a custom PC will need top class peripherals to go with it, so if you got lucky and managed to snag yourself a girlfriend then maybe you could convince her to get you two gifts from the list which will take your grand total to three gifts!
Have you already got your secret Santa presents or special stocking fillers for him and for her (or for yourself) after going through these six wishes from 300 PC Gamers? Leave the comment below to let us know if these ideas are also on your wish list or not!