MSI pioneers only the extraordinary gaming machines for your gaming pleasure. MSI is the first to intro the gaming laptops with the latest Intel 7th Gen CPU and GeForce GTX10 series GPU in the market. Gamers can get the best performance out of these two new platforms only on MSI gaming laptops.
As a true gaming legend, MSI seeks to uphold its tradition to always offer the latest and the exclusive gaming features to fulfill gamers' every desire.
GS43 7RE Phantom with Intel's latest 7th generation Core i7-7700HQ processor is now ready for hardcore gamers. This latest 14" slim gaming notebook with enthusiast-grade GeForce GTX 1060 graphics takes computing power to a whole new level while remaining ultra slim design and portability.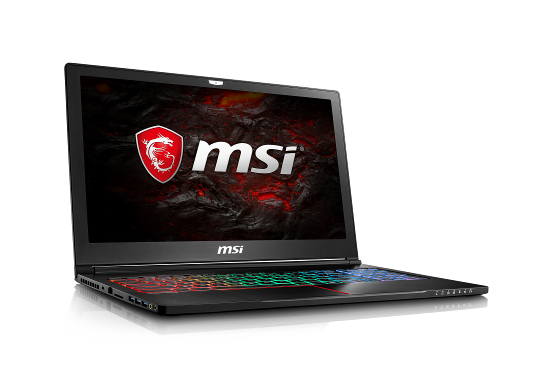 Video Transcoding Full HD movie to x.264
Evaluating the capabilities of a CPU is usually done by carrying out a series of benchmarks that can check the functioning of the processor in various scenarios. There are, nonetheless, some tests more targeted at specific parameters like video encoding performance and you can try one of these with x264 FHD Benchmark.
The GUI of this application is very uncomplicated and it features just a couple of buttons that are all that's needed to start or stop the test and view the a comparison of the results. This tool uses a Full HD movie clip as the target of the encoding job and the higher the numbers for the frame rate (FPS or frames per second), the better your processor will score.
i7-7700HQ (6M Cache, up to 3.80 GHz)↓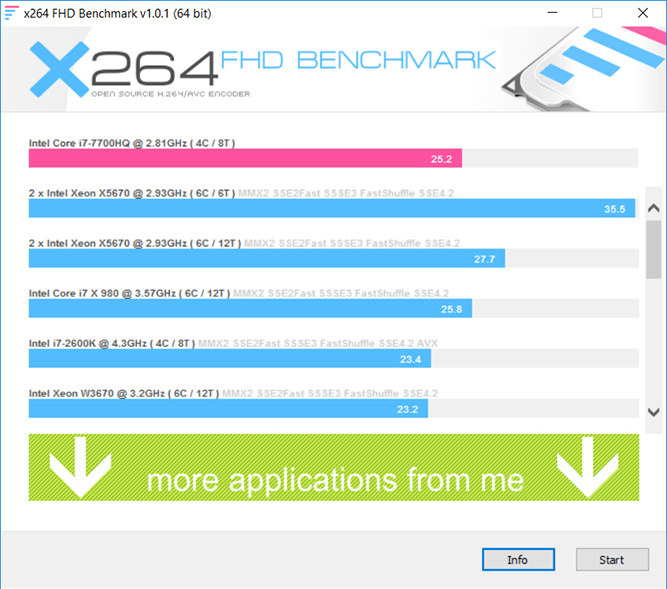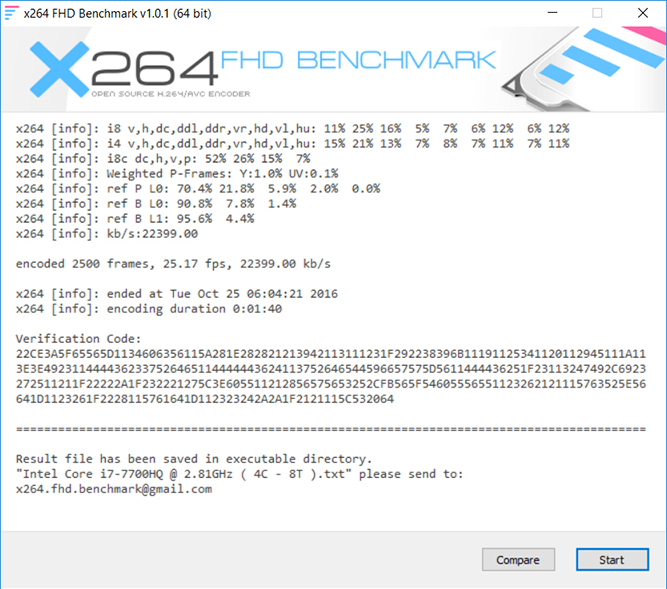 i7-6700HQ (6M Cache, up to 3.50 GHz)↓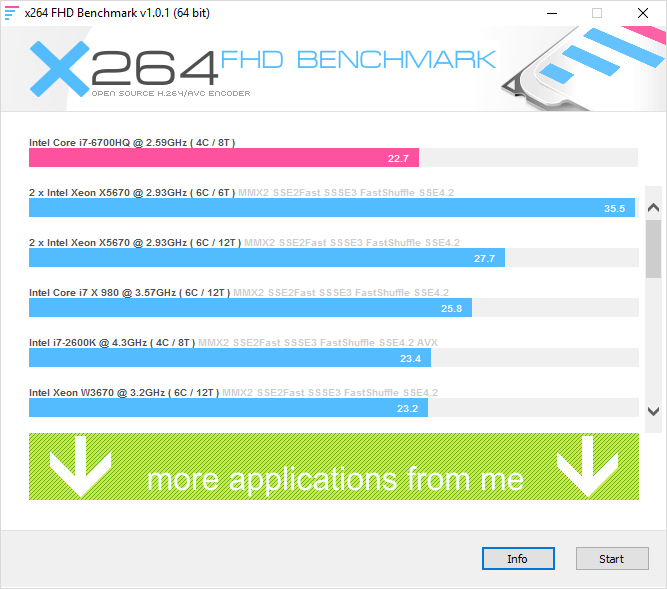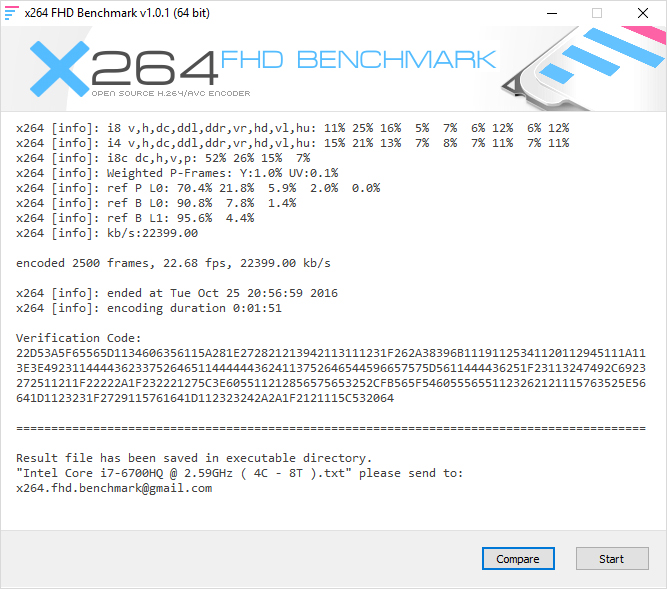 Transcoding with AIDA64's FPU VP8 benchmark
Benchmark pages of AIDA64 Extreme Edition provide several methods to measure system performance.
This benchmark measures video compression performance using the Google VP8 (WebM) video codec Version 0.9.5. FPU VP8 test encodes 1280×720 pixel resolution video frames in 1-pass mode at 8192 kbps bitrate with best quality settings. The content of the frames are generated by the FPU Julia fractal module. The code behind this benchmark method utilizes the appropriate MMX, SSE2 or SSSE3 instruction set extension, and it is HyperThreading, multi-processor and multi-core aware.
i7-7700HQ (6M Cache, up to 3.80 GHz)↓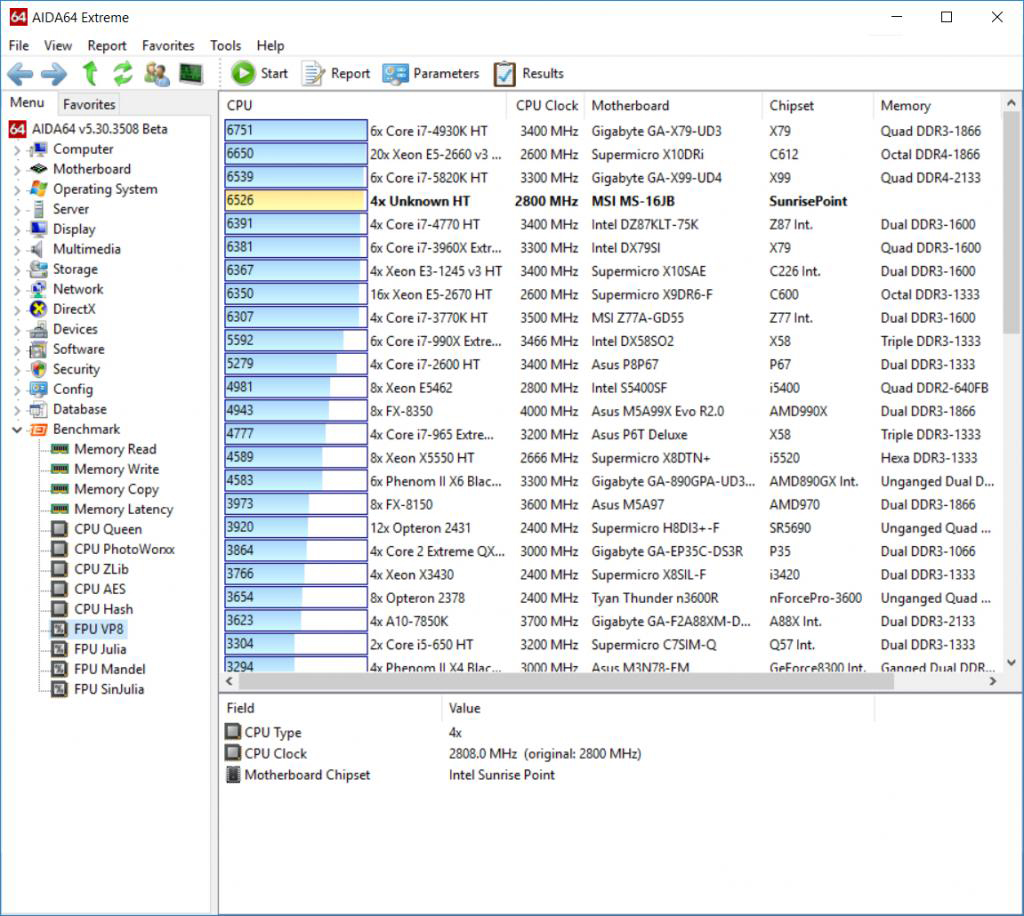 i7-6700HQ (6M Cache, up to 3.50 GHz)↓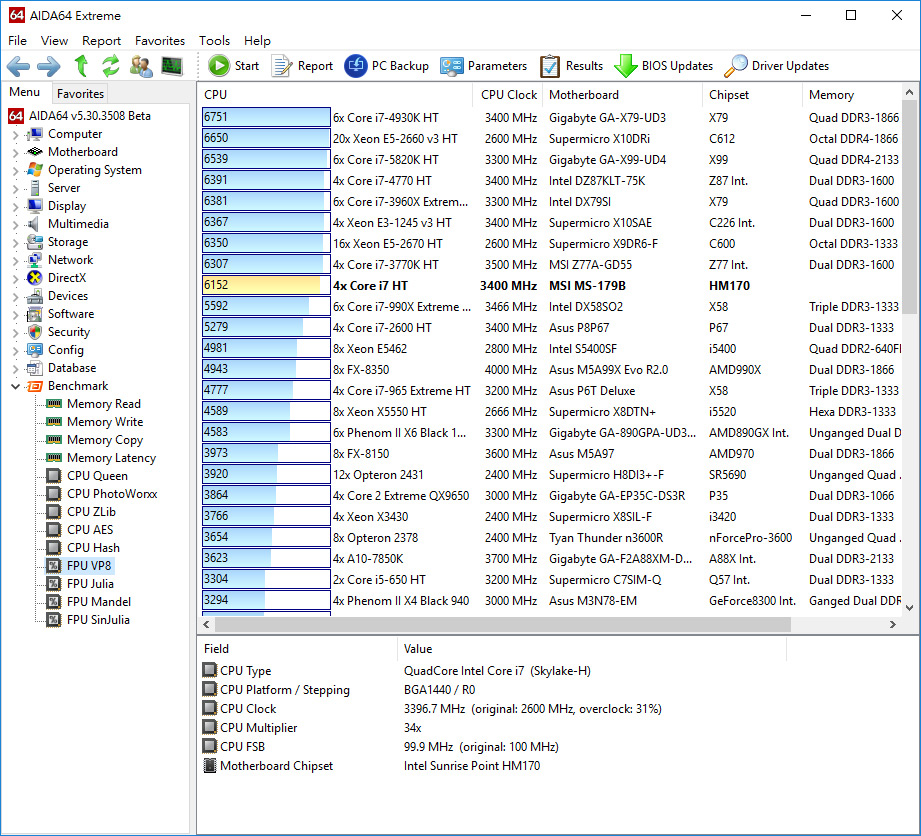 By collecting and comparing all the test details and the results in below table, we can find the performance improvements more clearly.
The result indicates that the performance of i7-7700HQ on the AIDA64 benchmark test is 6.08% higher than i7-6700HQ.
As for the x264 FHD benchmark, the result indicates that the performance of i7-7700HQ is 10.98% higher than i7-6700HQ.
On AIDA64's FPU VP8 benchmark, i7-7700HQ processors incorporate slightly advances to their Floating Point throughput and instruction set processing efficiency, allowing it to surge i7-6700HQ.

MSI ultra-mobile gaming GS43 7RE Phantom is surely the ideal choice for gamers who refuse to compromise. It combines powerful 7th Gen. Intel Core i7-7700HQ CPU and enthusiast-grade GeForce GTX1060 graphics into elegant brushed aluminum chassis, yet with only 19.5~21.8mm in height and 1.6kg in weight. This new series offers another option for demanding gamers who search for powerful gaming notebook with even smaller 14 inch dimension.
Based on above simple tests, we can say that the new Intel Core i7-7700HQ CPU will bring significant video encoding and transcoding performance improvements on MSI GS43VR 7RE Phantom.