{{blogList.blogTitle}}
MSI offers several series of Gaming Desktop. Each of them is constituted with unique qualities that cater users with different need. In this article we are going to talk about our star-studded Gaming Desktop line-up. It doesn't matter if you are a gaming enthusiast looking to get you first gaming desktop, a seasoned player looking for an upgrade or even a non-gamer looking for intense computer performance, this article is for you. Before we start, please be noted that all the desktops mentioned here have more than enough gaming capability to run the current popular games. This article will be focusing on the uniqueness of each gaming desktop instead of the specification or quantified data that can be found almost anywhere else on the web.
Aegis Ti3


*Aegis Ti3 has an aggressive design and a back handle
Aegis Ti3 is the gaming beast of MSI desktop; it comes with an unique tilted design that makes it look noble- just like its mythological name. It is equipped with components up to their newest and best version, such as the 8th generation Core I processor, Z370 chipset and MSI GeForce GTX 1080 Ti graphic card and SLI possibility. For cooling, it comes with MSI Silent Storm Cooling System 3, separating its case into three cooling chamber- CPU, graphic card and power supply chamber. Each of these chambers has unique airflow, reducing the overall heat in the case. There is also a water cooling system built in for further cool down of CPU. If the above all hasn't interested a pro gamer like you, Aegis Ti3 also allows the player to overclock the CPU simply by pressing the dragon shield button in front of the case, giving you the best gaming experience possible.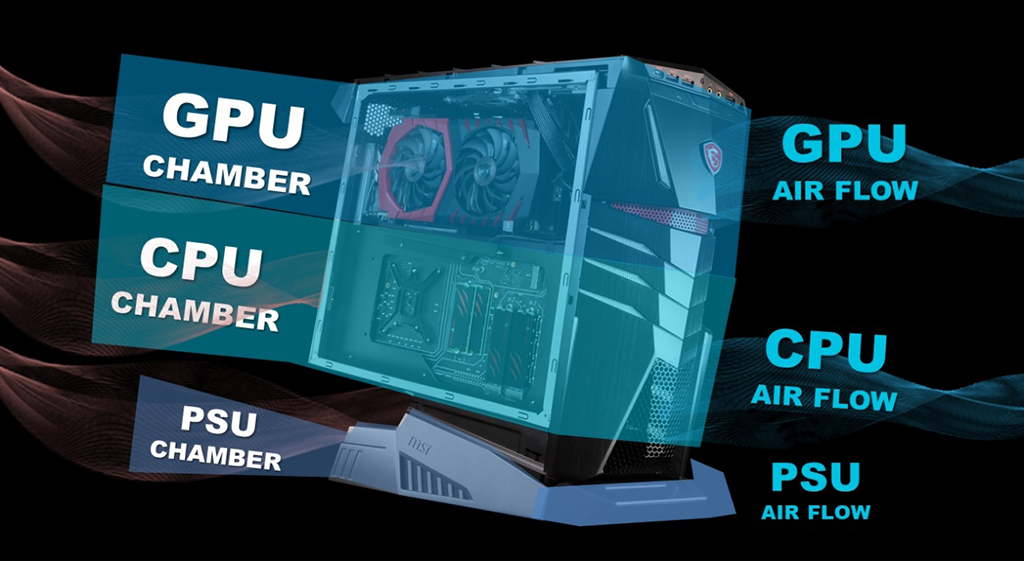 *Aegis Ti3 has three different cooling chambers
With its aggressive look and thrilling RGB lights, Aegis Ti3 has a look that matches its top notch performance. It also comes with a sturdy back handle that allows gamers to grab on the case easily and carry it anywhere to impress the world.
Aegis Ti3 is the epitome of what is considered as art for MSI. It is suitable for top gamers who want to have the best gaming PC with supreme design.  
Aegis 3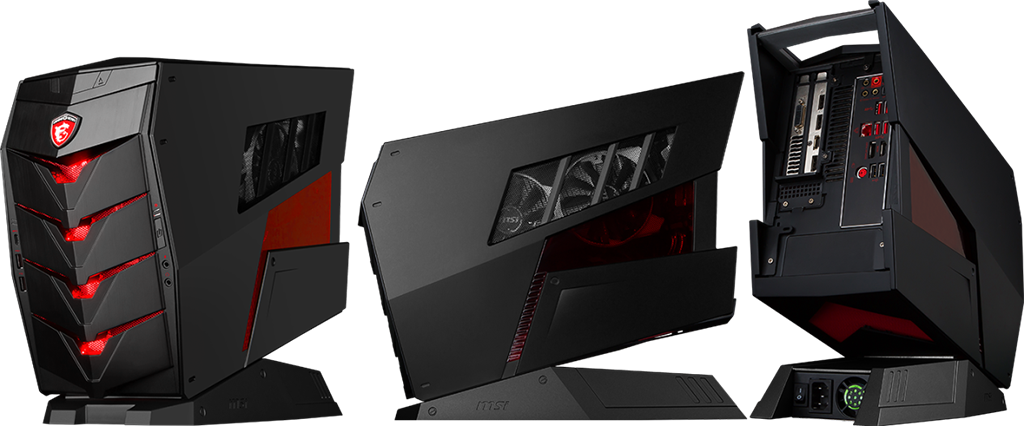 *Aegis 3 has similar design to Aegis Ti3, in a smaller case
Aegis 3 is the little brother of Aegis Ti3, it shares the similar design of Aegis Ti3. Though it doesn't have the SLI function, it still contains powerful components that are guaranteed to run your game smoothly, with a more pleasing price.
Aegis 3 packs up to MSI GeForce GTX 1070 graphic card and 8th generation Intel Core i processors. And it offers two air cooling chambers (one for graphic card plus CPU and the other one for power supply) and an exclusive CPU cooler.
Aegis 3 is powerful yet compact, the case itself is only 19.6L compared to the 39L size of Aegis Ti3. With the same handle feature, it is super easy to carry Aegis 3. The case is also designed to make upgrading M.2 SSD and graphic card easy. Overall, Aegis 3 is for those who want a perfect balance between affordability, portability and gaming performance.  
Infinite Series
Infinite is a MSI gaming desktop series that specially designed for pro-gamers. Within this series there are three models – Infinite X, Infinite A and Infinite. What these models have in common are the traditional tower case look (with a special MSI twist) and the full upgradability suitable for future DIY purpose.  
Infinite X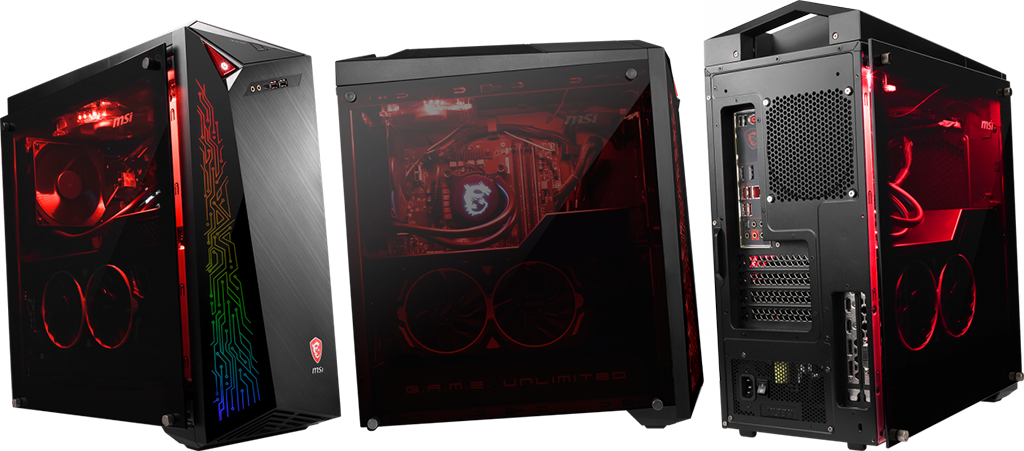 *Infinite X has a standard tower look with a special MSI twist
Infinite X is the top-end model among the Infinite series. It offers ultimate gaming performance with full upgradability. It includes up to MSI GeForce GTX 1080 Ti graphic card, Z370 motherboard and 8th generation Intel Core i unlocked processor. Like Aegis Ti3, Infinite X also offers Silent Storm Cooling system with 3 air chambers and CPU water cooling, and the overclocking ability (through built-in software).
Customers are allowed to design Infinite X's look as the package will contain two side panels- a tempered glass panel and a classic black panel. Also there will be a built-in software for controlling the circuit pattern RGB light at the front of the case. And a glowing dragon design on top of its water cooling unit.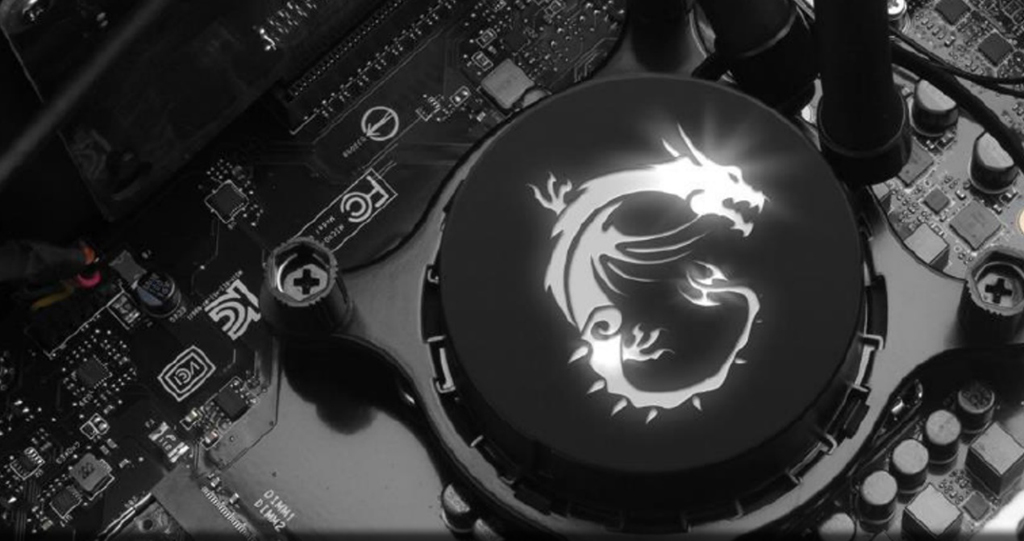 *MSI water cooling unit design
Infinite X is suitable for Gamers who want to experience games in their full glory, and a computer that uses all the standard components that can be changed or upgraded in the future.  
Infinite A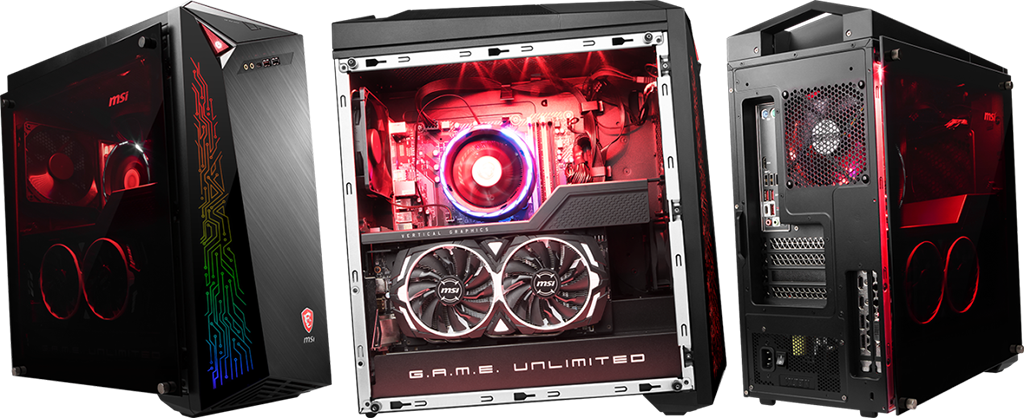 *Instead of water cooling, Infinite A has a RGB fan for CPU cooling
Infinite A is a more affordable version of Infinite X, it shares the same look, with trimmed components but still strong enough to deliver excellent gaming experience.
Infinite A supports up to MSI GeForce GTX 1070 Ti graphic card, B360 chipset and 8th generation Intel Core i processor. Similar to Infinite X, It also has three cooling chambers for separated air flows. However, it does not come with the water cooling; it uses a RGB fan on top of its CPU instead.
Same as Infinite X, Infinite A has a circuit pattern front RGB design and the options of two side panels, one tempered glass panel and one classic black panel for gamers to choose from. What's cool about Infinite A is that, it has a really eye-catching RGB CPU fan as the visual center of the case.
Infinite A is suitable for gamers who don't have overclocking needs (though they can always change the components to overclockable ones), and who would want an upgradable computer.  
Infinite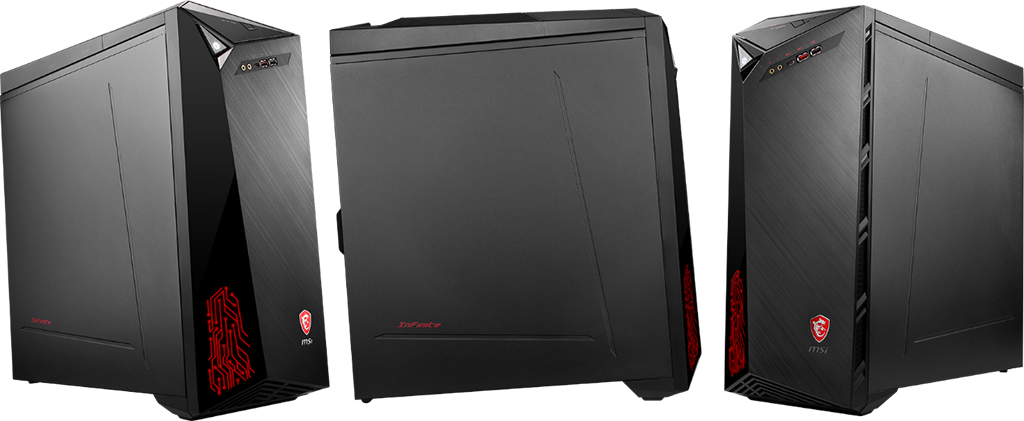 *Compared to its siblings, Infinite has a relatively low-profile look
Infinite is the beginner model in Infinite Series, with the infinite series' upgradability, it also comes in a charming price.
Infinite sports up to MSI GeForce GTX 1060 graphics card, H310 chipset and 8th generation Intel Core i processor, which are enough to handle most of the current popular games. It has Silent Storm Cooling system with two air chambers (one for CPU plus graphic card, and the other one for power supply) and standard fan cooler.
Infinite has the most low-key look compared to its flamboyant siblings, with black side panel as the only option and no further RGB on the components inside.
Infinite is best suited for people who just want to have a gaming computer without any extra design on the case. It's of an ideal price range for players who want to have the first taste of high-end gaming and possibility for components upgrade in the future.  
Trident 3


*For a rig in such small size, Trident 3 contains pretty impressive gaming capability
We are only going to talk about Trident 3 here as it's the newest version of Trident series
Trident 3 is the smallest rig within the MSI gaming desktop family, with incredibly small size in merely 4.7 liter compared to the 40 liter Aegis Ti3 and Infinite series. It is no doubt the most innovative design from MSI. With the console-like look and the enormous gaming performance, it's been crown as "console killer" by the media. Trident fits anywhere in a home setting due to its small size. Typical scenario of Trident use includes gaming in the living room on TV, as it can fit into the room arrangement easily, or carrying it to a LAN party or friends' home in backpacks, as it offers amazing portability.
Trident 3 equipped up to MSI GeForce GTX 1070 graphic card, H310 chipset and 8th generation Intel Core i CPU. It has an amazing ability to run most of the popular game smoothly considering it is such a compact and small computer. And like all the MSI gaming desktop, it also features the Silent Storm Cooling system with two air flows for different components (one for graphic card and one for CPU).
Trident 3 has the most unique design in MSI gaming desktop series. The name Trident comes from the mythological artifact that is common in many religions, and is used to describe the shape of the spiky RGB light on the edge of the case. Trident is also designed to be put both horizontally and vertically.
Trident 3 is suitable for those who enjoy sharing the fun of gaming with friends and families, as it fits easily to the living room arrangement for gaming on TV, or to be carried to friend's place or LAN party.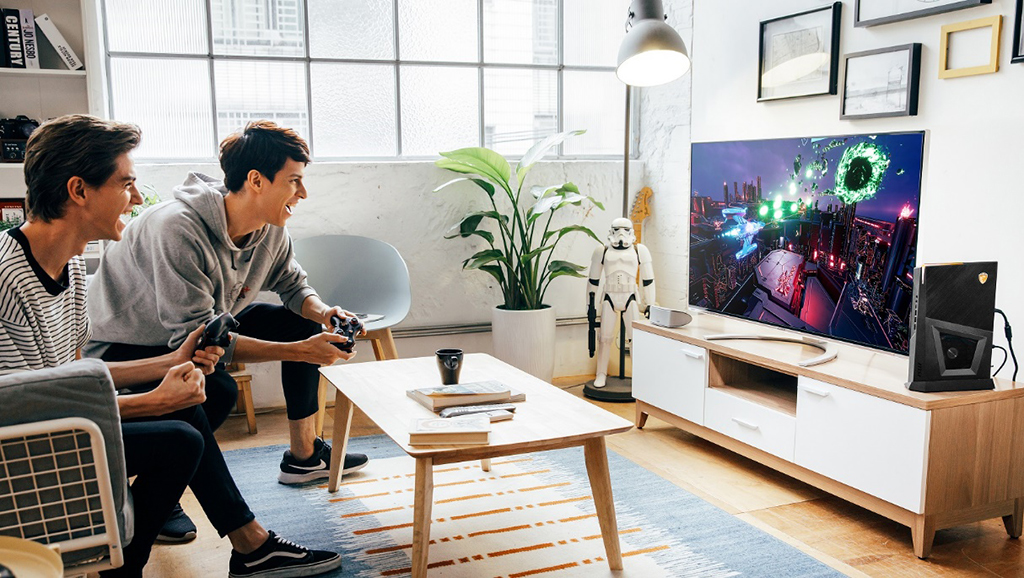 *Trident 3 is all about sharing the gaming experience with friends and families
Nightblade MI3


*Nightblade MI3 will save you both time and money when choosing a gaming desktop
We are only going to talk about Nightblade MI3 here as it's the newest version of Nightblade series
Nightblade MI3 is a gaming desktop that has sufficient gaming capability in great price range. Unlike Infinite, it has very good portability as it is both small and light-weighted, and less upgradability for inner components.
Nightblade MI3 includes up to MSI GeForce GTX 1070 graphic card, H310 chipset and 8th generation Intel Core i processor. It is very sufficient for most of the popular games nowadays. And just like all the other MSI gaming desktop, Nightblade MI3 has the Silent Storm Cooling system. It has one mix chamber but different air flows to cool down different part of the PC.
Nightblade MI3 is perfect for those who just want to have a no fuzz shopping experience when getting a gaming desktop. It sits on a sweet price range and has decent gaming capability. Instead of dwelling on how to DIY your gaming desktop and how to save for each component, gamers can just get a Nightblade MI3 and start enjoying games.
Below is a chart that showcases the differences of all of the MSI gaming desktop:
To sum up, all of the MSI gaming desktop have their own unique features. Aegis series has the unconventional design and well-rounded qualities. Infinite series has great performance and upgradability that caters pro-gamers and future DIY enthusiasts. And Trident 3 is extremely portable and can be used as substitute for consoles. As for Nightblade MI3, it's a perfect entry level gaming rig for anyone who would like to try out the high-end gaming world. We hope that after reading this article, you will be able to decide which MSI gaming desktop you would like to reward yourself with. If you want to know more about certain models, feel free to go on MSI's official website. You will find numerous detailed information about the product specification, features and even retailer location there. We wish you happy gaming.