The World Leading Brand in Gaming Industry
"Micro-Star International (MSI) has become the largest gaming notebook player worldwide with a market share of 19%.
The market watchers pointed out that MSI's EPS for 2016 is expected to reach up nearly 20%, thanks to increasing shipments of its high-profit gaming products, and rising virtual reality demand."~Digitimes
MSI is proud to embrace the title as the largest gaming notebook vendor in the world
.
With its keen insight to the budding market as well as strong determination, MSI has bred up and focused on high-end and gaming notebook segments for 10 years to provide gamers the best gaming experience.
Now MSI has the most innovative gaming notebook product lineups to fulfill its commitment to gamers; besides, MSI endeavors to grow the gaming industry and hosts hundreds of gaming events in the worldwide, by which gamers can have chances to meet and practice together.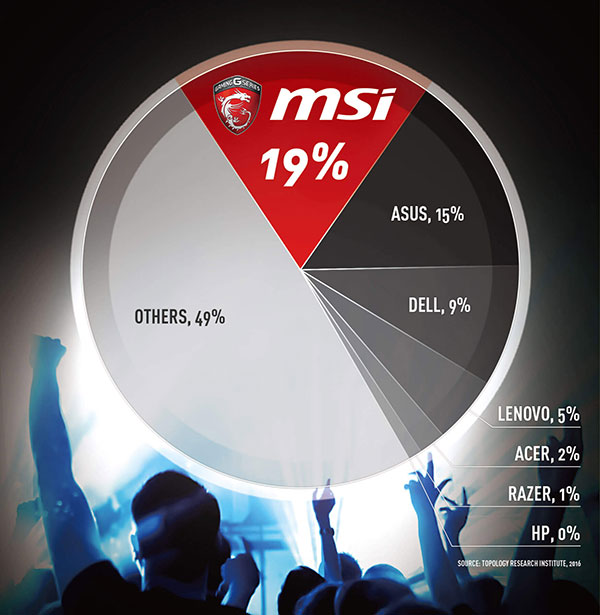 Market Share of Gaming Laptops (exclude of semi-gaming laptops)
Source: Topology Research Institute (2016/06)
*Note: The definition of semi-gaming laptops refer to those equipped with GTX950M GPU, but do not possess any functions designed for gamers
"MSI has been cultivating in gaming industry for many years and overtaking its competitors by launching out numerous gaming products with unique features, and making strong effort to keep its gaming notebooks up-to-date to satisfy gamers' strict requirements. 2016 is the year of VR, MSI has prepared a series of VR Ready notebooks to satisfy the strong VR demand." Said by Eric Kuo, VP, MSI.
Proud to be 1st VR Ready certified by HTC Vive and Intel
MSI had long foreseen the VR trend, and by co-working closely with HTC, MSI VR Ready notebook is the first and the only notebook manufacturer endorsed by HTC Vive – the most sophisticated VR device which needs the most sophisticatedly designed notebook; meanwhile, equipped with the latest processor, MSI`s VR readiness has also been certified by Intel to alter gamers' reality
As the latest generation of Nvidia's graphic card is on the horizon, MSI will constantly spare no effort to offer the best combination of powerful hardware and optimized software to shatter market's desktop performance cliché.
Determined to be No.1 in Gaming
MSI was, is and always will be devoted to satisfying gamers' needs and bringing the most remarkable gaming experience. Gamers worldwide, remember, always "game" with MSI to ensure you can be No. 1 in Gaming"!