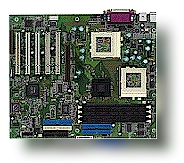 Well known for providing high quality products to PC users, MSI™ today introducedn its new MSI™ 694D Pro2-IR dual processors motherboard. The dual socket 370 694 D Pro2-IR is the enthusiasts' ideal motherboard with ample expandability options, and unparalleled performance for Penitum® III processors up to 1.13GHz. The board is based on the VIA® 694 chipset and conforms to ATX form factor.
In terms of expansion slots, the MSI™ 694D Pro2-IR's 5 PCI/1 AGP/1 CNR expansion slot design should appeal to most users. When it comes to memory upgrades, the MSI™694D Pro2-IR supports four 168-pin SDRAM DIMM up to a maximum configuration of 2.0 GB. The 694D Pro2-IR is best use as server or high-end workstation. With support for features such as D-LED, ATA100, IEEE1394 and IDE RAID, the 694D Pro2-IR provides a complete solution for system manageability.
MSI™ always has products of the highest quality and the 694D Pro2-IR is no exception. On top of its excellent performance and stability, the 694D Pro2-IR also brings the following features:
Supports IDE RAID (Optional)
As a hard drive matrix, RAID enables users to integrate several hard drives to form a unit hard drive at a larger size, aiming to provide error correction(error tolerance) of system data and to enhance system operation.
RAID 1 is for data mirroring or data deposit, it enables error correction of system data. While RAID 0 is for stripping, its fast access enhances system operation efficiency extensively.
Supports IEEE1394 (Optional)
The Board now supports IEEE1394 standard in order to meet the demand of those who look for high speed interface for real time data transfer between computer components and/or consumer products (PC, digital video and photo cameras, printers, consoles).
Supports Ultra ATA100
The Ultra ATA100 accelerates data transfer speed and provides an excellent and faster connection for IDE devices.
D-LED™
D-LED™ has a combination of 4 LED light signals to represent 16 different troubleshooting functions during boot up, allowing users to find the cause of any possible system failure quickly and easily.
PC Alert™ III
This useful software detects system temperature, the status of voltage, fans and all other key components onboard. If any problem occurs, it will alert the user to correct the problem, reducing the risk of system damage.

PC 99 and PCI 2.2 Specification Compliant and Certified
For other product specifications or more information about our new 694D Pro2-IR, please visit MSI™'s website (http:// www.msi.com.tw)