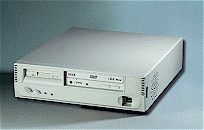 MSI™ today announced the launch of its latest slim PC system-MS-6218. The MS-6218 conforms to the Micro ATX Form Factor and combines the powerful performance of AMD's Athlon™ and Duron™ processors with advanced multimedia and manageability features in a small, flexible design that allows users to deliver a range of low-cost desktop PC solutions. With support for 100/133 or 200/266MHz Front-Side Bus (FSB) and 2 DIMM slots up to 1GB of SDRAM memory, the MS-6218 offers unprecedented advantages in graphics performance and I/O transfers.
The LAN features can save time for easy Internet connection.
The MS-6218 is a stylishly designed Slim PC system that takes up a fraction of the space of a normal desktop or tower PC case. Its modern design combines with all the specifications that today's consumer user needs such as 2 USB ports in the front panel, CD-ROM and 3.5" floppy drive. In the back panel, users can find the ports for keyboard, mouse, USB ports, microphone, earphone and they can be accessed very easily.

Following are the main features:
For the Chassis:

Case size: 380mm(L) * 320mm(W) * 90mm(H)
Platform: Micro ATX

Power Supply: 145W

Modulated parts for easy repair or installation

For the Motherboard:

Based on VIAR KLE chipset

Support AMD Athlon?™ or Duron™ processors up to 1.1 GHz.

FSB: 100/200 or 133/266 MHz

3 PCI

DRAM: 2*168pin DIMM (up to 1.0GB)
In recent years, MSI™ received ISO-9002 and ISO-9001 international quality assurance certification. Aiming for further excellence, in October 1999, MSI™ passed ISO-14001 environmental protection certification. Now, MSI™ becomes a brand name you can trust with. Providing high quality products and excellent customer service has always been MSI™'s foremost goal. Our new MS-6218 Slim PC system will satisfy the needs for most computer users looking for low-cost solution. Its cutting-edge design is also geared for those PC users that require expandability and upgradeability. For more information about our new MS- 6218 Slim PC system, please visit our website: