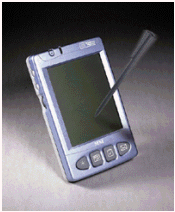 To satisfy more needs of advanced mobile users, MSI™ introduces the advanced level MS-2500 Pocket PC. With its excellent expertise in IA design and manufacture, MS-2000 is designated to satisfy modern needs with novel and convenient functions, in hopes to make mobile information no more a dream.
The features of MS-2500 includes 64K TFT LCD screen, Microsoft® Windows® Pocket PC compatible, Intel® StrongARM RISC 206MHz CPU, built-in 16 MB Flash ROM.
and 32MB SDRAM memory, Li-ion battery for longtime uses, built-in microphone and speakers with recording and playback functions to facilitate data access, SD storage device to effectively expand the memory size; and Compact Flash expansion interface.Optional features are Modem, GPS, Wireless LAN, Camera.
Personal information management applications from MS-2500 include address book, organizer, work, note, memo, Pocket Office, index, control panel, games, world time chart, handwriting identification...The synchronous transfer function makes e-mail delivery a piece of cake; and the built-in recording function is an add-value to satisfy the needs of all users.
MS-2500 Charm-plus Features:
Good looking and human shape, unique lining and touch, curve design, ergonomic, you will never forget the funs between fingers. A wide variety of colors is available.
High-speed 206MHz CPU for perfect multimedia functions.
RS-232 socket for software download and synchronous data transfer with PC. IR port for synchronous data transfer between PC.
Built-in microphone and speaker for recording and playback facilitate data access.