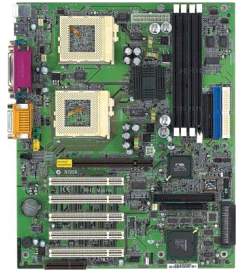 MSI™, a leading motherboard manufacturer, today announced the release of the 694D Master-S motherboard based on VIA®'s 694X DP chipset. The 694D Master-S conforms to the ATX form factor and supports dual Intel® Pentium® III (FC-PGA) Processors up to 1GHz. The 694D Master-S has a total of four DIMM slots and supports a maximum of 2GB of PC133/100 SDRAM. Expansion slots are available for 5xPCI, 1x CNR and 1 AGP Pro universal slot, providing great expandability and upgradeability. Furthermore, the onboard Adaptec's Ultra160 dual channel SCSI controller makes this product the best choice for today's high computing density.
With a design rich in features and specifications, the 694D Master-S will surely be appraised by computer users. The major features of the 694D Master-S includes:
Supports Ultra160 SCSI
The onboard Ultra160 SCSI controller provides 160 MB/s data transfer speeds and the first standardized SCSI I/O subsystem test to verify system configuration.
Supports Ultra ATA 100
The Ultra ATA100 Bus Master interface provides an excellent and faster connection for IDE devices.
Supports 4 USB port
The 694D Master-S features 4 USB ports to offer greater capacity and excellent flexibility.
Fuzzy Logic™3
A smart automatic overclocking tool exclusively from MSI™, Fuzzy Logic™3 automatically adjusts the CPU to its best condition in real time under the OS to accomplish the overclocking function with AI. While system hanging is a common experience in overclocking, Fuzzy Logic™3 will detect the problem and automatically restart the system, making the system always run at its best.
Live BIOS™
An useful software tool from MSI™, Live BIOS™ examines the BIOS version automatically with the latest version available on the web, links to the site for users to download the latest version of BIOS and updates the BIOS. With an "automatic and user-friendly" interface, Live BIOS™ allows BIOS download and update to be completed under the OS easily.
D-LED™
D-LED™ has a combination of 4 LED light signals to represent 16 different troubleshooting functions during boot up, allowing users to find the cause of any possible failure quickly and easily.
PC Alert™ III
This useful software detects system temperature, the status of voltage, fans and all other key components onboard. If any problem occurs, it will alert the user to correct the problem, reducing the risk of system damage.
PC 99 and PCI 2.2 Specification Compliant and Certified