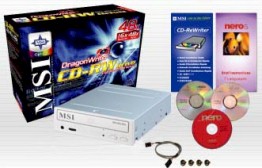 In a move that redefines CD burner performance, value and functionality, MSI™ today launches the world's fastest 48x CD-R drive, the CR48-A 48x16x48x (Model Number MS-8348A). The new CR48-A internal ATAPI/E-IDE drive delivers unprecedented 48x read, write, and audio ripping along with 16x rewrite speeds (Upon Media Availability). With the increasing demand for quick, flexible and accessible storage in home and office computer systems, the CR48-A is the logical choice for users who need to store and transfer large files, but don't want to spend a lot of time doing so.

The increase in speed from 40x to 48x can increase the noise for any drive in the market. In extreme circumstances using high-speed reading, where the CD is severely scratched, it can explode in any drive and even cause injuries to the user. MSI™ has been recognized as leader in making quality products. MSI™ designed the CR48-A 48x16x48x drive to strengthen the front bezel to prevent any injuries.

The CR48-A, capable of writing a complete CD in less than three minutes, makes use of ExactLink™ Technology, putting an end to annoying Buffer Underrun errors.
In addition, MSI™'s unique EXACT-Rec technology helps avoid writing errors during high-speed CD-Recording by checking the quality of the CD media and automatically selects the optimum (Maximum) writing speed, giving the highest quality results.

On top of its excellent performance and stability, the CR48-A also brings the following features:
ExacLink™: Prevent Buffer Underrun error

2MB internal buffer

48x Writing, 16x Re-Writing, 48x Reading

E-IDE / ATAPI interface

Firmware Upgradeable: Optimize performance and extend life of the drive

AWSS: Auto balancing and anti-vibration system

EAC: Enhance adaptive control monitor for accuracy when writing

Dual Radiation System: Heat free reduced over heating

Front-Panel Playback / Skip function button

Emergency eject

Noise-reduced function

Power-Saving function

Dust protection design

Windows® XP WHQL certificated quality

Supports Windows® XP/2000/Me/NT4.0/9x OS

Popular Nero CD burning software package
For more information about the new CR48-A 48x16x48x CD-R/RW drive, please visit MSI™ web site at www.msi.com.tw.