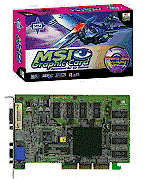 Well known for its innovation and product quality, MSI™ today announced the release of the latest high-performance graphics card based on the nVIDIA® GeForce2™ MX400 GPU-MX400 Pro-TD64S. Featuring the 256-bit core technology of the GeFroce2™ family, 128-bit memory interface, and 64MB SDRAM, the MX400 Pro-TD64S sets a new benchmark for mainstream graphics performance and should appeal to those end users demanding high-performance GPU.
Based on the award-wining GeForce2™ MX architecture, the MX400 Pro-TD64S is a robust VGA card at mainstream price points. GeForce2™ MX 400 uniquely incorporates Digital Vibrance Control™ (DVC), which makes all images-including 2D, 3D, and video-brighter and crisper, even on digital flat panels.
In the office, you will find the MX400 Pro-TD64S is stable, reliable and manageable. Features such as Digital Vibrance Control, and an unified driver architecture make it the perfect business GPU. At home, the MX400 Pro-TD64S provides amazing 3D via second generation T&L, per-pixel shading, and many other exciting features, including HDVP processing - at a great price.

Featuring the new GeForce2™ MX processor, the MX400 Pro-TD64S provides all the best technical characteristics including:

Supports Fast Writes in AGP 4X

Supports 350MHz RAMDAC
The nVIDIA® Shading Rasterizer™ (NSR) incorporates real time per-pixel shading, making 3D elements look and behave like their real-life counterparts: wood looks grainy, lit objects gleam in the hotspots yet also cast realistic shadows, and water ripples and rolls into waves.
Supports up to 1920 * 1080 screen resolution under 75MHz refresh rate

Fill Rate: 400M pixels/sec., 800M texels/sec.

Memory Bandwidth: 2.7GB/sec.

High quality TV-Out support

On top of its pure performance and breathtaking speed, the MX400 Pro-TD64S graphics card includes the latest software programs: Live VGA Driver™. This application program is developed by MSI™ engineers. The program allow you to download and update the Device Drivers automatically. You do not have to spend much time in searching the whole website to find the Drivers you need.
That is not all. MSI™ also includes 3D TooL software with the MX400 Pro-TD64S, adding more features to the already powerful card. The software includes:
MSI™ DVD: MSI™ provides this unique and customized DVD playback software, ensuring easy DVD application as well as allowing the users to enjoy DVD movie playbacks.


MSI™ 3D!Turbo™:

-- Screen: This function provides a powerful and user-friendly interface, and automatically detects DDC2B supported video mode. Its protection feature allows the current setting to return to the previous one if not functioning in 10 seconds.

-- Overclocking: The "Control" function allows users to adjust memory frequency, meeting the demand for higher working frequency environment.


-- Multi-desktop: The eight desktop selections allow users to group icons of similar function workgroups together, simplifying desktop management.
Want to learn more about the new MX400 Pro-TD64S now? Please visit our website (/) for more information.