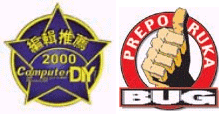 With the excellent R&D team, MSI™ proudly presents VIA® KT133 Chipset with full function motherboard- K7T Pro2. This particular motherboard provides easy installation, stable performance that creates high efficiency. With such a fine quality features on board, K7T Pro2 has earned Year 2000 Editor's Choice Award in December from top tier magazine media, Computer DIY of Taiwan, BUG Magazine from Croatia, and Win Magazine of Greece. Based on these professional hardware medias' strong recommendations, MSI™'s R&D capability has again won worldwide recognition.
Computer DIY of Taiwan, BUG Magazine of Croatia, and Win Magazine of Greece all highly agreed that: K7T Pro2 provides the outstanding stable performance with high efficient capability alone with following special features: Live BIOS™, it is one of MSI™self-developed software which can auto detect and link to the Internet to download the latest BIOS version with complete upload service software tool. Live BIOS™ tool is developed based on the concept of providing user friendly and automation service for users. It certainly shortens the BIOS updating process and simplifies the entire procedure. In addition, D-LED™, another genius creation of MSI™, provides 4 LED lamps which are capable of representing 16 different combinations of error signal function for trouble shooting purpose.
Editors of Computer DIY from Taiwan strongly stated that: K7T Pro2 motherboard provides full function with high performance and complete expansion capability which fulfill end users satisfaction, in addition, excellent stable of overclocking ability, which definitely defined MSI™ K7T Pro2 motherboard. Based on the above reason it is the best choice of all; therefore, a Year 2000 Editor's Choice Award was given to K7T Pro2.
Editors' of Win magazine from Greece stated: K7T Pro2 offers multiplier adjustment feature which can be adjusted in the BIOS configuration section; and with D-LED™ error detect function on board, it could easily detect error to users which makes K7T Pro2 to be the most stable motherboard; therefore, an Editor's Choice Award was given.
Editors' of BUG magazine from Croatia stated: K7T Pro2 showed an excellent performance in their lab. With the easy CPU adjustment which can be done in the BIOS setting, K7T Pro2 even offers Fuzzy Logic™3 feature which enable user to overclock manually and automatically into a optimize stage. They strongly recommended that MSI™ K7T Pro2 is a fully equipped motherboard and plus D-LED™ tool for error detecting function which maximize the efficiency of computer utilization for users.
Aiming at production of high quality and high efficiency products and adopting the traditions of ISO-9001 and ISO-14001, together with the efforts of the R&D team, MSI products have received numerous Product of Excellence awards from Taiwan and Best Buy and Editor's Choice honors from leading professional media worldwide. It is an assurance and recognition of the MSI™ achievements and experiences.
Sources:
Taiwan, Computer DIY Magazine, December, 2000
Croatia, BUG Magazine, December, 2000
Greece, Win Magazine, December, 2000