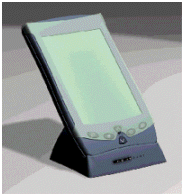 In the high wave of e-generation, MSI™ brings the novel IA to modern life with its outstanding innovation ability to make life complete. With the MSI PDA, mobile information is no more a dream! MS-2020 PDA
16-color LCD screen
Motorola DragonBall 33MHz RSIC CPU
Built-in 15MB memory
Durable NiMH rechargeable battery.
The personal information management applications available on MS-2020 include address book, organizer, note, memo, account book, e-mail, world time chart, handwriting identification...The synchronous transfer function makes e-mail delivery a piece of cake. In addition, the voice control function enables users to control the PDA with voice, and built-in recording function satisfies the needs of all businessmen, and the built-in English-Chinese and Chinese-English dictionary enables users to find out the best word without toil. MS-2020 Charm-plus Features:
Good looking and practical case, streamline design, unique shape and touch, ergonomic, you will never forget the 'funs between fingers'. A wide variety of colors is available.
16-color LCD screen to enrich the life of users.
High-speed 33MHz CPU which is much more efficient than the 16MHz models on the market.
RS-232 socket for software download and synchronous data transfer with PC. IR port for synchronous data transfer between PC.
Built-in microphone and speaker for recording and playback facilitate data access.
Brilliant color screen brings you richer vision and raises your nobility.