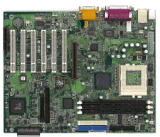 As result of outstanding R&D capability, MSI™ is launching a new motherboard based on Intel® 815E: the 815EP Master-S. 815EP Master-S is based on ATX form factor design, and applies Socket 370 architecture supporting Intel® Celeron™ / Pentium® III (FC-PGA) processors up to 1GHz. The 815EP Master-S provides very good expandability through one AGP slot supporting both 2X and 4X modes. One CNR slot and six PCI slots are able to provide networking function and fully increases users' PCI interface device application.3 DIMM slots support a maximum memory capacity of 512MB. 815EP Master-S also brings you the following features:
Fuzzy Logic™ 2
Fuzzy Logic™ 2 is an MSI™ own developed proprietary software utility that automatically and intelligently adjusts system frequency for speeding up. By applying Artificial Intelligence, the process of speeding up to the optimum system frequency is accomplished automatically under WindowsR working environment.
Live BIOS™
A brand new MSI™'s own developed intelligent tool, the Live BIOS™ is constantly monitoring the BIOS releases from MSI™'s web site, and compares with the one on the motherboard. Live BIOS™ will automatically download the newest BIOS version and automatically installs after download, ensuring an error free BIOS updating process. Live BIOS™ provides an automatic and user-friendly interface, completing the process of downloading and installing new BIOS versions under WindowsR environment.
D-LED™
A combination of 4 LED light signals to represent 16 different troubleshooting functions during boot up, so that the user can easily find the cause of any possible failure.
T.O.P. Tech.™ III
The intelligent tool precisely monitors the temperature and voltage of the CPU, video card, hard drive and system chamber. This tool ensures the proper function environment of the system, enhancing system stability. u Integrated SCSI Controller The 815EP Master-S motherboard is integrated with a discrete SCSI controller, enabling outstanding multi-tasking and I/O performance, providing extraordinary 3D animation and video processing capabilities.
Support Ultra DMA/ATA 33 / 66 / 100 Specification
The specification fully accelerates the system data transfer speed, enhancing overall system performance.
4 USB Ports
The 815EP Master-S motherboard is equipped with 4 USB ports, two in the rear panel and two for front connection, providing the widest flexibility of connecting different peripheral devices.
Integrated Intel® 825559 networking chip (Optional)
A 10/100M Ethernet is integrated, saving the cost of an additional audio card. The integrated network solution also supports advanced APM (Advanced Power Management) as well as Alert On LAN function, providing full network management functionality.
Integrated Audio Controller A 3D PCI bus audio controller is integrated supporting four or six audio channels enhancing audio capabilities.
STR (Suspend to RAM)
Function The STR function would save system configuration data on to the system memory when the system is set into suspend mode. The system memory is sustained with the minimum electrical power to avoid data loss. When the system is reset back to full operation mode, the original configuration status is restored in just a few seconds.