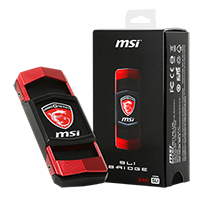 As game developers continue to push the boundaries of epic in-game graphics, the popularity of 4K gaming is also on the rise. To fully enjoy this spectacular gaming experience, hardware requirements are also pushed higher than ever. Gamers running multiple powerful graphics cards in SLI are enjoying ever more benefits.

As the leading brand in Gaming, MSI is excited to unveil a brand new premium GAMING SLI bridge which forms the perfect link for any MSI GAMING SLI setup. The bridge features a premium LED illuminated GAMING logo that can be controlled by the exclusive MSI Gaming App and is forged out of high quality materials. It supports 2-Way SLI for NVIDIA GTX 900 series graphics cards.

The carefully engineered metal shroud on the SLI connectors gives the new GAMING SLI Bridge a solid look & feel while also enabling higher conductivity. Optimized for 4K+ resolutions and 144Hz+ refresh rates, the MSI GAMING SLI bridge is ready for next generation gaming!



2-Way SLI Bridge L
Slot spacing
Picture
Size: (L x W x H)9.6 x 3.5 x 2.1 cm
Weight: 50 g
SLI connector spacing: 60 mm (4 slots)