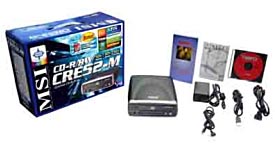 Taipei, Taiwan, July 15, 2003 -- MSI™, a world leading manufacturer of motherboards, graphic cards and high-performance optical storage drives, today introduced its new external 52x32x52x CD-RW drive -- CRE52-M. Designed for those with a taste for speed, the new CRE52-M CD-burner comes complete with Nero 5 burning software for fast and easy CD creation, giving CD users everything they need to quickly and easily save and share music, photos and more. The CRE52-M has a tray mechanism. On the front panel you can find headphone jack, mechanical volume control, a play button and an eject button with MSI™ Flash Eyes function. The button on the left glows blue when the drive is reading, while the button on the left glows green when the drive is writing data.
With performance of 52x32x52x (Maximum Write / Rewrite / Read), MSI™'s new external CD-RW drive can burn a 60-minute CD in less than three minutes. Buffer under-run protection enables users to "burn and work," running other applications while making a CD with less risk of failed burns. Hot plug-and-play capability with Microsoft® Windows® operating system makes system installation a breeze. And Hi-Speed USB (USB 2.0) capability enables full performance with suitably equipped computers, while maintaining full backwards compatibility (At Reduced Speed) with original USB systems, peripherals, and cables.
Following are some of the key features:
1.The CRE52-M features ABS (Anti-Bumping System) and Softburn™technology, the most advanced design and engineering to reduce vibration and noise and to provide superior stability when the drive is operating at high speed. HyperGuard™ is another useful feature, which provides better shatter protection for your drive from a defect disc.
2.The CRE52-M features SuperLink™technology, which prevents errors from occurring when data flow to the drive is interrupted during the recording process due to slow source-drive performance, PC configuration problems, or when running other applications. The ability of a CD-RW drive to read different types of compact discs varies based on the qualities of the discs and the type of data written to the discs. The SuperLink™ technology is utilized to take full advantage of the latest, high performance CD-R/CD-RW media to optimize record speed and reliability.
3.The drive now even supports 99 or 90 minute CD's! This is extremely useful if you need to burn something that's a bit larger then 700 MB or longer then 80 minutes in audio!
4.In order to satisfy both novices and experienced users, the CRE52-M CD-RW drive includes the well-known Nero 5 CD Recording software, which supports just about every feature you could want in a CD-burning suite.
This high-speed drive provides both professionals and power-users with the ideal solution for such advanced applications as recording audio CDs, archiving small and large data files, or creating multimedia productions. If you would like to learn more about our new CRE52-M CD-RW Drive, please go to our website at www.msi.com.tw.