【Taipei, Taiwan】The MSI PRO MOD Season 3 has finally drawn to a close on 28th. All submitted mods have been judged and looked over by an expert panel of judges. The Judges' decisions are final and the winners out of the best modders have been revealed. MSI would like to congratulate the winners and thank all the modders who participated in this competition and taken PC Modding to an incredible new level.
Besides, MSI thanks to all fans who voted for the favorite creations, and our sponsors G.SKILL, Thermaltake and Tt eSPORTS to bring us some truly fantastic prizes and make our Season 3 successful.
Here is the complete list of winners:
1st Place:
"YAZI" - Venator Class Star Destroyer by asphiax
Worklog
https://forum-en.msi.com/index.php?topic=261967.0
Judges' compliments and criticisms:
Black MOD
Well planed CaseCon, a lot details. Based on the workshops size, and the tools what we seen on the posts, it was meant to be among the "stars".
Not only the size of this mod is what had given this builds an advantage, but the details, and the lots work what went in it. It was worth!
Mike Petereyns
When a dream becomes reality, you probably end up with something special…and that's just what Yazi did with his Venator project. It's the perfect example that you should never give up your dreams and make them yours! Nice move Yazi !
Jim Weist
Incredible detail and design work. With the 3D modeling, design, and thought that went into this build its a true work of art!
Random Design
Asphiax's mod "Yazi" has a great overall design. His project really shows the capability of 3D printing in the area of case modding. The light system made by glass fiber is outstanding and really brings this mod to live.
Ronnie Hara
A job that requires a lot of patience and dedication, was surprised by the way it was designed with a detail richness.
2nd Place:
The Venom by WMP.
Worklog
https://forum-en.msi.com/index.php?topic=262029.0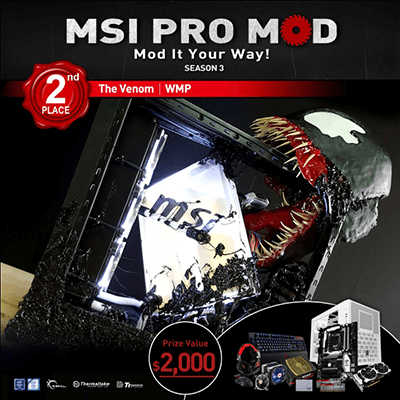 Judges' compliments and criticisms:
Black MOD
A Beautiful "Out of the Box" as we like! The Maker spent time, to put a lot details and work in this crazy mod. The inside is turned out and it looks great.
If the Outside would look the same "organic" way (details, colors, and paint tipes) as the inside, then this would be our Favorite.
Mike Petereyns
I always love creative work, think OUT of the box! That's what "The Venom" must have been thinking when he created his mod…and boy he sure did!
Rules, what rules? There only one rule and that's
"The Venom" rule!
Jim Weist
Modding on another level, the resin based sculpting work is outstanding, I love seeing builds like this!
Random Design
The mod "The Venom" not only has a unique design but demonstrates also the modder´s creativity. The unusual placement of the hardware and water cooling go hand in hand with the sculpted Venom head trying to eat the case.
Ronnie Hara
I was a very different work of others, he used all your creativity to create a beautiful work of art
3rd Place:
Project RX-0 Psycho Frame by tantric.
Worklog
https://forum-en.msi.com/index.php?topic=262178.0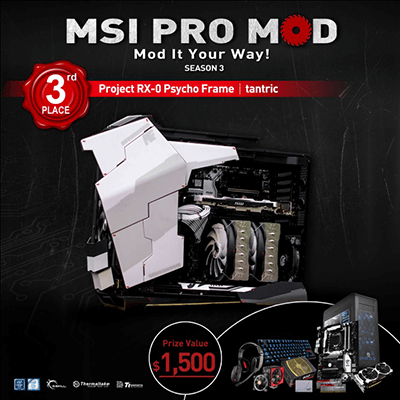 Judges' compliments and criticisms:
Black MOD
The base PC case was rebuilded, modified, covered. Clean and unified design from the MoBo tray to the side panels.
Whit all the details it has unitary, SciFi styled look, what is good to look at.
Mike Petereyns
Hi-Tech design with great eye for detail, an example that a great mod not always have to be water cooled and still look amazing!! Clean, futuristic and perfect detailed makes this mod Done!
You got the Look!
Jim Weist
Amazing paneling work and quality hand made modding! Well planned and extremely detail oriented!
Random Design
The futuristic and detailed layout of the mod "RX-0Psyco Frame" by tantric, resulted in a masterpiece of craftsmanship. All the small decals and design related decisions made it perfectly fit into the universe of Mobile Suit Gundam.
Ronnie Hara
An excellent work that managed to draw much attention. This shows that even cases with air systems can be very beautiful and flashy.
Special Jury Prize:
THE LOCO by WaroQ.
Worklog
https://forum-en.msi.com/index.php?topic=262057.0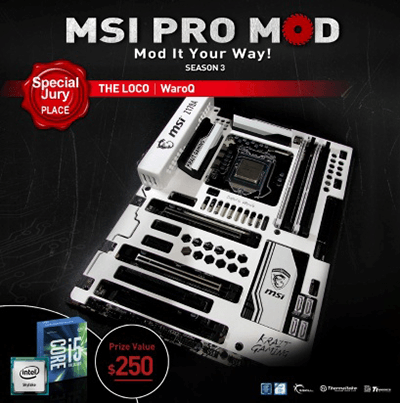 Judges' compliments and criticisms:
Black MOD
The MoBo and the VGA cover is a clean work and good to look at. The overall build and the details don't fallow that level of details.
It was great to see the whole build, how the shapes of "something" evolved to train part.
Mike Petereyns
How to make a nice looking motherboard even better?
Ask "The LOCO"! He sure made this Krait motherboard Gaming proof!
Very nice Mobo-Mod
Jim Weist
Really excellent motherboard shroud! Progressing forward into newer motherboards, shrouds like this should be a new standard!
Random Design
The custom made motherboard cover is one of the highlights of WaroQ´s mod "The Loco". It connects the different components of the project and is perfectly integrated into the black and white color concept.
Ronnie Hara
An excellent job with great professionalism and creativity.
Prize for Voting:
MSI Z170A GAMING PRO CARBON Motherboard
*1
- DJ Obiacoro Madrid
MSI Z170A KRAIT GAMING Motherboard
*1
- Jomel Ativo
MSI GTX 960 2GD5T OC Graphics Card
*1
- Joseph Saratan
Tt eSPORTs Peripheral Set (POSEIDON Z + SPAHIRA WHITE + ISURUS PRO) *3
- 曾 怡 仁
- Juvert Gorospe Ostol
- Jomart L. Escobal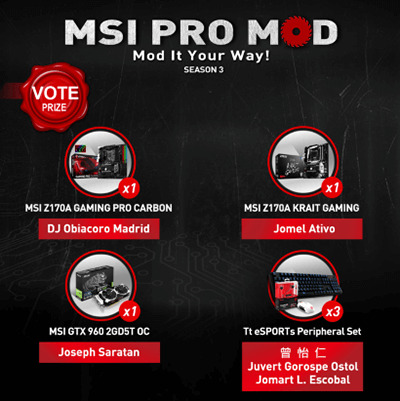 For prizing and complete details, see contest page:
http://goo.gl/FMaarA