[Taipei, Taiwan] ESL One's 2018 official gaming partner, MSI is now proudly designated as the official ESL Pro League 2018 gaming and PC partner as both parties further their cooperation. During ESL Pro League 2018, MSI GE63 Raider RGB laptop PC will be the official broadcast laptop as well as MSI Aegis 3 Plus the official tournament desktop power for all players. The grand final will be held at Dallas Verizon Theater during May 18-20.
"To celebrate the great moment, MSI, the only True gaming brand, supports plenty of gaming products as raffle for fans who follow MSI for more ESL Pro League updates on various social media, including MSI gaming graphics card, gaming laptop PC, gaming motherboard and gaming monitor," says Sam Chern, MSI Global Marketing Asssistant Vice President.
To get a chance for big prize, please visit
https://gleam.io/0MI6x/esl-pro-league-season-7-raffle
The Official Broadcast Laptop for ESL Pro League 2018: MSI GE63 Raider RGB
The new GE63 Raider RGB laptop PC has been given a new identity and weaponry inspired by next generation sports cars. With 12 zones of the RGB Mystic Lights design on top cover on both sides, its backlit also accompanies with 24-million different shinning modes programmed by SteelSeries Engine 3 or independently controlled by Dragon Center. Gamers or broadcasters could show more in-game real-time interactions related to the lights from top cover and keyboard backlit that makes the new generation of GE63 more fancy and professional to show off their different gaming skills with these lights interactions.

MSI Gaming Laptop PC
The GS65 Stealth Thin is the world's first gaming laptop with a 144Hz thin-bezel display. It's a thin and powerful laptop powered by an Intel® 8th Generation Core i7 processor and a NVIDIA GeForce® GTX 1070 graphics card with Max-Q design.
MSI Gaming Graphics Card
With the outstanding TWIN FROZR VI Thermal Design, MSI GeForce® GTX 10 series GAMING models provide the best air cooling performance. The exclusive TORX Fan 2.0 generates 22% more air pressure than previous version for better cooling performance while further reducing noise levels. Equipped with fine-tuned copper heat pipes with a squared shape at the bottom for optimal heat transfer from the solid nickel-plated copper baseplate combined with premium thermal compound X to keep the Pascal powerhouse cool.
MSI Gaming Gears
MSI also provides high-end and powerful Gaming Gear Devices to conquer the battlefield in game including the Vigor GK80 gaming keyboard, Immerse GH70 gaming headset and Clutch GM70 gaming mouse. Using Mystic Light RGB, gamers can customize their gaming gears' appearance by choosing from millions of colors and multiple effects using MSI's exclusive Mystic Light software. Mystic Light Sync allows gamers to easily synchronize colors and effects with other RGB components and peripherals for a stunning full system display.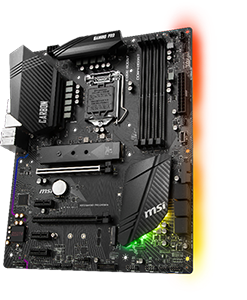 MSI Gaming Motherboard
H370 GAMING PRO CARBON motherboards inherited curve and shape of concept cars with CARBON elements. The unique and powerful design offers unlimited customization options by using MSI Mystic Light RGB and are also tuned for great performance. Performance and stability upgraded by Core Boost and Intel Turbo USB, H370 GAMING PRO CARBON are tailored to give gamers the best gaming experiences.


MSI Gaming Desktop
MSI proudly announces the new Gaming Desktop series, including the Aegis Ti3, Aegis 3, Infinite A, Trident 3, Trident 3 Arctic and Nightblade MI3, based on the latest Intel® 8th-generation processor technology, powered by MSI's unmatched game-enhancing features, a true gaming experience without any boundaries is now possible. Go beyond the ordinary and experience the extraordinary.
MSI Gaming Monitor
MSI is proudly expanding its Curved Gaming Monitor line-up with the MPG series which honored with CES 2018 Innovation Award. The MSI Optix MPG27 series are the first gaming monitors with SteelSeries GameSense built in and featured with a 144hz refresh rate and 1ms response time VA LED panel which has the most benefit in fast moving game genres. Using the several RGB zones on the front and back, gamers can easily program lighting effects in SteelSeries Engine to notify them of in-game timers or cooldowns, discord notifications or other important information they want at-a-glance.
MSI GAMING:
https://www.msi.com/
MSI Facebook:
https://www.facebook.com/MSIHQFANCLUB
MSI Twitter:
https://twitter.com/msitweets
MSI YouTube:
https://www.youtube.com/user/MSIGamingGlobal
MSI Instagram :
https://www.instagram.com/msi_global/