Winners of regional qualifiers will battle for a spot at the top in New York, September 30
[Taipei, Taiwan] The MGA (MSI Gaming Arena) 2018 saw nearly 700 teams signed up for the various regional qualifiers, but only one team each from Europe, CIS, North America and APAC has braved the qualifier gauntlet and we're looking forward to seeing them all in action in the Barclays Center, New York on September 30. "With decade-long dedication to the gaming industry, MSI has been recognized as the most trusted brand in gaming and eSports. We are relentless. We never stop innovating industry-leading products. We never stop contributing to the gaming community and sponsoring eSports teams," says Sam Chern, MSI Assistant Vice President of Global Marketing. "That's why MSI GAMING hardware has been highly acclaimed. Collective wisdom from MSI's staff and sponsored eSports teams has made MSI GAMING hardware perfect weapons to dominate any tournaments!"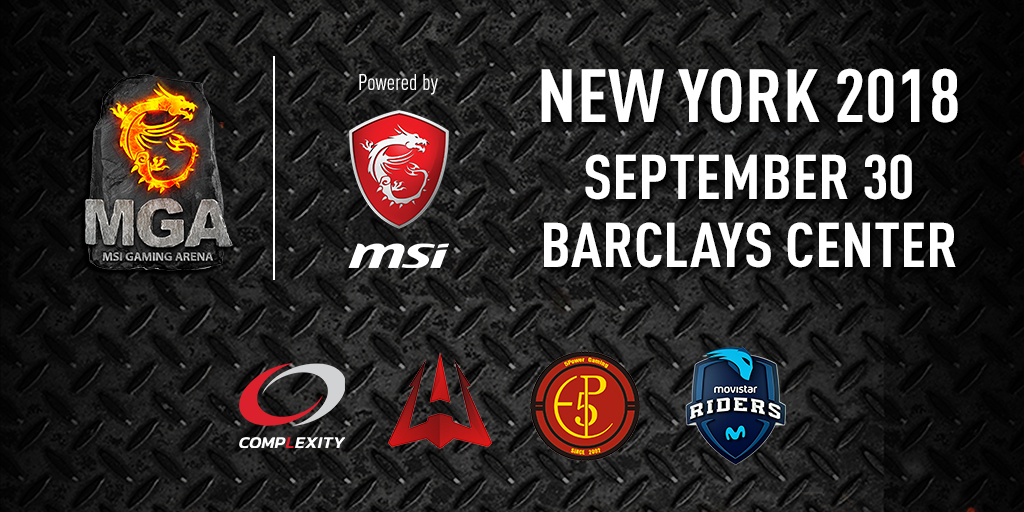 Among MSI's passionate dedication to eSports, the MSI Gaming Arena (MGA) provides an excellent proving ground where players can test their strengths and face off against other teams. Now let's check out the four teams who will be fighting for the MSI Gaming Arena (MGA) trophy and the US$60,000 prize pool at ESL One New York 2018.
Europe: Movistar Riders
Movistar Riders have secured a place at the MGA Grand Final after winning the Europe Closed Qualifier over Izako Boars. The best-of-three final saw the Polish team Izako Boars winning the first map 19-17 followed by the Spanish squad Movistar Riders' continuous victory of winning the second map 16-1 and securing the last map 16-13.
CIS: AVANGAR
The Kazak team, led by Russian captain Jame, will be representing the CIS after a confident performance all throughout the qualifiers. In both the first CIS Qualifier, as well as the final Playoffs it would be Syman Gaming and MAKEKiSTAKE that would present the final hurdles for AVANGAR. But Jame & Co would not be denied as they steamrolled through both teams convincingly with 2-0.
North America: compLexity Gaming
The North American Qualifiers were all but easy for compLexity. While stanislaw's team managed to secure their spot at the MGA in New York, it wasn't all smooth sailing for them. Both Vision Gaming and eUnited proved to be stiff competition in the Playoffs, taking coL to three maps. But thanks to strong performances in Inferno in both third maps they managed to book their trip to New York where they will get to enjoy the home court advantage.
APAC: 5Power Gaming
5Power Gaming, the Chinese team with Chinese and Mongolian players, had to fight through some closely contested games to secure their ticket to New York. They had just competed at IEM Shanghai 2018 and this will be the next chance for the squad to test themselves against international competition.
Also, for those wondering what the MGA Grand Final weapons will be, here is a sneak peek.
The MGA 2018 Grand Final Weapons: MSI Infinite X Gaming Desktop
Inspired by gamers who have a never-ending desire to game and want infinite possibilities to play the way they want, the MSI Infinite X promises the best gaming performance with the award winning MSI GAMING graphics card and the latest Intel® Core™ processor. It allows users to upgrade the system with ease, expand their storage and be ready for future games. Coupled with MSI's exclusive Silent Storm Cooling 3 thermal design, Infinite X's cooling efficiency is unmatched, making it as quiet as an assassin.
Get ready for your next gaming adventure because with MSI Infinite X, gaming never stops and the only challenge is to stay awake.
The MGA 2018 Grand Final is almost guaranteed to be tight and exciting battles. We can't wait to find out which team will reign supreme! For more information on the tournament, be sure to check out the official MGA website
https://mga.msi.com/
. All the intense CS:GO face-offs will also be analyzed and commentated by ESL One talent and livestreamed via MSI GE73 Raider RGB Gaming Laptops to ensure no one misses out on iconic moments and the epic victory.
MSI Dragon Club is coming! (North America & Europe only)
MSI is also excited to announce the MSI Dragon Club, a weekly competitive club for CS:GO players on the ESEA platform. Join the Dragon Club for the opportunity to win skins and MSI equipment, like the DS300 mouse, GH70 headset, or GK-701 gaming keyboard. Dragon Club is designed to enhance the weekend experience for players in North America and the EU, so be sure to log in and compete. Each month will also feature a new Rank S player testing their skills against club members! Check out MSI Dragon Club at
https://play.esea.net/club/30