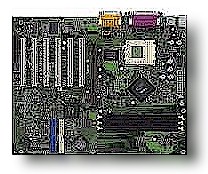 In response to customer demands, MSI™ (Micro-Star International) is announcing a new full-featured motherboard product based on VIA® Pro 266 chipset - the Pro 266 Plus-I.
The Pro 266 Plus-I is of ATX form factor, and applies Socket 370 architecture supporting Intel® Celeron™ / Pentium® III (FC-PGA) and VIA® Cyrix® III processors up to 866MHz and higher. The Pro 266 Plus-I motherboard is configured with one AGP Pro, one CNR (Communication Networking Riser) and 6 PCI slots, providing the greatest flexibility and expandability for add-on devices. The Pro 266 Plus-I also comes with three DDR-DIMM sockets, able to support up to 3GB of system memory.
The main features of the Pro 266 Plus-I include:
Fuzzy Logic™ 3
Fuzzy Logic™ 3 is an MSI™ own developed proprietary software utility that automatically and intelligently adjusts processor and system frequency. By applying Artificial Intelligence, the process of adjusting to the optimum processor and system frequency is accomplished automatically under Windows® working environment. It is also worth mentioning that Fuzzy Logic™ 3 would reboot automatically without user's pushing RESTART button while system hang by overclocking.
Live BIOS™
A brand new MSI™'s own developed intelligent tool, the Live BIOS™ is constantly monitoring the BIOS releases from MSI™'s web site, and compares with the one on the motherboard. Live BIOS™ will automatically download the newest BIOS version and automatically installs after download, ensuring an error free BIOS updating process.
Live BIOS™ provides an automatic and user-friendly interface, completing the process of downloading and installing new BIOS versions under Windows® environment.
D-LED™
The new value tool developed by MSI™. Besides the traditional combination of 4 LED light signals to represent 16 different troubleshooting functions during boot up, D-LED now literally tells you the status of the boot up process, so that you can easily find the cause of any possible failure.
T.O.P. Tech.™ III
MSI™'s own developed intelligent tool, it precisely monitors the temperature and voltage of the CPU, video card, hard drive and system chamber. This tool ensures the proper function environment of the system, enhancing system stability.
PC Alert™ III
Another MSI™'s own developed intelligent tool, it monitors the temperature, voltage, system fan speed, hard drive status and memory status of the system. User is alerted at any abnormal situation, preventing the component damage due to abnormal usage.
Support Ultra DMA/ATA 33 / 66 / 100 Specification
The specification fully accelerates the system data transfer speed, enhancing overall system performance.
Integrated Audio
A 3D PCI bus audio controller is integrated, saving the cost of an additional audio card. It also supports AC'97 standard.
6 USB Ports
Pro 266 Master supports 6 USB ports. Besides the two in the rear panel, additional four USB ports can be installed in the front panel for connection of a wide range of USB devices.