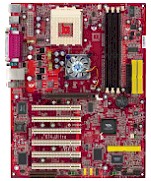 MSI™ is always leading in bring computer users the latest technology. MSI™ today announced its new KT4 Ultra motherboard, which now supports AGP 8x and DDR400 technology. DDR400 devices boost DDR333 speeds by 20 percent and provide system level bandwidth of 3.2GB per second (PC3200), delivering the faster speeds needed to keep pace with advanced microprocessors and graphics subsystems. With the support of the new AGP 3.0 (AGP 8x) standard, the KT4 Ultra is able to achieve 2.0GB/sec. bandwidth to provide the highest video performance.
Recommended by computer professionals around the world, MSI™ motherboards are designed to provide the highest performance and the most scalable chipset solution for the latest Socket A AMD Athlon™ XP processors.
In addition to the new features, MSI™ also provides optional devices, such as 10/100Mbps Ethernet LAN controller and PC2PC™-Bluebooth bracket to pair with the board. With the support of the PC2PC™ Bluetooth feature, one computer can communicate with mobile phone, DV camcorder, PDA and notebook that also support Bluebooth technology, which provides computer users the most cost-effective way and brings them the joy of wireless networking.

The KT4 Ultra is based on VIA®'s KT400 chipset to support the latest DDR400 memory specification and it takes advantage of VIA®'s high performance V-Link Hub Architecture, which provides a dedicated 533MB/sec. bus (V-Link 8x) between the North and South Bridge. The board conforms to ATX form factor and has a total of three DIMM slots, supporting up to 3.0GB DDR400 SDRAM. Expansion slots are available for 5 PCI, 1 CNR, and 1 AGP 8x Port. To prevent any overheating problems, the KT4 Ultra integrates a Thermal Diode Circuit to detect the core temperature of the processor, which helps maintain proper operations of your computer.

The new KT4 Ultra motherboard supports Serial ATA and USB 2.0 standard. Serial ATA is designed to replace the hardware of today's parallel ATA interface while maintaining the command protocol. At 150 MB per second, Serial ATA improves hard drive performance to keep pace with increasing data intensive environments such as audio/video, consumer electronics and entry-level servers. Another advantage of the Serial ATA is the use of thin cables for easy routing and improved cooling inside a PC chassis. USB 2.0 devices are getting more popular nowadays.
The VIA® VT8235 Southbridge chipset supports up to six USB 2.0 ports. With much higher bandwidth, USB 2.0 can reach data rates of up to 480Mbps, that's nearly 40 times faster than the current USB 1.1. Today's USB devices will operate with full compatibility in a USB 2.0 system.
Looking for surround sound support for home entertainment? With an integrated 5.1 Channel audio chipset (Optional), users can enjoy playing games or watching DVD movies at home. The KT4 Ultra is designed to maximize your connection to the digital world.

MSI™ always has products of the highest quality and the KT4 Ultra is another example of our efforts to keep our promises. On top of its excellent performance and stability, the KT4 Ultra also brings the following features:

S-Bracket™ ---
With the integrated SPDIF socket and the support of Optical Fiber and Coaxial cables, the S-Bracket™ brings you the best experience of 5.1 Channel surround sound. (Optional)

D-Bracket™ 2 ---
D-Bracket™ 2 is a new innovation combining the D-LED™ and 2 USB ports. It helps computer user diagnose computer hardware problems from outside of the computer chassis, eliminating the trouble of having to open up the chassis every time. The D-Bracket™ 2 also has a combination of 4 LED light signals that are either green or red, representing 16 different troubleshooting functions during boot up. (Optional)

Live Update 2 ---
MSI™ Live Update 2 includes several useful and powerful applications such as Live BIOS™, Live Driver™, Live VGA BIOS™, Live VGA Driver™ and Live Utility™, which help you to download and update the latest version of BIOS and driver automatically. You do not have to spend much time in searching the whole website to find the drivers you need.

Fuzzy Logic™ 4 ---
A smart overclocking tool exclusively available from MSI™, Fuzzy Logic™ 4 automatically adjusts the CPU to its best condition in real time under the OS to accomplish the overclocking function with AI. While system hanging is a common experience in overclocking, Fuzzy Logic™ 4 will detect the problem and automatically restart the system, making sure the system always runs at it's best.

PC Alert™ III ---
This useful software program detects system temperature, the status of voltage, fans and all other key components onboard. If any problem occurs, it will alert the user to correct the problem, reducing the risk of system damage. Based on LAN network concept, the program can also monitor multiple PCs' status.
If you would like to learn more about our new KT4 Ultra motherboard, please go to MSI website at .