[Taipei, Taiwan] ESL One 2018 Grand Finals, one of the biggest and world class Counter-Strike competition, once again returns to New York, USA! MSI, the world leading gaming brand, is the only gaming partner of this great tournament to exclusively provide the gaming devices such as MSI Z370 GAMING PLUS gaming motherboard and MSI GeForce® RTX 2080 GAMING X TRIO gaming graphics card for eSports teams. During 9/29~9/30, 8 top CS:GO eSports teams, 5 invites and 3 qualifiers, from around the world will compete for a US$250,000 prize pool. Brooklyn will rumble with the roars of thousands of gamers and fans as ESL One makes its third annual visit to Barclays Center.
"We look forward to bringing ESL One New York and premier competition back to the Barclays Center for another showcase of exciting esports," said Yvette Martinez-Rea, CEO, ESL North America. "The passion behind the fans will fuel the amazing eSports experience ESL looks to create, and we aim to make this event unforgettable."
"MSI, the ESL One official gaming partner, has dedicated countless hours and committed numerous resources to the eSports community. Thrilling in quality and performance, the MSI GAMING Series has proven to meet the most demanding tournament needs, bringing out pro-gamers' best performance and leading them to one victory after another in the global eSports scene. All the above accounts for dominant eSports teams' and professional gamers' trust and decision to choose the MSI GAMING Series that helps them achieve more in their quest for world championship," says Sam Chern, MSI Global Marketing Asssistant Vice President.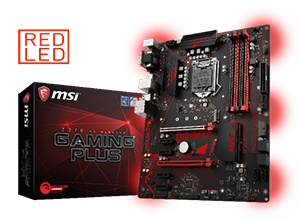 MSI Z370 GAMING PLUS: Design by the gaming passion
Satisfying gamers with what they really need, the Z370 GAMING PLUS is equipped with all the crucial gaming weapons. Turbo M.2 offers gamers a blazing fast system boot up and insanely quick loading of applications and games. Ready for the most powerful graphics cards, the Z370 GAMING PLUS is equipped with PCIe Steel Armor to prevent any damage from heavy-weight graphic cards. Audio Boost rewards your ears with studio-grade sound quality for an immersive gaming experience. A legacy spirits comes back to life with lightning fast performance enabled by an optimized design and high quality components.
MSI GeForce® RTX 2080 GAMING X TRIO: Cutting-edge gaming graphics card
The improved TRI-FROZR design on the GeForce® RTX 2080 GAMING X TRIO utilizes two 10cm and one 9cm TORX 3.0 fans which is not only combining the advantages of both traditional and dispersion fan blade to generate huge amounts of airflow, but also make airflow more concentrated with dragon-claw shaped on the fan blade design.
ESL One 2018 Grand Finals
Dates & Times: 9/29-9/30
Venue: Barclays Center, New York
MSI GAMING:
https://www.msi.com/
MSI Facebook:
https://www.facebook.com/MSIGaming
MSI Twitter:
https://twitter.com/msitweets
MSI YouTube:
https://www.youtube.com/user/MSIGamingGlobal
MSI Instagram:
https://www.instagram.com/msigaming/