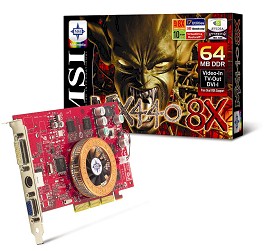 September 25th,NVIDIA® announced the first AGP 8X supported 3D GPU in the worldwide market, at the same time, NVIDIA®'s best partner of the year -MSI™ launch the first AGP 8X graphics card based on newest NVIDIA® Geforce4 MX440 with AGP8X chipset MX440-VTD8X.
MSI™ brand-new MX440-VTD8X fully equipped with Video-In, TV-Out and DVI-I functions:
MX440-VTD8X built in 128-bit 64MB high speed DDR (Double Data Rate)memory. MX440-VTD8X has outstanding performance not only in 3D PC game but also in video entertainment and office application. MSI™ MX440-VTD8X graphics card supports the newest industrial architecture AGP 8X.

AGP 8X, also known as AGP 3.0, it's a latest version of AGP bus specification and with bandwidth of 2.1GB per second. It can deliver the fastest graphics power than ever.

MSI™ MX440-VTD8X base on latest NV18 GPU, built in 64MB DDR memory. It supports the nView™ technology and Video-in, TV-out, DVI-I functions also included. This product also comes with MSI™ unique features such as: MSI™!3D Turbo Experience™, MSI™ Live Update Series™, MSI™ GoodMEM™, MSI™ LockBox™, MSI™ WMinfo™ and powerful utility -Live Update 2 real-time BIOS/Driver update, not only the product but also rich bundling software for free, like MSI™ DVD software with 5.1 channel support, hot full version game tile like Duke Nukem : Manhattan Project, The Elder Scrolls III : Morrowind, Tom Clancy's Ghost Recon and 7 in one game experience CD. Professional video editing software like InterVideo WinProducer / WinCoder and InterVideo WinProducer / WinCoder Professional Users' Pack are also in the package.

More than that, MSI™ present to you the brand-new software called MSI™ 3D desktop, it brings to you the 3D virtual reality world on your PC desktop, you can surf in this 3D world and using all 3D gadget with all Windows OS process and also experience the game-like environment.

MSI™ MX440-VTD8X provides you the total solution in 3D graphics, valuable and super!