[Taipei, Taiwan] ESL One's 2018 official gaming partner, MSI is now proudly designated as the official ESL Pro League 2018 gaming and PC partner as both parties further their cooperation. ESL Pro League is the world's biggest, longest running professional CS:GO league. Top teams from Europe, North America and Asia compete in weekly league matches for an annual prize pool of US$2,000,000, making ESL Pro League the most influential CS:GO league in 2018. "We continue to deliver the best experience possible for not only the fans, but also for the teams and players competing at our events," says Paul Brewer, Global Vice President of Sponsorships at ESL. "Our partnership with MSI does just that, as it brings the highest quality of technology to ESL One, and now ESL Pro League."
"MSI is the only True Gaming brand. Featuring stellar performance and stability, the MSI GAMING Series gear gamers up for fierce competition and are widely acclaimed. Most top professional eSports teams have their daily training with MSI GAMING laptops, desktops and that solid training brings out their best during tournaments, which is exactly why MSI is recognized as ESL Pro League 2018's official gaming and PC partner," says Sam Chern, MSI Global Marketing Asssistant Vice President.
MSI Gaming Laptop PC
MSI GE63 Raider RGB laptops as the official broadcast laptop provider for ESL Pro League 2018. The GE series has always been an all-time classic favored by gaming enthusiasts since its inception. But in 2018, the upcoming GE63/73 Raider RGB has been given a new identity and weaponry inspired by next generation sports cars; with the 12 zones of the RGB lights design at top cover on both sides of the Mystic Lights, the backlit accompanied with 24 Million different shinning modes with SteelSeries Engine 3 or independent control by Dragon Center, users, broadcaster and analyst desks could show more in-game real-time interactions related to the lights from top cover and keyboard backlit, that makes the new generation of GE63/73 more fancy and more professional for gamers to show off their different gaming skills with these lights interactions.
For the first time ever, MSI is implementing Dynaudio's Giant Speakers inside with 5x bigger full range chamber and 3x bigger speakers, that makes a gaming laptop to provide 50% more power of sound volume, quality enhancement that makes the exhilarating sound like never before. Moreover, Cooler Boost 5 as the new addition in the family of Cooler Boost Technology, industry's finest and most advanced thermal module at this segment. Fastest 120Hz panel with 3ms and 94% NTSC Color Gamut for much smoother and sharper HDR ready visuals brings best gaming experience in the competition!
MSI Gaming Graphics Card
The MSI GeForce® GTX 1070 Ti Titanium 8G and GTX 1070 Ti GAMING 8G come equipped with the full force of the TWIN FROZR VI cooler, allowing for higher core and memory clock speeds for increased performance in games. The famous shapes of the eye-catching TWIN FROZR cooler are intensified by a fiery GAMING glow piercing through the cover, while the MSI GAMING dragon RGB LED on the side can be set to millions of colors to match your mood or build. A completely new custom 10-phase PCB design using Military Class Level components with 6-pin and 8-pin power connectors enables higher performance to push your graphics card to the max.




MSI Gaming Motherboard
Z370 GAMING PRO CARBON AC once gain comes with a unique and powerful design using CARBON elements and offers unlimited customization options by using MSI Mystic Light. Besides being designed for personalization and to show off a gaming rig, the new Z370 GAMING PRO CARBON AC also comes with plenty of features, tailored to give gamers the best possible gaming experience. Enjoy a blazing fast system boot up and insanely quick loading of applications and games with MSI's Turbo M.2 slots with patented M.2 Shield v2. M.2 Shield v2 is the most user friendly M.2 thermal solution to prevent damage, helping to dissipate heat and prevent NVMe based SSD's from throttling and lowering performance. Maximize your M.2 SSD performance with Turbo M.2 and M.2 Shield v2.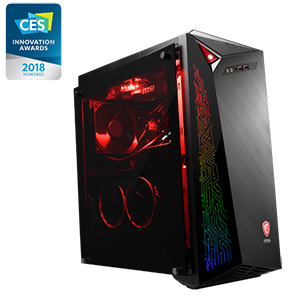 MSI Gaming Desktop
The Infinite X is built for gamers with a never-ending desire to game and want endless possibilities to game the way they want. This desktop is delivering the best gaming performance by equipping MSI's renowned graphics cards to give gamers just that little bit more in-game advantage. Together with the newest unlocked processor generation from Intel, it will give the speed and performance gamers require, even pushing the limits with the ability to overclock. To keep a system with all, this power cool, the Infinite X uses MSI's exclusive Silent Storm Cooling 3 thermal design, making its cooling efficiency unmatched and as quiet as an assassin.
MSI GAMING:
https://www.msi.com/
MSI Facebook:
https://www.facebook.com/MSIHQFANCLUB
MSI Twitter:
https://twitter.com/msitweets
MSI YouTube:
https://www.youtube.com/user/MSIGamingGlobal
MSI Instagram :
https://www.instagram.com/msi_global/