Short list announcement of December 23
[Taipei-HQ] MSI VR JAM Developer Competition: With total prize money over US$80,000 prize pool, since the competition submission opened in October, we have received applications from over six hundred teams across 72 countries by the official enrollment deadline of December 15. Our official partner, the Institute for Information Industry, set up a professional preliminary judge panel. And after all the teams entered are evaluated by the aforementioned panel and MSI's internal assessment process, the short list consisting of the top 20 candidates is officially announced!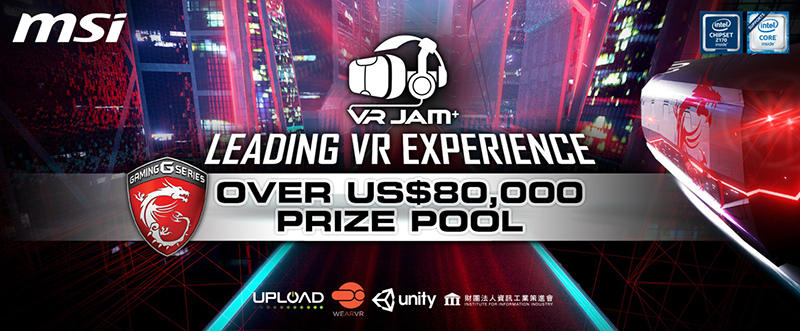 MSI is committed to develop complete VR-Ready high-end products, in order to meet the gaming and VR computing needs of many gamers. This includes the newest gaming laptops/gaming desktops that are equipped with NVIDIA GeForce GTX 10 series dedicated graphics card, gaming motherboards and graphics card that are designed in pursuit of the highest performance, to provide gamers with the ultra-smooth picture and an immersive, true-to-life gaming experience. For the MSI VR JAM Developer Competition this time around, MSI has teamed up with the leading semiconductor vendor, Intel, and the mainstream game development engine, Unity, along with the leaders in VR technologies, such as UploadVR, WEARVR, and the Institute for Information Industry, etc. In the competition entries, we witnessed many wonderful contents from numerous developers that are full of creativity; this is a driving force in the VR industry ecosystem that further adds to its sparkle and vitality.

Winners list announcement of December 28
The 20 teams that have entered into the final round all have a good chance to compete for the US$80,000 prize pool. For the judges of the final round, in addition to our Global Marketing Director Sam Chern who will be representing MSI, we are also very honored to have invited a number of experts to be part of our final round judge panel for this competition, including CEO and Founder Johan Yang of Futuretown, Kelvin Lo of Unity, and COO Andrew Douthwaite of WEARVR. The total value of prize pool for this competition exceeds 80,000 USD prize pool, with highest prize money for the top three winners being 30,000 USD, 25,000 USD, and 15,000 USD respectively. Also part of the prize pool are high-end hardware products such as the newest MSI GP62M VR gaming laptop, Aegis gaming desktop, Intel X99 motherboard, and GeForce GTX 1070 ARMOR 8G OC graphics card, as well as software license of Unity Plus as sponsored by Unity. In addition, international winners are eligible for airfare and accommodation to participate in the Award Ceremony and VR Forum Summit which will take place in Taipei in next January as organized by the Institute for Information Industry. Furthermore, to attract more gamers to participate in MSI VR JAM, we will also be giving away the world's smallest VR-Ready gaming desktop "Trident" as a special prize for the winner of the Community's Choice Award, which will be open for voting on December 23! At the meantime, all the participant of voting have a chance to win MSI Gaming Keyboard DS4200 and Gaming Mouse DS300. Vote for your favorite VR game now:
https://goo.gl/RIY5EI
MSI VR official website:
https://vr.msi.com/
MSI VR JAM:
http://vr.msi.com/event/msi-vr-jam/
MSI VR Facebook:
https://www.facebook.com/VRMSI/
MSI Global Facebook:
https://www.facebook.com/MSIHQFANCLUB/
Unity Game Engine:
https://unity3d.com
UploadVR:
http://uploadvr.com/
WEARVR:
https://www.wearvr.com/
Institute for Information Industry:
http://web.iii.org.tw/