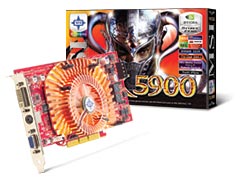 MSI™ ignites the cinematic computing revolution with the introduction of the most powerful members of the NVIDIA® GeForce™ FX family-the GeForce FX 5900 Ultra, FX 5900, and FX 5900 Value graphics processing units (GPUs). Powered by the second-generation NVIDIA® CineFX™ 2.0 engine with the industry's only true 128-bit precision processing-MSI™ GeForce FX 5900 Series GPUs take cinematic quality special effects to new levels!!!

MSI™ TWIN FLOW™ COOLING--- BLAZING SPEEDS WITHOUT SWEAT
Continuing the MSI™ tradition of incorporating only the best engineering process and design techniques, the GeForce FX 5900 GPUs take advantage of the most advanced and sophisticated TWIN FLOW™ COOLING technology. This twin ventilation cooling mechanism enables higher performance through faster clock rates, while still remains in comparable low GPU temperature-- a perfect craft for a perfect graphics from MSI™.

NVIDIA® INTELLISAMPLETM HCT TECHNOLOGY--- INVINCIBLE GAMING QUALITY
MSI™ GeForce FX 5900 GPUs also introduce NVIDIA® Intellisample™ high-resolution compression technology (HCT), which extends the experience of ultra-realistic visuals at lightning-fast speeds to higher resolutions and antialiasing levels.

Intel®'s sample HCT includes an advanced anisotropic engine designed to deliver true anisotropic filtering for incredible image quality without performance degradation. The advanced antialiasing and anisotropic filtering techniques combined with the industry's only true 128-bit precision computation capabilities result in image quality unmatched by any other solution.


256 BIT MEMORY INTERFACE--- ULTRA WIDE MEMORY BUS SPEED
Combined with a 256-bit memory bus and with support for up to 256 MB, the MSI™ GeForce FX 5900 GPUs deliver more memory bandwidth and efficiency to power today's most advanced games like Doom III™ from id Software at blistering frame rates.


NVIDIA® CineFX 2.0 Engine--- DOUBLING THE GAMING POWER
Advanced pixel shaders in the new CineFX 2.0 engine deliver up to double the floating-point pixel shader power of previous-generation GPUs, allowing for faster, more efficient execution of even the most complex pixel shading tasks. In addition, CineFX 2.0 continues to deliver the highest level of image quality and film-industry levels of precision through true 128-bit precision computing, enabling special effects on par with Hollywood films.


NVIDIA® ULTRASHADOWTM TECHNOLOGY--- FANTASTIC GAMING EXPERIENCE
With the latest NVIDIA® ULTRASHADOW™ TECHNOLOGY, MSI™ FX 5900 GPUs accelerates shadow volumes for next generation games, while accurately maintains shadows and discarding non-useful information.