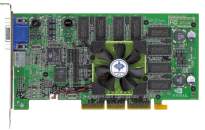 MSI™ announces its StarForce 822 graphics accelerator card en par with nVIDIA®'s launch of its GeForce 3™ graphics processor. As the latest member of our award-winning StarForce family, StarForce 822 is based on the GeForce 3™ graphics processor, the new breakthrough GPU from nVIDIA®. Combining with the latest nFiniteFX™ Engine / Lightspeed Memory Architecture™ technology, the StarForce 822 will sure to bring you the latest features available in 3D graphics technology.
Featuring the new GeForce3™ processor, StarForce 822 provides all the best technical characteristics including:
Graphic Architecture

256-bit engine

Processor speed

200MHz

Memory Bus

64-MB DDR SDRAM, the fastest in the world
460 MHz effective memory cycle

Bus-System

AGP 4X

Texel Rate

7.4 GB/Second

Triangle Rate

57M/Second

Operating Systems

Supports Windows® 9X, 2000, Me, and NT.

TV-Out / TV-In / DVI (Optional)
For those who demand more, the MS-5999 daughter board can be added to support more features to the already powerful StarForce 822. The MS-5999 sports TV-Out/In/DVI (digital flat panel) and even S-Video functions.
The TV-Out function allows users to output video to an attached TV set for viewing on larger screens. By using the TV-In function, users can record video directly to their hard drive, then do video editing right on their computers. The S-Video function can be paired with a camcorder or a screen projector to make presentations. The MS-5999 also comes equipped with support for DVI monitors. With all these useful features, the MS-5999 is a nice addition to the StarForce 822 that will sure appeal to the computer enthusiasts.
On top of its pure performance and breathtaking speed, MSI's StarForce 822 graphics card also includes the MSI? 3D TooL software, adding more features to the already powerful card. The software includes:
1. MSI™ DVD™:
MSI™ provides this unique and customized DVD playback software, ensuring easy DVD application as well as allowing the users to enjoy DVD movie playbacks.
2. MSI™ 3D!Turbo™ 2000:
Screen:
This function provides a powerful and user-friendly interface, and automatically detects DDC2B supported video mode. Its protection feature allows the current setting to return to the previous one if not functioning in 10 seconds.
Overclocking:
The "Control" function allows users to adjust memory frequency, meeting the demand for higher working frequency environment.
Multi-desktop:
The eight desktop selections allow users to group icons of similar function workgroups together, simplifying desktop management.
Are you eager to learn more about our new StarForce 822 Please visit our website (http:// www.msi.com.tw)for more information.